Witcher 2, The: Assassins of Kings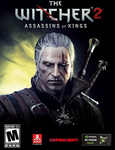 Back to reviews
Game Reviewed: 
Witcher 2, The: Assassins of Kings
Platform: 
PC (coming soon to Xbox 360)
Click Here to Learn More About our Reviews
Game Description:
The Witcher 2 is an Action/RPG based off the popular Polish fantasy books by Andrzej Sapkowski. In The Witcher 2, players once again take control of Geralt of Rivia, a witcher who is suffering partial amnesia (a witcher is a genetically enhanced monster hunter.) The story begins with Geralt being in prison. He has been framed for the assassination of the king of Temeria, King Foltest. Through a series of events, Geralt manages to escape prison and thus begin hunting down the real assassin, while also learning more about himself by slowly recovering his memories.
The game is played from a third person perspective. Geralt is able to use different weapons such as swords and other melee weapons. Geralt can also use bombs, traps, grenades, and throwing knives. In addition Geralt has the ability to use different magic abilities to help him combat enemies.
The story is very captivating, but it is also very mature in nature as you will see from the categories below:
Reviewers Note: This review is only based on a partial play-through of the game. As such, the game may contain other content parents would want to know about that is not listed in this review.
What Parents Need to Know
Violence
The game is violent. Blood does appear and will sometimes splash around during combat including severed body parts.
Language
Words such as f**k, s**t, and c**t, can be heard in different parts of the dialog.
Sexual Content
The Witcher 2 has the most graphic sex scenes I have personally seen in a game to date. In fact, this is the main reason why I stopped playing the game. (As a Christian, I did not feel this was something I wanted to entertain myself with.) Some cut-scenes show a woman topless. Players can also initiate sex with prostitutes and other characters in the game in which sexual moans can be heard and/or breasts are shown heaving. It is like watching soft-core porn.
Spiritual Content
The player can use magic abilities for things such as combat or influencing other characters. There are also at least two sorceresses in the game who have magic abilities for things such as healing and combat.
Reviewer's Thoughts
As far as combat and story are concerned, I loved playing The Witcher 2. It is a very well done action RPG game. The sexual content, however, was strong enough to make this grown man blush. As such, because of the sexual content alone, I would not recommend The Witcher 2. This game is rated M for good reason. Parents, please respect the rating.