Uncharted 2: Among Thieves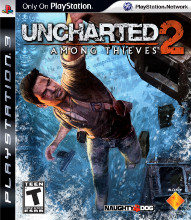 Back to reviews
Game Reviewed: 
Uncharted 2: Among Thieves
Publisher: 
Sony Computer Entertainment
Click Here to Learn More About our Reviews
Game Description:
Uncharted 2: Among Thieves is the highly anticipated sequel to the PS3's 2007 hit Uncharted: Drakes Fortune. Gamers once again take control of fortune hunter, Nathan Drake, this time the story revolving around solving the mystery of what happened to Marco Polo's fleet of ships that disappeared on their way home from China back in 1292. Without trying to give away too many spoilers, I will say that the story in Uncharted 2 is just as good as or even better than many of the adventure films coming out of the film industry today.
Uncharted 2 is divided into 26 chapters that flow seamlessly together to tell the story. As for gameplay, players control Nathan Drake from a third person point of view. There are two main components to the game. Part of the game is spent exploring, trying to figure out how to get from Point A to Point B. Sometimes this involves having to solve some puzzles. If you have ever played a Tomb Raider game, Uncharted 2 is very similar in that fashion (although Naughty Dog has done a much better job of delivering the gameplay than the last Tomb Raider did.) The other main part of the game focuses on gunplay. There are plenty of enemies that want to beat Drake to the final treasure and so the gamer will have to use different weapons such as a shotgun, AK-47, Desert Eagle and grenades to take out the enemy.
In addition there is also a multiplayer mode of the game. Players can play in co-op with other players over the Playstation network. There are also competitive multiplayer modes such as "Deathmatch" and "Elimination." As of this writing, Uncharted 2 has received at least 10 perfect scores from other review sites and the sites that did not give it a perfect score have given it a close to perfect score. There is much talk that this will be the game of the year and so parents should not be surprised if Uncharted 2 is on the top of their kids Christmas list.
What Parents Need to Know (Warning: Contains Story Spoilers)
Violence
Uncharted 2 is played from a third person point of view. The player can use guns and grenades to kill enemies. There is a small amount of blood that occurs when an enemy is shot. There are also some cut-scenes in the game that show a lot of blood. For example, at the very beginning of the game, a cut-scene shows Drake in a train that has crashed and his shirt is covered in blood because he has been shot.
Language
Bad language is used frequently throughout the game. The most common words were crap, hell, damn, S**t and the misuse of the name of God.
Sexual Content
There are some sexual references/innuendo made at different points in the game. For example, one conversation in the game goes:
Chloe: "Oh! Is that an ancient Tibetan ritual dagger in your pocket?"
Drake: "Oh! Maybe I'm just happy to see you"
There is also a scene where a woman, fully clothed, straddles Drake in a sexual position and places his hands on her hips. They have a conversation, then they kiss and the scene ends.
Spiritual Content
There is a reference that one of the items they are looking for is the Buddhist version of the Holy Grail. Also, one of the final areas in the game reveals that part of the treasure they are looking for is actually resin from the Tree of Life.
Reviewer's Thoughts
On the positive side, Uncharted 2 tells a fun story that can match some of the best from Hollywood. It is also an exciting game to play that most action/adventure fans are going to absolutely love. My biggest concern as a parent, however, is the large amount of bad language that is used throughout the game. The game is rated T and therefore the F-word is never used, but there is still frequent use of other bad language. Please keep in mind the T rating when deciding if Uncharted 2 is right for your family or not.