Skate 3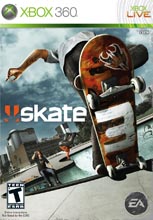 Back to reviews
Publisher: 
Electronic Arts
Click Here to Learn More About our Reviews
Game Description:
Skate 3 is, quite obviously, the third installment in the popular "Skate" franchise. While I had played games like this before in the form of the Tony Hawk skating games, Skate 3 was my first introduction to this series. I was not quite sure what to expect, but I was more than willing to find out what this game had to offer. An opening cinema introduces you to the characters you will see in the game, as well as some of the areas you will be playing in.
Skate 3 does not waste time, and gets right down to business. After the opening movie has finished, you are placed in the game. Your friend is currently ranting about starting your own skateboard company. From there, you complete challenges, projects, and photo shoots to ensure maximum board selling.
There are different modes of play in this game, all of which take place in an open world environment. At any point, you can go wherever you would like to explore and enjoy skating, or to complete challenges and sell more boards. Some of the challenges require you to do something as simple as pull off a trick so that someone can take a picture for a billboard or magazine. Others are a bit harder, including races and stacking the tricks for racking up points.
What Parents Need to Know
Violence
The opening cinema shows a man skateboarding down a large ramp, then jumping and losing his board. It is a nasty fall, but it finishes off-screen.
You can accidentally or willingly skate into pedestrians knocking them down. They are not too fond of this, however, and will "taze" you if you continue this for too long.
You, too, can fall over. Your character takes bruises, falls, and scrapes like a trooper. But the results are evident on your character, as well as a small amount of blood.
A game mode called "Hall of Meat" requires you to willfully crash your character as badly as possible. The point is to break as many bones in your body as you can and fall as far as possible.
Language
There is bad language in the use of words like a**, d**n, b**ch, s**t and p***y.
Sexual Content
The aforementioned friend jokes about hiring a "hot secretary" for their business. You can edit your skater, including clothing. You can choose to let your character skate shirtless, and the female skaters are seen in a sports bra.
In this editor you can also place tattoos on your character. One particular tattoo is the silhouette of a bikini clad girl.
Spiritual Content
A tattoo depicts a devil like character. A jump/trick was titled "Christ air."
Misc.
There are some instances of crude material. For example in the opening sequence, a character was picking his nose with a hook where his hand had been. In another example one character says "Do you need me to bless it with some of my urine?"
Certain signs in the city contain suggestive innuendo for example one sign says "Master Bait & Tackle".
One skateboard design has a marijuana leaf on it with a logo that reads "Think Green"
You can play this game online with other players. Here you have the option to talk with other players, which can result in exposure to bad language depending on who you are playing the game with. However, there is an option to mute all other players.
Reviewer's Thoughts
Having been a fan of the earlier Tony Hawk games, I was wondering how Skate 3 would compare. Would it be a rip-off, or did they honestly have something new to offer? Much to my pleasure, it was the latter. Skate 3 is completely different. The control scheme is tighter and has a higher learning curve. The physics are surprisingly realistic for the most part and much less stylized than Tony Hawk.
All of these things are very good in my opinion, and I enjoyed my time with Skate 3. My only gripes were that the challenges seemed to become redundant after a while, and I lost interest as the difficulty increased.
Skate 3 is rated T for teen and I agree that this is a good rating for this game.