Need for Speed Most Wanted (2012 Edition)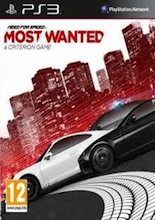 Back to reviews
Game Reviewed: 
Need for Speed Most Wanted (2012 Edition)
Publisher: 
Electronic Arts
Developer: 
Criterion Games
Platform: 
PS3, Xbox360, PC, Vita
Click Here to Learn More About our Reviews
Game Description:
Need for Speed games have been hit or miss over the years. With this year's Need for Speed Most Wanted, Criterion Games definitely hits the mark. This game is pure and simple about racing. No cheesy cut-scenes, no cheesy actors, just pure street racing. The game is also simple about other things too, which may or may not be to your liking. The entire city is wide open to you at the start of the game. Don't like the car you are driving, then just find one of the other available cars parked around the city. Once you have acquired a car there are certain races that become specifically available to that car. Win those races and you will earn perks for that car to make it better. Pure and simple, personally I love it!
There is no money to be earned in the game, but you will earn Speed Points. These are acquired from winning races, setting off speed cameras, running other racers off the road, losing cops, and smashing through billboards. Earn enough speed points and you will work your way up the Most Wanted list where you will race other racers on the list with a chance to win their cars. As I said before though, there are thankfully no cheesy cut-scenes.
There is also an online mode you can race your friends or other players.
What Parents Need to Know
Violence:
You can crash your car; you can cause other cars to crash. There are no pedestrians on the road, however, so no worries about running people over.
Part of the game involves outrunning the police. Police will use road blocks and spike strips to get you to stop.
Language:
I have not yet encountered any bad language in the game. According to the ESRB, however, some of the businesses in the city you race in have fictional names that are sexual innuendo. For example, a massage parlor called Roman Hands, and a cargo company called GoodsEx.
Also, there is a secular music play list. As of this writing I have looked on the internet for a list of songs used in the game that this review could link to, but so far I have not found a reliable web-site with that information. So far I have not noticed any questionable lyrics, but to be honest, while racing I am more focused on driving and not crashing as opposed to figuring out song lyrics.
Sexual Content:
There is not any inappropriate sexual content in this game aside from the company signs that are mentioned in the Language section.
Spiritual Content:
There is not any spiritual content in this game.
Reviewer's Thoughts:
Need for Speed Most Wanted is probably the best racing game I have played in a long time. If you like arcade style racing games, this is not one to miss. If you are more into realistic style racing games like PS3's Gran Turismo or Xbox's Forza, then this may not be for you, but I would still say check it out, you never know, you might just like it.