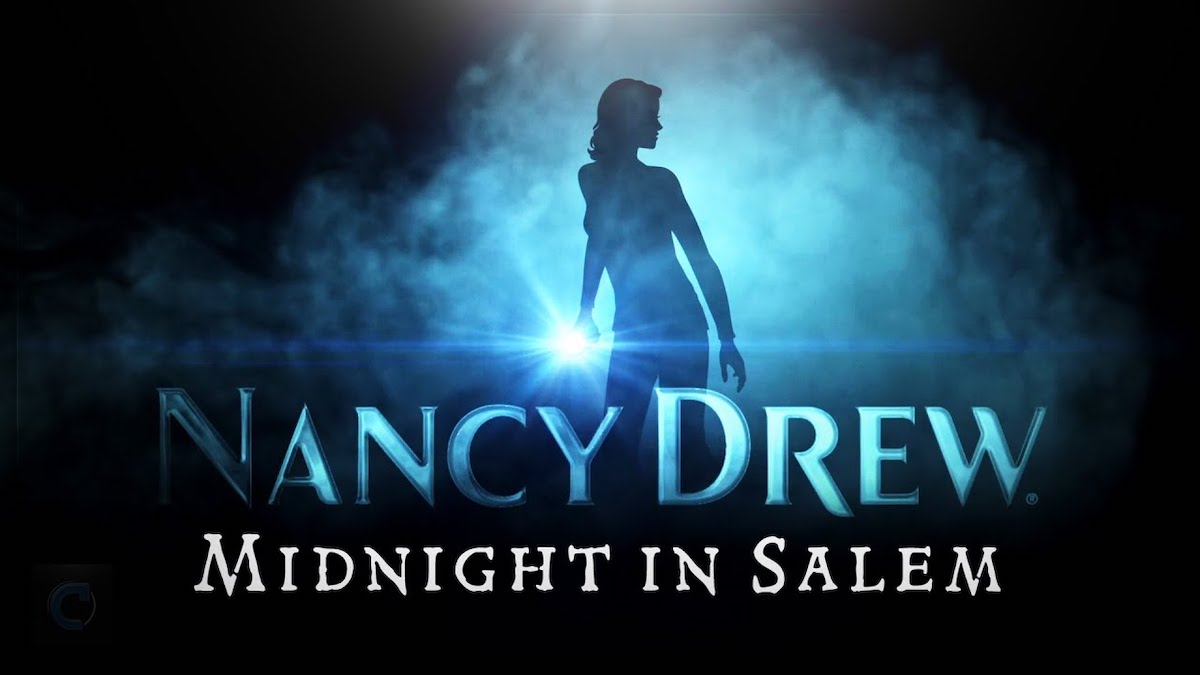 Nancy Drew: Midnight in Salem
Game Reviewed: Nancy Drew: Midnight in Salem
Publisher: Her Interactive
Developer: Her Interactive, Mipumi Games
Reviewer: Naomi Norbez
Platform(s): PC
Category: Adventure; Mystery
ESRB Rating: E10+
Game Description:

I grew up being Nancy Drew.  At least, through my Windows '98.
Her Interactive's series of Nancy Drew games, where you play as the titular detective, were a highlight of my childhood. I ate them up as a kid, and I still remember huddling around the computer and point-and-clicking my way through thoughtful dialogue, interesting settings, and clever (sometimes impossible) puzzles.  And with steady releases year after year year, the fun didn't have to end.
But, at some point, it did.  For a while, at least.
Her Interactive's Nancy Drew: Midnight In Salem is a strange game. It was stuck in development for years, halting the regular cycles of Nancy Drew games with its troubled development. For a long time, fans of the series thought it would never get released, and Midnight In Salem would be cancelled.
But here it is, after five years of waiting. So, let's see if this new take on Nancy Drew holds up, despite its troubled past.  Welcome to Salem.
What Parents Need to Know
Violence:
This game is rated E10+ for mild violence, so . . . yeah. Be aware going in that there are some violent scenes, but that's not the game's main focus. This is a game about sleuthing, solving puzzles, and flirting with the Hardy Boys, of course.
Language:
None.
Sexual Content:
None.
Spirituality:
Salem is said to be haunted, and that's a main part of the story. Be on the watch for spooky ghosts.
Since the story is about Salem, there's also a lot of discussion about the Salem Witch Trials, the Puritans, Christianity, and the Bible. It's a game rich in spirituality from a lot of perspectives, which is a nice surprise in a game about detective-ing.
Miscellaneous:
There's a ton of options in the game's menus. I like that I can turn on subtitles and tutorials, and mess with the graphics and camera settings as much as I desire. A way to change up the controls would be nice for players who need it, but then again the controls are rather minimalist here.
Nancy's voice changed for this game, which is something I got over despite my nostalgia. Still, Nancy sounds more like a teenage girl than a mature young adult—whether you like one over the other is up to you.
The game's troubled development really shows in the graphics—it looks like a game released 5 years ago, definitely not in 2020.  And the brightness of the game is way too low for me, but there's no way to adjust it, which is a real shame.
Positive Elements:
The voice acting and music are spectacular—both easily outshine the mediocre graphics.
Speaking of voice acting, I love the little nod to the long release period, where Nancy says, "It feels like it's been ages since my last adventure."
Also, Nancy has a smartphone now. Not sure if that was in other recent Nancy Drew games, but it feels like a natural development from earlier games in the series, where calling phone numbers and reviewing your checklist of things was common—now it's all in one convenient place.
A Child's Perspective:
If you love sleuthing, puzzles, flirting with the Hardy boys and feeling like a real detective?  This game is for you, kiddo.
Reviewers Thoughts:
"Classic" is the best way I'd describe this game. Midnight In Salem feels and plays like a Nancy Drew game from the late 90s/early 2000s.
But that's not a bad thing. The mechanics, writing, and voice acting are all as solid as ever, and I love the spiritual take on a mystery story.  It's handled well, and seeing the case unravel is fun. It's the graphics that are the biggest weakness here—the game certainly looks the part of an older Nancy Drew game, but it didn't necessarily have to.
I'd definitely recommend checking this out and sleuthing for yourself.
Naomi Norbez
Naomi Norbez has been making, playing, and critiquing games since she was a kid. In her free time she makes text adventures, draws comics, and watches birds. She hopes you find her reviews helpful and values any thoughts on them you'd like to share.