Just Cause 2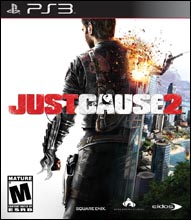 Back to reviews
Game Reviewed: 
Just Cause 2
Publisher: 
Eidos Interactive/Square Enix
Developer: 
Avalanche Studios
Platform: 
PS3 (also on Xbox 360 & PC)
Click Here to Learn More About our Reviews
Game Description:
Reviewers Note: This review is based on 10 hours of playing the game. As such, there is some content that might possibly be in the game that is not covered in this review. This review is meant to give examples of content in the game, not to cover everything that is in the game.
Just Cause 2 is a third person action game that takes place on the fictional island country of Panau. The story is pretty simple; you play as U.S. Operative Rico Rodriguez, your mission is to track down and capture your old commanding officer Tom Sheldon. This will not be easy, however, as Sheldon is also Rico's former mentor, the man who taught Rico everything he knows. As the story progresses, Rico will uncover the truth about Sheldon's defection and discover what is really going on behind the scenes of the government powers in Panau.
The story, however, is not the reason anyone is going to want to play Just Cause 2. The thing that makes Just Cause 2 so appealing to gamers can be summed up in one word, Chaos. In order to open up missions, Rico needs to cause as much Chaos on the island of Panau as he can. This is achieved by aligning himself with different factions on the island (factions of which it should be noted are not the most reputable of people.) As Rico completes missions for different factions, the more Chaos he causes, which will lead to opportunities to complete the main story.
Although causing Chaos can be fun, another reason Just Cause 2 is so appealing is because it is a wide open game that takes place in a 400 square mile area. If the player desires, he can just explore the island and have fun destroying things, racing, base-jumping or skydiving. Personally, I thought the base-jumping and skydiving was really fun as Rico has a parachute he can use whenever the situation calls for it. One thing I personally found fun to do was commandeer a jet, fly around the island, then go as high as I could, jump out of the jet and free fall for a while before opening my parachute.
What Parents Need to Know
Violence
Just Cause 2 is played from a third person point of view. Rico has a grappling hook as well as the ability to use different guns and explosives. If a person is shot with a gun, there is enough blood to garner the M rating, but there is not any gore involved.
Rico can also shoot civilians (adults only), but this is discouraged as it will cause the heat meter to rise which means government officials will start to come after Rico.
With his grappling hook, Rico can pull people down from mounted guns or from lookout towers. Rico can also use his grappling hook to attach people to vehicles and pull them around. This might cause a body to flop around, but again no gore is involved.
Rico also has the ability to use different vehicles such as cars, motorcycles, boats, helicopters and planes. Some of these vehicles have weapons mounted to them which Rico can use to destroy buildings, landmarks, other vehicles and people. Rico can also use these vehicles as weapons to crash into things, if he jumps out before the vehicle crashes (if Rico does not jump out, then Rico will most likely die causing a Game Over.)
Not all buildings, however, can be destroyed. Primarily only buildings and landmarks that are marked with a Panau star can be destroyed. All other buildings will continue to stand. Even if the player tries to fly a plane into the building, it will still stand.
Language
The language I encountered in Just Cause 2 was the kind I would expect to hear in a PG-13 action movie. The words I heard most frequently were hell, damn, bas***d and a**.
Sexual Content
I encountered a bar called the Mile High Club in which there were both men and women exotic dancers. They were dressed in what appeared to be bikini type outfits.
There are also some comments made in the game that contain sexual innuendo.
Spiritual Content
I did not encounter any spiritual content during my time with Just Cause 2.
Misc.
Some of the missions involve the reference of illegal drugs.
Reviewer's Thoughts
During the 10 hours I played of Just Cause 2, I enjoyed myself. Panau is a beautiful island and most of the missions I played were a lot of fun. I also had fun just exploring the island and jumping off cliffs and parachuting. In my opinion, the blood, language and sexual content seemed pretty tame compared to other M rated games I have played, but again this review only covers content that was covered in a little over 10 hours of play.