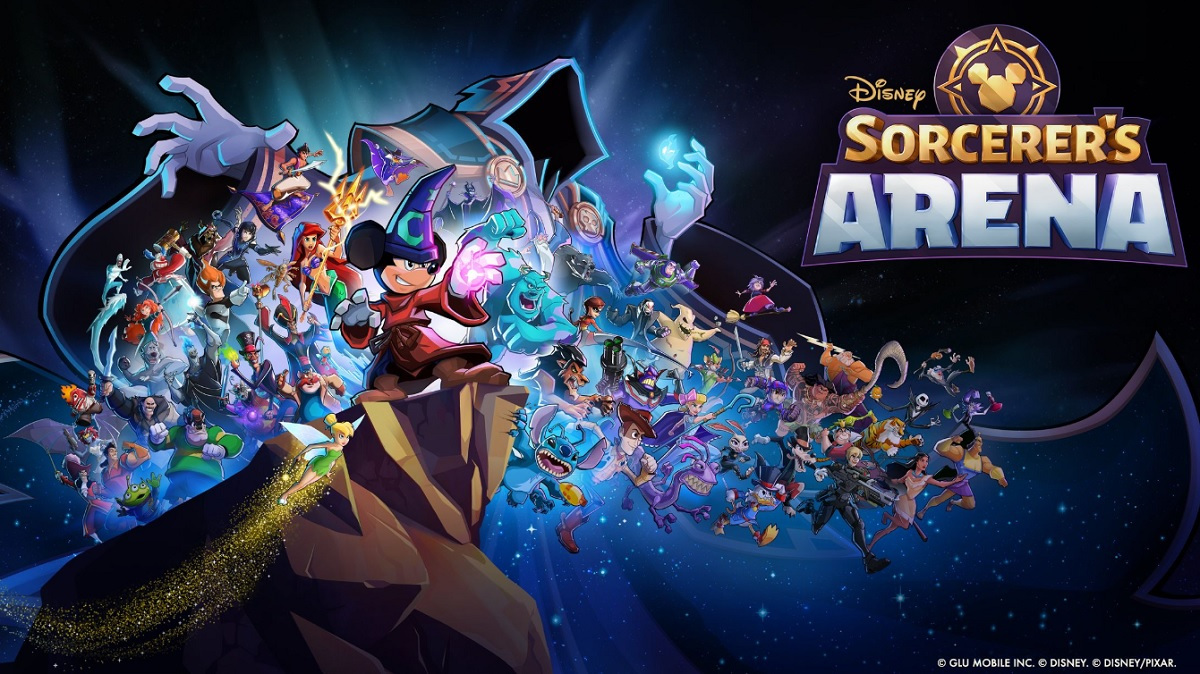 Disney Sorcerer's Arena

Game Reviewed: Disney Sorcerer's Arena
Publisher: Disney
Developer: Glu Mobile
Reviewer: Naomi Norbez
Platform(s): Mobile Devices (iPhones & Android phones)
Category: Turn-based RPG
ESRB Rating: 10+
Game Description:
Something I've noticed as a Switch user is the interesting amount of mobile phone games that come to the platform, from big-budget titles to smaller projects. This is because the Switch has a touchscreen, which makes it another market for mobile game creators to try and cater to. Now, this is nothing new—the Nintendo DS had the same problem. But it is interesting since the Switch is a larger platform, more than a handheld.
This time, I'm going to try and beat a mobile game to the punch, and take a look at it before its Switch announcement. Disney's Sorcerer's Arena is a mobile phone game that, I predict, will be available on Switch before long. For now, let's whip out our phones and enter the family-friendly arena, to check this game out.

What Parents Need to Know
Violence:
In this game, you mix, match, and train various Disney heroes, so they can combat various Disney villains. The combat is tame, very family-friendly and cartoony, and the main focal point of the game.
Language:
None.
Sexual Content:
None.
Spirituality:
None.
Miscellaneous:
The font in this game I found to be rather small, and I couldn't find a way to change the size.
Like Pokémon Go, this game also wants to sell you things—but it's much more aggressive about it, with pop-up ads after every battle to buy things in-game. If you're going to download this, talk to your kids about micro-transaction purchases FIRST. Because Sorceror's Arena REALLY wants your money.

Positive Elements:
The variety of Disney heroes is really impressive. The graphics are also pretty sharp. I love how each hero has their own unique animations at every step, from their entrance to their attacks. It makes every one stand out!

A Child's Perspective:
I'm sure any Disney fan (of which there are a lot) will at least like this game. But they may not love it, for reasons I'll get to in the review portion.
Reviewers Thoughts:
Sorcerer's Arena interested me from the beginning, and at first, I really liked it. But the more I played, the shallower my experience got.
Every battle feels the same. Even with different heroes, it's the same basic formula over and over and over again. The game doesn't change enough to pique my interest. And the constant advertisement to buy in-game items didn't help, either.
It's a charming little title. But not one that hooked me personally. I'm sure kids will get a lot out of it, though—any little one who has a favorite Disney character will want to check it out. Just as long as it doesn't turn out their favorite character is locked behind a paywall.
Naomi Norbez
Naomi Norbez has been making, playing, and critiquing games since she was a kid. In her free time she makes text adventures, draws comics, and watches birds. She hopes you find her reviews helpful and values any thoughts on them you'd like to share.