Diablo 3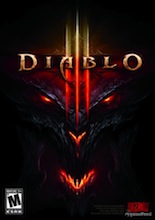 Back to reviews
Publisher: 
Blizzard Entertainment
Developer: 
Blizzard Entertainment
Click Here to Learn More About our Reviews
Game Description:
Cain and his niece Leah are investigating a prophesy when suddenly a huge star strikes the Cathedral they are conducting research in. After the debris filled air clears, Leah finds that her uncle Deckard has disappeared. Thus begins the third chapter of the highly successful blood spilling and loot gathering series. Although, the game has evolved quite a bit since Diablo II, the core mechanics of the series remain the same, which is killing enemies to gain better loot and equipment so you can make your character more powerful in order to kill even more powerful enemies. The game features four progressive levels of difficulty that are unlocked as you beat the game. The new mechanics are the fact that you can now "respec" or change your character's skills on the fly at any time you want. Although, do not do this when powerful elites are near, unless you want to end up dead like I did! Also, minor changes such as being able to identify rare items without the need for identify scrolls help bring the game into the modern era.
The graphics are a quite good, mainly due to the art direction as the graphics themselves are not really any better than games that came out 6 plus years or so ago. The music is typical Diablo affair and hasn't changed much at all. Like Diabo II each act features a riveting cinematic scene that serves to further progress the story.
The game can be played by yourself or with up to three other friends with drop in, drop out cooperative game-play. The only caveat this time is that the game requires an always online connection, so unfortunately players in rural areas without high-speed internet may miss out on this gem of a game.
What Parents Need to Know
Violence
Diabo III although slightly cartoony in it's appearance is chock full of blood and gore. Heads, limbs, and torsos can all be hacked to pieces flying with blood spraying across the screen. Enemies if hit hard enough will erupt in an explosion of blood and guts. Needless to say the game is all about killing demons, and you will be up to your eyeballs in blood and guts.
Language
None.
Sexual Content
Some of the default female characters are wearing basically underwear.
Drug / Tobacco Use
None.
Reviewers Thoughts
I have been a fan of Diablo for years and this game definitely lives up to it's predecessors legacy. Although, due to the graphic content I would stick to not letting younger kids play this game.