Destiny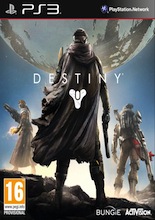 Back to reviews
Platform: 
PS3, PS4, Xbox 360, Xbox One
Category: 
Action role-playing, first person shooter
Click Here to Learn More About our Reviews
Game Description:
When game designer company Bungie decided they were going to team up with Call of Dutyproducer Activision, everyone raved about what kinds of games the two of them could put together. The first release these two will put out is out of a series of games with a similar storyline or universe. It is called Destiny (part first person shooter, part massively multiplayer online role playing game). It plays like Borderlands and Halo combined themselves into one. The game is very much a first person shooter; that is what drives the action of the game. But, you also go hunting for loot and receive rewards for battling online. The more the player continues the game, the better the loot gets… just like an MMORPG. Destiny starts out with the player on earth, after a "golden age" where technology rapidly advanced and life span tripled. This "golden age" was brought on by "the traveler," a mysterious force that has immense power… and powerful enemies – the darkness. The darkness wiped out almost everything that earth had. The traveler, a large orb, now sits atop the last remaining city on earth, keeping the darkness at bay. The player plays as a guardian, one of the defenders of the city. And, as of late, it has been decided that the best defense is a good offense. The player is sent to traverse the galaxy in search of the cause of the darkness and hopefully, and ultimately… finish it for good.
What Parents Need to Know
Violence:
This is a first person shooter, so there are lots and lots of guns. Bullets are almost constantly flying, except in the "tower," the last city standing on earth. There are mild instances of blood when the player is defeated, but none of it remains on the ground. Of course, in typical first person shooter fashion, none of the characters actually die, they just re-spawn a few seconds later. All of the violence in the story is committed against alien-like creatures. Even the humans in the game don't resemble humans while in combat, and the only time you even shoot humans is in the multiplayer portion. There are explosions and such, but even those are fantastical and don't resemble real explosions at all.
Language:
There is no language in the game. However, if you were to investigate one of the in-game collectibles, called grimoire cards, you would find some language. This material is only accessible from an app on your smartphone or via computer, so you have to go searching in order to find it. Even then, they take the Lord's name in vain and say some of the minor curse words.
Sexual Content:
None.
Spirituality:
There is a heavy emphasis on light and darkness throughout the game. This may come to a head later on in the game. The traveler has imbued some people with ancient magic.
There is a speaker, a prophet of sorts, who relays the messages of the traveler.
Miscellaneous:
Some of the creatures in the game can be frightening for younger children.
The second miscellaneous thing that needs to get pointed out is that there are a LOT of other people your character can interact with, both playable and non-playable characters. With playable characters, there is always a risk that is involved. Obviously, they can say things you might not want your child to hear. HOWEVER, they have developed the online play to be extremely intentional. You can only communicate with people from their microphones if they are in your party ("fire team") or if you turn the option on to hear all players' microphones. This would most likely cause you to go crazy, due to the number of people online at any one given time.
Also, there is no option to turn on the microphone so that you can hear all other players, so the sentence can end at "You can only communicate with people from their microphones if they are in your party ("fire team").
Reviewers Thoughts:
Overall, this seems like a very safe game for kids and adults alike. It seems the focus is on the gameplay, not necessarily on the story. I'm sure more "story" will come into play the further along the game progresses, but what I believe Bungie is doing is trying to create an experience for gamers of all ages to enjoy. And while violence drives the plot, usually your teenager has been exposed to that kind of violence from watching Saturday morning cartoons and other kinds of television. In the end, it's up to you if you think a game about shooting aliens is safe for your child or not, but I would let my child play this as soon as they asked to. As always, you decide what you're going to allow your child to get involved in, and if you don't think they are ready for shooting games, give Destiny a pass. I enjoy the game thoroughly and am looking forward to playing more. I will update with anything else that you may need to be aware of as time progresses.