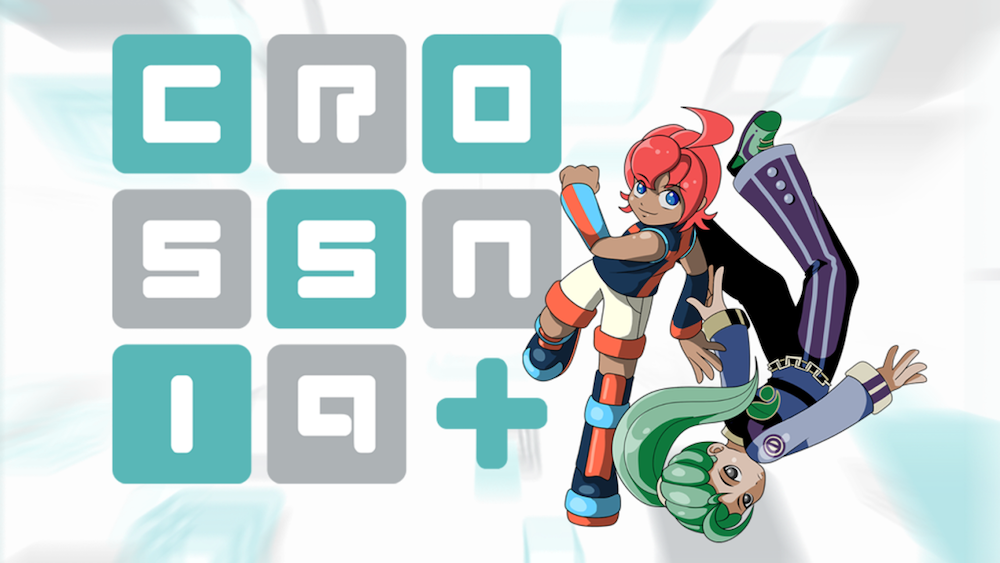 CROSSNIQ+
Game Reviewed: CROSSNIQ+
Publisher: FUTURE MEMORY
Developer: FUTURE MEMORY
Reviewer: Naomi Norbez
Platform(s): PC, Switch
Category: Arcade, multiplayer, puzzle
ESRB Rating: E
Click Here to Learn More About our Reviews
Game Description:
Even though I never had a Dreamcast game system, I grew up playing—or at least hearing about—tons of Dreamcast games (mainly Sonic Adventure 2: Battle, which was my favorite game on the GameCube). Even though the Dreamcast's lifespan was brief, a lot of folks loved the system, and its games and aesthetic connected with many people.
One of those people seems to be Max Krieger, developer of CROSSNIQ+.  After making its predecessor, CROSSNIQ, it went viral on Twitter, and he decided to launch a Kickstarter for an updated version.  He called the game "an homage to 'y2k'-era design", a love letter to Japanese puzzle games on the Dreamcast and PlayStation 1.  The crowdfunding efforts were successful, and the game is set to be released later this year.
I was lucky enough to get a press copy for review, and I'm hyped to check it out. Welcome to the future-past—welcome to CROSSNIQ+.
What Parents Need to Know
Violence:
None.  CROSSNIQ+ is a pure puzzle game, where you focus on making crosses out of a square full of differently-colored blocks.  It's like playing with a 2D Rubix cube.
Language:
Some mild language here and there, but nothing over-the-top—this game is decidedly kid-friendly.
Sexual Content:
None.
Spirituality:
None.  But I had a little chuckle with players asking me, "What the heck's a cross?"
(In this game, the idea is to line up tiles into cross-shapes.)
Miscellaneous:
I appreciated the warning at the start of the game for photosensitive players—and the options to reduce visual effects so those people can play.  I myself am not one of them, but I used them anyway (the background flashing was just a bit too much for my eyeballs).
Positive Elements: 
I love puzzle games, so CROSSNIQ+ was right up my alley.  But the world and characters, with its old-school aesthetic—that's the cherry on the cake.
The game is fun to be in, and I love meeting the new characters, all of different genders, backgrounds, and personalities.  One minute you're chatting with a pink crocodile at the shop, the next you're donating to a brown cat's gallery.  The fact that this all takes place in the fictional city St. Terra, and that each menu option is a location in said city, is a super nice touch.
You also earn "credits" as you play, which helps you unlock new things in the different modes, and in the shop.  It's hard to chart progress in a puzzle game without just having levels, and I think this is a unique and different way to go about doing this.
A Child's Perspective: 
The game's fun, bright aesthetic, various game modes, and cool characters are sure to draw in puzzle-game lovers of all sorts. Kids can face off in Versus Mode, play at their own pace in Chillout Mode, or really try and up their game in Time Attack Mode.
Reviewers Thoughts:
I already love puzzle games, so I was already inclined to like CROSSNIQ+.  But its various modes, early 2000s atmosphere, fun characters, and interesting puzzle mechanics really make it great.
As the game itself says through its character Monitan, "A puzzle game with intricately balanced risk and reward?  Now that's the good stuff!"
I've never played a puzzle game quite like it—its mechanics and design is very unique.  Along with its beautiful aesthetic, this game is quite a treat.
If I had one minor complaint, it's that the dialogue scroll is a bit too slow for me—probably because I'm a fast reader, so waiting for the text to catch up was a tad annoying.  Also, there's no way to adjust the window size on the PC version, at least not right now—that might change when the game's released to the public.
CROSSNIQ+is set to be released later this year, so please check it out—let's cross to the future together!
Naomi Norbez
Naomi Norbez has been making, playing, and critiquing games since she was a kid. In her free time she makes text adventures, draws comics, and watches birds. She hopes you find her reviews helpful and values any thoughts on them you'd like to share.