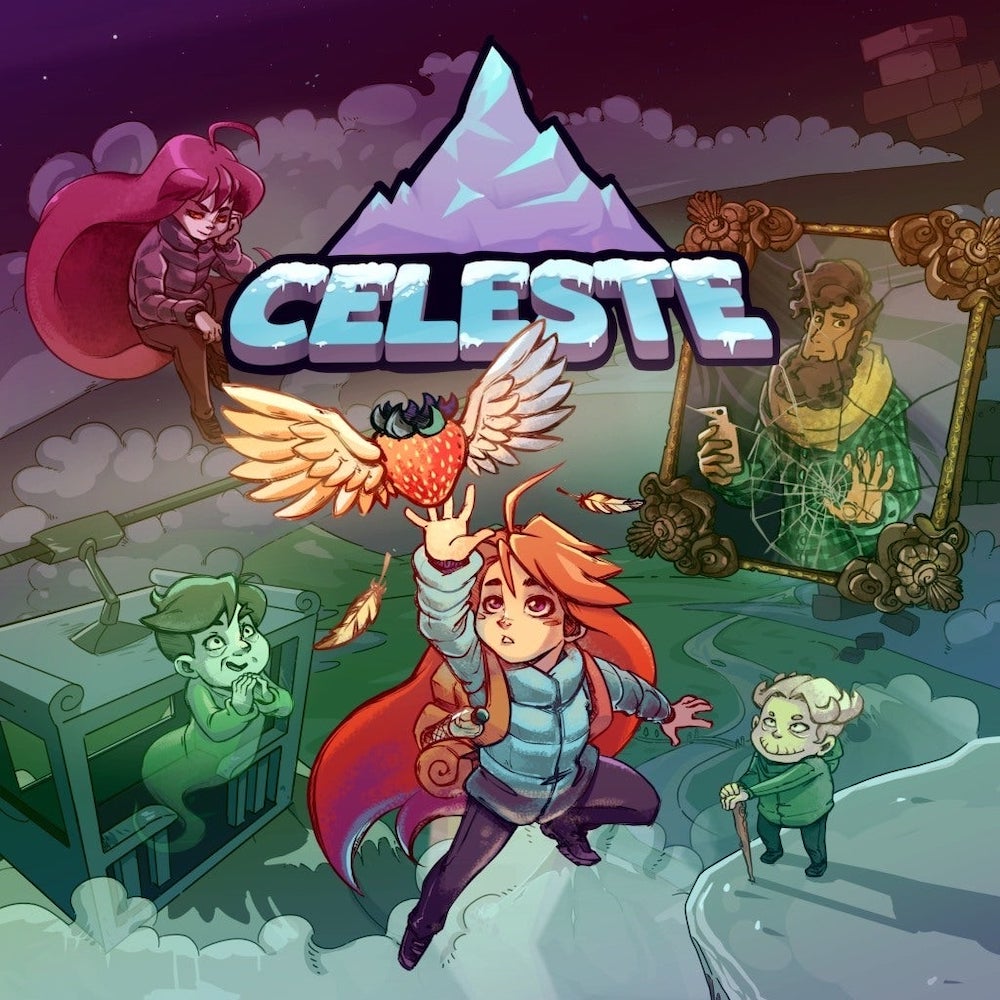 Celeste
Game Reviewed: Celeste
Publisher: Matt Makes Games
Developer: Matt Makes Games
Reviewer: Naomi Norbez
Platform(s): PC, Switch, PlayStation 4, Xbox One
Category: single-player platformer
ESRB Rating: E10+
Game Description:
It's rare to hear about a game with two very different reputations. But that's the case with Celeste, a platformer I've heard whispers about for a long time.  It's a super-challenging platformer that takes after the crushingly-difficult Super Meat Boy. It's a project about depression, mental health, and perseverance. And, from the reception Celeste has received, one of the best games ever in the past few years.
I've been eager to try this game for a long time. And, with the release of the Switch physical edition, I can finally get my hands on Celeste.
Let's start the climb, and begin playing Celeste.
What Parents Need to Know
Violence:
In Celeste, you play as Madeline, a young woman who wants to ascend Celeste Mountain. To do this, she has a set of platforming moves at her disposal, from jumping to climbing to dashing. One must make their way from screen to screen, until they have reached the end of the level.
As this is a hard platformer, you will die quite a lot. But this is not a violent act; Madeline poofs into a circle of pixels, and then goes back to the beginning of the screen.
Language:
Some mild language, but none to severe.
Sexual Content:
None.
Spirituality:
Some. Themes of transcendence come up from time to time.
Miscellaneous:
So. Many. ACCESS-ABILITY OPTIONS!
First off, in the standard settings, each and every controller button can be changed to best suit your need. There's also a way to turn off photosensitive effects and screen shake.
But that's not all! There's also Assist Mode, which was added to the game later and is a fantastic addition. This mode allows you to modify the game's rules to make it easier to play. Super sweet, because the bar-to-entry for many people is the game's difficulty—and now that difficulty can be modified so more people can play!
I also really appreciate the non-disparaging name of "Assist Mode." A lot of "cheats" in games like to shame the player for having to use them, and I'm glad Celeste didn't go that route.
The developers have been active in making their game more accessible for players, and that's something I always love seeing. Go Celeste team!
Positive Elements:
I enjoy the themes of this game—about persevering through challenges, not giving up, and holding on until the end. There are hard truths put in Celeste through its character "Badeline," Madeline's villainous other half who tries to discourage Madeline—and the player—through physical and psychological attacks. It's a well-crafted representation of negative emotions, and I think the gamification of real feelings like this is wonderfully done in Celeste.
The controls of this game are also very good, as to be expected from a brutal platformer. And the vibrations in the controller respond perfectly to your movements. It all feels good to play, and Celeste makes you directly responsible for every action.
A Child's Perspective:
Kids who love challenging platformers, emotional journeys, or just beautiful games, will enjoy this. But even if they don't, they can still take a look via Assist Mode, if they're even mildly curious. I think the themes are great for kids, and this is worth checking out for them.
Reviewers Thoughts:
As someone who enjoys hard platformers, and someone who has grappled with mental health issues, I appreciate Celeste for its look at emotional struggles via a challenging game. It's satisfying to climb up Celeste Mountain, seeing the gorgeous art and working through via the tight controls. Meeting new characters along the way, and seeing Madeline's journey as she gets higher and higher, is glorious.
The Assist Mode is also wonderful. I appreciate the developer making Celeste more accessible to all players, and it definitely helped me get through.  I'm sure it'll help you too.
Take the climb and see for yourself.
Naomi Norbez
Naomi Norbez has been making, playing, and critiquing games since she was a kid. In her free time she makes text adventures, draws comics, and watches birds. She hopes you find her reviews helpful and values any thoughts on them you'd like to share.