Castlevania: Lords of Shadow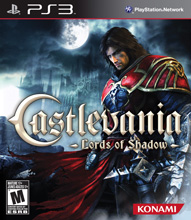 Back to reviews
Game Reviewed: 
Castlevania: Lords of Shadow
Platform: 
PS3 (also on Xbox 360)
Category: 
Action Adventure
Click Here to Learn More About our Reviews
Game Description:
(Warning: Review contains Story Spoilers)
Castlevania games have been around since the original Nintendo Entertainment System. In fact, the last time I played a Castlevania game to completion was Castlevania 2 for the original NES back when I was in the 8th grade. Since that time there have been many different Castlevania games for many different game systems, some have been hailed as game classics and others many gamers believe, that like the series main antagonist Dracula, should never see the light of day. Most of the Castlevania games that have fallen into the latter category have been ones that have been made into a modern third person action format as opposed to the traditional 2D side-scrolling Castlevania adventures that were so popular on systems like the NES and the PS1.
The story in Castlevania Lords of Shadow follows the lead character Gabriel Belmont in the year 1047. Gabriel is part of an alliance of Holy Knights known as the Brotherhood of Light. During the course of the game, there is a deep story playing in the background that involves God and the heavens being separated from mankind and an item known as the God Mask that can bring God and mankind back together. Gabriel, however, is more focused on acquiring the God Mask as he believes it will grant him the power to bring his wife, who was recently murdered, back to life again. So Gabriel sets out on an adventure that will pit him against monsters such as werewolves, vampires and zombies as he attempts to acquire the three pieces of the God Mask in order to save the world and hopefully bring his wife back from the dead.
What Parents Need to Know (Warning: Review contains Story Spoilers)
Violence
Lords of Shadow is played from a third person perspective. Gabriel's main weapon is a cross with a chain whip that he can use to defeat enemies with. There are some large splatters of blood as enemies are defeated, but defeated enemies quickly fade away.
There are also some parts of the game with gore. This is especially true in some of the cut-scenes. For example, one cut-scene shows a monster known as the Evil Butcher cutting a foot off of a leg and then feeding human body parts to some ghouls.
Language
Although the game is rated M, there is only a small amount of bad language in the game. I encountered the words: bas***d, hell, damn and bi**h each used a handful of times.
Sexual Content
There is not any sexual content in the game in terms of actual sex, but there is some nudity in the game. The first part where there is nudity is when Gabriel encounters some female fairies that are naked. Their lower parts are covered by a light, but you are able to see their breasts.
The second part where there is nudity is actually, in my opinion, pretty gross. One of the abilities that Gabriel acquires in the game is the ability to summon a demon which will cause massive damage to the enemies on the screen. This demon looks like the cross between a woman and a dragon. Her chest is that of a woman and her breasts are clearly visible during the cut-scene in which she is summoned.
Spiritual Content (Contains Major Story Spoilers)
There is a lot of Spiritual Content in this game, not all of which is mentioned here. These are what I felt to be the best examples of what I thought parents would want to know about:
– In wake of the darkness that has been occurring in the world, many believe that God has abandoned man or that possibly a spell was cast to block God from man. There is also thought that the darkness might be here as a way that God is punishing man for his sins.
– In one level Gabriel goes to the Lake of Oblivion where the living can talk with the dead.
– Some of the Brotherhood of Light believes that in order to defeat evil, one must learn both light and dark aspects of magic. As such, Gabriel learns both types of magic which allow him to do things such as increase his health with light magic and increase his attack power with dark magic (or shadow magic).
– There is reference to there being One True God, but also to Old Gods. It is the blood of an Old God that at one point in the game opens the way for Gabriel to continue on his journey.
– The final battle of the game is with Satan who has manipulated the events of the story as a way for him to acquire the God Mask in hopes that it will allow him to re-enter heaven and crush the Almighty.
– Gabriel does declare towards the end of the game that all men can repent before God for their sins.
– After the end credits, there is a cut-scene where it is discovered that Gabriel has somehow become Dracula in modern day. It is said that Satan will be returning soon and will obviously want revenge on Gabriel for defeating him. This is obviously a hint at a possible game sequel.
Reviewer's Thoughts
I do not want to mislead anyone, but I found Castlevania Lords of Shadow to be a lot of fun to play. For those familiar with other games, it was like Shadow of the Colossus, God of War and Uncharted all mixed into one. My concern as a parent, however, is that the story, while very entertaining, presents some ideas about God, Satan, and Salvation that could be very confusing to children. That, along with the dark nature of the game, and the nudity, I would not recommend Castlevania: Lords of Shadow for children. Parents, this game is rated M for good reason. Please respect the ratings.