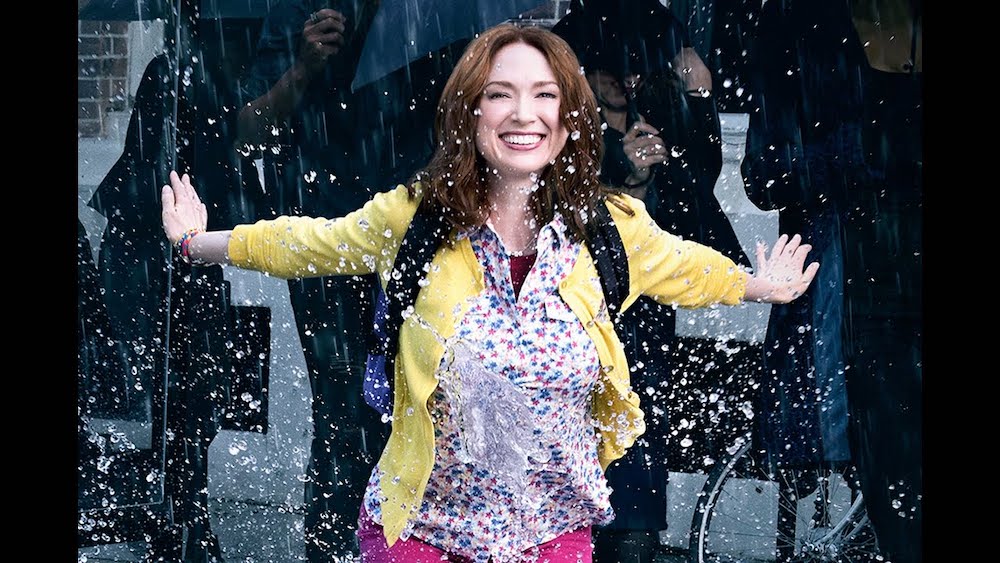 Episode One: Kimmy Goes Outside!
A Note to Parents: Is this show appropriate for kids? We at The Source For Parents never want to introduce something to kids that you wouldn't want them to watch, so we develop discussions that parents can use if they feel the show is appropriate for their child. We want parents to be equipped to make the best decisions they can for their child. Our friends at Common Sense Media have some thoughts on Unbreakable Kimmy Schmidt that we think might be helpful to you as you discern whether or not to utilize this discussion.
Escaping is not the same as making it. In the premiere episode of the Netflix comedy, Kimmy Schmidt (played by Ellie Kemper of The Office fame) escapes after a fifteen year underground captivity. Kimmy was held by a cult leader who had claimed the world has been destroyed, but she has now emerged with an infectious joy and endearing innocence.
Determined to be more than a victim, Kimmy chooses to live in New York City instead of returning to her native Indiana. It wasn't enough to have escaped her underground fate, Kimmy stumbles upon a job as a nanny and secures a place to live with her colorful roommate Titus Andromedon.
Throughout this episode, Kimmy's determination to push forward is paired with her comedic ignorance, resulting in laughs as her pursuits push forward. She remains encouraged despite losing $13,000 that she had in a backpack she was carrying around with her. She was about to achieve her lifelong goal of being kissed by a boy when the backpack was stolen, which leads her to eventually say the following:
Life beats you up, Titus. It doesn't matter if you get took in by a cult, or you've been rejected at auditions…You can curl up in a ball and die…or you can stand up and say, "We're different. We're the strong ones. And you can't break us."
Kimmy wants to make it. She isn't satisfied with merely escaping the bunker she called home for a decade and a half. She wants to be strong, to be resilient, and to stubbornly refuse to allow her circumstances to dictate her future. Kimmy wants to experience life as something other than part of a tragic story.
In the New Testament book of 2 Corinthians, the apostle Paul is writing about the incredible power of God and he writes in chapter 4:8-9
"We are hard pressed on every side, but not crushed; perplexed, but not in despair; persecuted, but not abandoned; struck down, but not destroyed." 
Trouble is guaranteed, no matter where we are. We should expect it. Kimmy seems to keep the perspective that trials are inevitable, and Paul makes that point clear saying we are hard pressed on every side. There is no reason to be caught off guard by the hardships we face as there is nothing we can do to stop them from coming.
The amazing promise for believers is that because of God's incredible love and His incomprehensible power, we are not crushed by the trials we face.
There will be times when we don't know what to do, when we wonder what path to take, but we need not despair – God is at work. Hardship will come as we walk in faith, but God will never leave us or forsake us. Though we may fall, because of Jesus our stories do not end there.
Kimmy's story is just getting started, and in the same way our stories are not yet done being written. Let's be people who don't just want to endure hardship, but who want to thrive through it, trusting God to lovingly do incredible things in our lives along the way.
Discussion Questions:
Other than Kimmy, which characters from this episode stood out to you? What stood out about them?
In this episode we see Kimmy do things such as run outside, go to a candy store, and buy new clothes. If you were freed from a long captivity like Kimmy, what would you do when you were free?
Why do you think it was so important for Kimmy to get out of the van and stay in New York City?
Do you think Titus needs Kimmy in his life? Why do you think the way you do?
What comes to mind when you hear the phrase, "escaping is not the same as making it"?
What are some ways that you are currently hard pressed on every side?
Why do you think Paul can confidently write that we are not crushed, not in despair, not abandoned or destroyed?
Why do we so often rely on ourselves to get through hard times instead of really depending on God?
In Philippians 3:12-14, the apostle Paul writes:
"Not that I have already obtained all this, or have already arrived at my goal, but I press on to take hold of that for which Christ Jesus took hold of me. Brothers and sisters, I do not consider myself yet to have taken hold of it. But one thing I do: Forgetting what is behind and straining toward what is ahead, I press on toward the goal to win the prize for which God has called me heavenward in Christ Jesus."
In light of these verses, what are some ways you need to leave your past behind and press forward toward what God has for you?
Rob Chagdes
Rob Chagdes is one of the pastors at Prairie Lakes Church in northern Iowa. In the years since he met Jesus as a sixteen year old, Rob has spent his life working to raise up the next generation to love God and invite others into His unending story. He spends most of his free time with his wife Leslie, their three amazing daughters, and their energetic dog Jedi. You can reach Rob at chagdeswrites@gmail.com