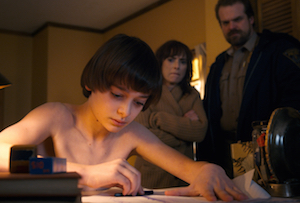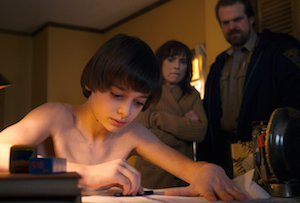 Episode Four: Will the Wise
I love gardening. I love everything about it, from the weeding, to the pruning, to the planting and the dead heading. Fall is especially beautiful as all of the leaves turn into a palette of oranges, reds and yellows. The birds find stray sunflower seeds and my vines start to wither. This is the age-old cycle of life that harvesters experience every year, signaling the dormancy of oncoming winter and the need to prune back plants, and especially vines to prepare them for increased fruit yields in the spring.
In Episode 4 of Stranger Things: Season Two, we start discovering even more the brutal nature in which the Upside Down is spreading in Hawkins – it is a network of vines which are growing beneath the town and are causing death and destruction in their wake. Remember those rotten pumpkins from previous episodes. We begin the episode back out on the football field, where Will is being overtaken by the misty black shadow monster entering rapaciously through his nose and mouth. Despite Joyce's cries and attempts to jolt him from his trance-like state, Will is filled with this mist and opens his eyes to a new and transformed state – perhaps, why the title is given, "Will the Wise." Mike keeps referencing the possibility that Will has attained "true sight," or the ability to see into the Upside Down in real time, or as Will puts it, having access to "now memories." As the episode progresses, we discover the extent of the body invasion – Will's body temperature has dropped significantly and when Joyce draws him a warm bath, Will reacts viscerally and in an altered voice says, "No. He likes it cold."
When Hopper arrives on the scene, an interesting discussion happens as Will attempts to articulate just what it is like to have this creature inside him.
Hopper:
 So this thing, this shadow thing. You told your mom it likes it like this. It likes it cold?
Will:
Hopper:
Will:
Hopper:
Will:
 No. It's like I don't have to think. I just know things now. Things I never did before.
Hopper:
 And, uh, what else do you know?
Will:
 It's hard to explain. It's like old memories in the back of my head, only they're not my memories.
Hopper:
Will:
 I mean, I don't think they're old memories at all. They're, they're now-memories, happening all at once, now.
Hopper:
 Can you describe these "now" memories?
Will:
 I don't know. It's… it's hard to explain.
Joyce devises a plan to have Will sketch what is happening to him and his feelings, rather than trying to find the right words to express himself. Will begins frantically scratching with crayons onto sheets of paper, and at first it doesn't seem like anything can be gleaned from these sketches. Suddenly, Joyce discovers that the pictures connect and the floor becomes a mass of scattered papers as she and Hopper try to decipher meaning in the chaos:
Joyce:
 Does this mean anything to you?
Hopper:
Joyce:
 'Cause remember he was saying it was spreading and killing.
Hopper:
they
 were killing. Vines. He's drawing vines.
Things seem to click for Hopper. He remembers the odd happenings of dead pumpkin vines which have been scattering across Hawkins and realizes Will is rendering a map of the Upside Down's spreading path beneath the town.
In this episode, I believe that vines play a largely symbolic role. They are spreading beneath the town and killing as they spread. They are not only causing human suffering, but also killing plants and animals too (pumpkins and deer). A vine represents contagion, and in this context death, destruction and consumption. Those that have "true sight" are beginning to see what this Upside Down is truly about. And characters such as El have already warned and foreshadowed the evil nature of this alternate world.
Vines are an interesting symbol throughout the Bible as well, and are seen both in the positive as well as the negative in both the Old and New testaments. Early readers would have been reminded of God's comparing Israel to a vine, and prophets such as Jeremiah and Hosea warned Israel about pending death and destruction to the vine (Israel) if they didn't return to the Lord. In the book of Jeremiah, Jeremiah the prophet is speaking God's word to Israel and admonishing them to return to God. In Chapter 2, verses 19-21, he says:

"Your wickedness will punish you; your backsliding will rebuke you. Consider then and realize how evil and bitter it is for you when you forsake the Lord your God and have no awe of me," declares the Lord Almighty. "Long ago you broke off your yoke and tore off your bonds; you said, 'I will not serve you!' Indeed, on every high hill and under every spreading tree you lay down as a prostitute. I had planted you like a choice vine of sound and reliable stock. How then did you turn against me into a corrupt, wild vine?
So here we see the metaphor of a "sound and reliable stock" planted by God that has turned into something wild – good only for pruning and destruction (as the prophet goes on to describe later).
In contrast to this vine gone wild, Jesus refers to himself as the "true vine" in John chapter 15:1-6:

"I am the true vine, and my Father is the gardener. He cuts off every branch in me that bears no fruit, while every branch that does bear fruit, He prunes so that it will be even more fruitful. You are already clean because of the word I have spoken to you. Remain in me, as I also remain in you. No branch can bear fruit by itself; it must remain in the vine. Neither can you bear fruit unless you remain in me. I am the vine; you are the branches. If you remain in me and I in you, you will bear much fruit; apart from me you can do nothing. If you do not remain in me, you are like a branch that is thrown away and withers; such branches are picked up, thrown into the fire and burned."
Jesus is contrasting Himself to Israel as the true vine and describing His church (believers and followers of Jesus) as the branches. And of course, a branch not connected to the vine is useless and will die – it won't receive the nutrients it needs to grow and bear fruit. But when connected to Jesus, when we lead lives that are fully devoted to Him, we find ourselves growing stronger and closer to God and bearing fruit in the lives of others.
We find Hopper at the end of the episode discovering a sink hole near some dead vines – he begins to dig and dig – and enters the Upside Down with the words, "Oh Jesus." And so, I think it is an interesting contrast to the Upside Down, where vines are dying and spore-like matter is floating in the air, compromising life and bringing misery as it spreads. Jesus is the "true vine" bringing life, abundance, hope and fruit. If only our Stranger Things characters could experience this true vine of hope and life.
Discussion Questions:
Why do you think Will is susceptible to the body invasion of the shadow monster? What sorts of evil surrounds us in this world? What increases our susceptibility to it?
In the Bible, many images of gardening are used in both the Old and New testaments. Why do you think that is?
What symbolism might the Upside Down represent? What about the vines growing beneath Hawkins?
Why does the Father as the gardener in John 15 cut branches off? Why does he prune the branches? What kind of branch do you think you are?
A branch connected to a vine will bear fruit just like a Christian (branch) connected to the vine (Jesus) will bear fruit. What kind of fruit do you think Christians produce?
Jesus lived at a time with less technology in a culture that was largely agricultural. Do his gardening metaphors still work for us more than two thousand years later? Why or why not?
Given our more modern and technology-driven culture, what other ways could you explain to your friends about being connected to Jesus?
Written by Amy McKee