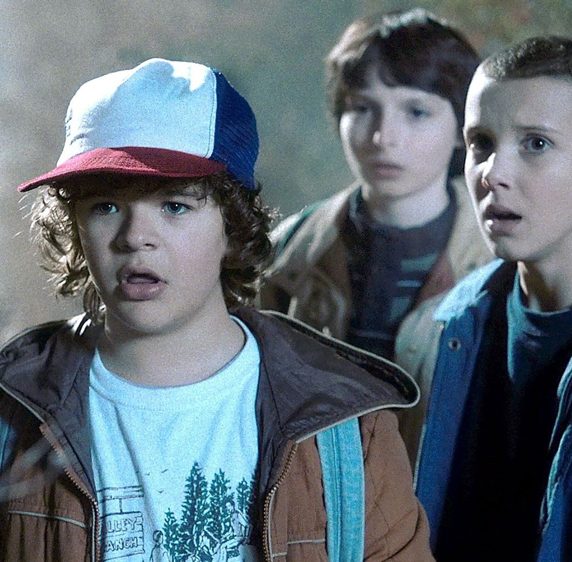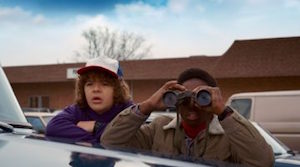 Episode 3: The Pollywog
Have you ever watched a scary movie and afterwards seen monsters in every shadow? Or jumped when your house made any of those strange creaky noises? You told yourself that it was just a movie, but in your gut you were just totally unnerved? That's that feeling that drives millions of moviegoers every year to the theaters or to their couches to see the latest "scary" movie. Those fingernails dug into the couch or the blanket pulled up tightly over your eyes with just a sliver of visibility to watch the jump scene around the next corner are the iconic experiences we all know of having a "good scare." And yet, these feelings of fear are not founded in reality – we have experienced a roller coaster emotion ride that is truly fake and fantasy – that's the thrill of it. But what happens when we encounter real monsters in our lives? Episode three of Stranger Things, "The Pollywog," deals with these two very different types of fear – one real and one fiction.
I love that this episode is called "The Pollywog." It seems so innocent and grade-schoolish. We meet this slimy little creature that Dustin has discovered in his trashcan and who is given a new home (sorry for your temporary eviction Yertle). Similar to Elliot's inter-connectedness with E.T., we start to see a growing bond develop between Dustin and the "pollywog" (renamed D'Artagnon or Dart for short) after Dustin drops some nougat from his 3 Musketeers into his terrarium. And while the audience has premonitions of future doom with this tadpole-like creature, Dustin and his AV crew (plus Max) don't at first see any reason to fear him. He's so small and harmless, right? When a lamp is moved over Dart's container, he emits a high pitched shriek, triggering a flashback for Will – remember that slimy thing that came out of Will's mouth and went down the sink at the end of Season One? We learn that Dart is hurt by light and prefers the dark.
Later on, we drop in on a conversation as Bob is driving Will to school in the morning. Questioning Will about "milling around" upstairs, Bob starts to open up a conversation with Will about whether he is having nightmares again. Will denies it, but Bob persists with a story of his own from childhood:
Bob:
 Did I ever tell you about Mr. Baldo?
Will:
Bob:
 Yeah. I was a little younger than you, standing in line for the Ferris wheel at the Roane County fair.
Will:
Bob:
 And suddenly, I feel this fat white glove tap me on the shoulder. I spin around, and there he is. Mr. Baldo.
"Hey, kiddo, would you like a balloon?"
 Go ahead, laugh. It's funny. It wasn't funny back then, I can tell you that. I couldn't get him out of my head. Every night, he would come to me in my dreams. And every night when he came to me I ran. It got so bad that I made my mom stay in the room with me until I could fall asleep every night.
Will:
Bob:
 Really. It went on like that for months. And then one day, the nightmares suddenly stopped. Wanna know how?
Will:
Bob:
 Well, I fell asleep and just like always, Mr. Baldo came to me. Only this time, I didn't run. This time, I stood my ground. I just looked at Mr. Baldo in his stupid face, and I said,
"Go away. Go away!"
 Just like that, he was gone. Never saw him again. Easy-peasy, right?
Will:
Bob:
 Just like that (snapping his fingers).
Will takes this in and the audience sees the invisible cogs turning in his mind – maybe Will can stand up to the monster he keeps running across (you know, the one that he sketched and that Joyce sketches off of the static on the JVC video of Halloween night). Could it be that easy?
We learn more about Bob's character in a scene between him and Joyce where he expresses concern that Will is being bullied (referencing some footage on his video camera from Halloween). Joyce is outraged and ready to track down these bullies:
Bob:
 I just, I went back and watched the tape and there were some older kids picking on Will.
Joyce:
Bob:
Joyce:
 Who were they? Were they the Zimmerman brothers again?
Bob:
 Um, I don't know. They were wearing masks or sort of makeup and… maybe. They were the right age.
Joyce:
 I'll kill them. I swear to God, I will I will kill them.
Bob:
 That's what I love about you. You punch back. I was never really one to put up a fight. I struggled a lot like Will when I was a kid. With bullies. It's the ones like us, that don't punch back, that people really take advantage of, you know? They rub your nose in it, just a little bit more. I don't know why they do that. Maybe it makes them feel powerful. I don't know. But, hey, look at me now. I get to date Joyce Byers. Ha! Are you kidding me? I get to date – It all works out in the end, doesn't it?
Joyce:
 [reluctantly and with a far off worried look in her eyes] Yes, it does.
So in this exchange between Bob and Joyce, we see a real example of fear – bullying. Bob experienced it as a child, and he's concerned that Will is dealing with it at school as well. Bob's intentions are so well-meaninged, and Will is definitely facing some "Zombie Boy" calling bullies around town – but that is not at the heart of what is really threatening Will. The seemingly harmless Dart (a juvenile spawn of the Demogorgon) is an indication of the real monster.
In an AV club mishap, Dart escapes and the crew scatters to try and find him. It is Will who finally discovers Dart in a bathroom stall and quietly radios the guys. He then turns to Dart and with reluctance says, "It's OK. I'm not gonna hurt you." Dart emits another high pitched shriek causing Will to drop his walkie talkie and head out into the school hallway – which suddenly turns into the Upside Down. An ominous and tentacled black mist pursues Will down the hall and out onto a dark football field. Will flashes back to his conversation with Bob:
Bob:
 Only this time, I didn't run. [Will slows from a run to a stop on the field] This time, I stood my ground. [Will turns around toward the towering black, tentacled monster] I said, "Go away. Go away!"
Will:
 [Facing the monster and gradually screaming louder and louder] Go away! Go away! Go away! Go away! Go away! Go away!
Bob:
 Easy-peasy, right? [the black monster starts charging toward Will]
Will:
 Easy-peasy. [the misty, vaporous tentacled monster envelops Will and enters his body through his nose]
Bob:
 Just like that. (snaps) [and the episode is over)
And so, we are left with a feeling that things did not work out so well for Will. Standing his ground and yelling "Go away" did not stop this misty monster from invading his body. It begs the question – Are there things that we really should be afraid of and that simply standing our ground or screaming "Go away!" won't fix? Although Bob's advice was well-intentioned, it doesn't seem to be hitting the mark for Will.
Life is like this in many ways. Many kids deal with real monsters – at their schools, in their homes, or out in the world. We have wars raging all over the world. Kids are abused and neglected. Sometimes, the best advice we can give kids is to run, to tell, to seek help outside of themselves. In Bob's case, he had an unfounded fear that crept into his dreams at night. And in that instance, in his dream, standing his ground, facing his unfounded fear and shouting to Mr. Baldo to "go away," seems perfectly reasonable. Bob was facing his own mental monsters. Will has encountered a real monster with a real ability to harm.
As Christians, we are in a unique situation. We have the God of the universe dwelling within us, filling us with His love and power. In the fourth chapter of John, we learn about God's incredible love. And in verse 18, we are told, "There is no fear in love. But perfect love drives out fear, because fear has to do with punishment. The one who fears is not made perfect in love." But let the reader beware, this verse is talking about fear, not real monsters. God tells us not to fear – He is with us. But we do have to contend with real monsters in this fallen world – both in the form of humans and also in the spiritual world (not unlike the Upside Down). Ephesians 6:10-18 gives us more instruction on how we are to face the real dangers in life:
10Finally, be strong in the Lord and in his mighty power. 11Put on the full armor of God, so that you can take your stand against athe devil's schemes. 12For our struggle is not against flesh and blood, but against the rulers, against the authorities, against the powers of this dark world and against the spiritual forces of evil in the heavenly realms. 13Therefore put on the full armor of God, so that when the day of evil comes, you may be able to stand your ground, and after you have done everything, to stand. 14Stand firm then, with the belt of truth buckled around your waist, with the breastplate of righteousness in place, 15and with your feet fitted with the readiness that comes from the gospel of peace. 16In addition to all this, take up the shield of faith, with which you can extinguish all the flaming arrows of the evil one. 17Take the helmet of salvation and the sword of the Spirit, which is the word of God.
18And pray in the Spirit on all occasions with all kinds of prayers and requests. With this in mind, be alert and always keep on praying for all the Lord's people.
Interestingly, Paul instructs us to spiritually "stand" our ground and after we have done everything, to "stand." We do this by claiming God's truth, living lives of righteousness, being ready with His gospel of peace, holding onto our faith like a shield, immersing ourselves in God's Word (the Bible) and trusting Jesus' work on the cross for our salvation – all of these things accomplished through the power of the Holy Spirit. Notice God did not say we would not face danger – it says it clearly that our struggle (or in some translations "battle") is not against flesh and blood, but truly against the Devil and his spiritual forces of evil.
The good news is that we can stand – stand our ground and stand firm on the rock of Jesus Christ. In Will's attempt to hold his ground, he was relying on his own strength to defy the Demogorgon. We are called to stand firm in Christ – it is only by His power that we can truly stand and resist the evil one and the evil things that come against us.
Discussion Questions:
Do you like scary movies? Why or why not? Do they seem real or fake to you?
What are some things that we should truly fear? How should we deal with them?
What are some unfounded fears in our lives? How should we deal with them?
Was Bob's story about Baldo helpful for Will? Why or why not?
In Ephesians 6, we are called to put on the belt of truth? What is that? How do we do that? How will that protect us?
What is righteousness? How do we reflect that in our lives?
How do we get our feet ready? And what is the gospel of peace? How do we bring that to the world?
What is faith? How does it shield us?
What is salvation? Have you been saved?What kinds of "flaming arrows" does the "evil one" (Satan) throw at us?
How is the Bible like a sword? Are you carrying your sword with you?
To become good at sword fighting, a swordsman must practice. Do you think we have to practice with the sword of the Spirit (the Word of God)? What does that look like? Are you doing that?

Written by Amy McKee