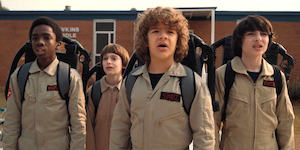 Episode 2: Trick or Treat, Freak
Have you ever felt like you were straddling a fence in your life, with one foot dangling on either side? Or like you've compromised instead of standing for what's right? Imagine two choices, two lifestyles, two ways. You know the one that God wants you to walk and yet you feel compelled and lured by the other choice – either because you are personally enticed or maybe your friends, coworkers, or family members lean in that direction. What do you do? Which do you choose?
Tonight's episode of Stranger Things, Trick or Treat, Freak, captures the idea of the "halfway" in several ways. We begin with a conversation between Hopper and Eleven. Eleven is isolated and unable to be with her friends (for her own safety), but concocts a plan to remain unseen as a ghost (ironically our four boys are dressed as Ghostbusters). She wants to go trick-or-treating – to be a normal kid. Hopper sympathizes but refuses, offering a "compromise" or as he says a "COM Promise – it's something that's kinda in-between. It's like halfway happy." El agrees to the compromise, echoing the new definition, "halfway happy" and Hopper promises to return by 5:15 to eat candy and watch scary movies (a promise he doesn't follow through on).
Nancy is another character who has compromised. She has settled for Steve (who at this point seems to be acting nicer than last season), but Nancy feels like he is sweeping Barb's death under the rug and focusing on "bulls***" (repeated several times) by preferring to wear 'stupid' costumes (Risky Business pimp and prostitute – really nice Steve), go to a 'stupid' party at Tina's, and pretending to be 'stupid' teenagers. Nancy drinks herself silly, gets splashed on accident by Steve with 'pure fuel' (alcohol-infused punch), slurs over her words in a bathroom break-up with Steve and is driven home and tucked in bed by Jonathan. Wow. At least she is not on the fence anymore, but the episode ends with many loose ends regarding Nancy, Steve and Jonathan. We'll look to future episodes to flesh out what's really going on in this love triangle.
Another halfway compromise that seems to have been made is in Joyce's decision to date Bob – a really nice guy who was the "geek" in her high school past and is now equally geeky, dressed as Dracula and dancing with her to the Rogers-Parton duet Islands in the Stream. Bob seems to truly love and care for Joyce and her boys, and proposes to move to Maine, to start over again, to help Joyce and her family return to normalcy. He says he could get a job at RadioShack there. But Joyce's expression tells it all – she sees Bob as naïve, sweet and perhaps a bit clueless. Joyce responds, "This is not a normal family," and Bob says, "It could be. It could be." But the audience is left feeling Joyce's reluctance and growing detachment from Bob.
Finally, following a trail of spilled candy up to a couch where we find Mike and Will talking, we encounter another instance of halfway. Will has had another 'episode' where he sees a giant creeping figure towering over Hawkins. In his vision, he screams out for Mike, very reminiscent of El's screaming for Mike in the Upside Down in the flashback at the beginning of the episode. And Mike listens to Will and relates to him at the same time:
Will:
 It's like… like I'm stuck
Mike:
 Like, like stuck in the Upside Down?
Will:
 No. You know on a View-Master, when it gets, like…
Mike:
 Caught between the slides?
Will:
 Yeah. Like that. Like one slide's our world and the other…the other slide is the Upside Down. And. And there was this noise coming from everywhere. And then I saw something.
Mike:
Will:
 No. It was like this huge shadow in the sky. Only it was alive. And it was coming for me.
Mike: 
Is this all real? Or is it like the doctors say, all in your head?
Will:
 I don't know. Just…just please don't tell the others, okay? They won't understand.
Mike:
Will:
Mike:
 Yeah. She always did. Sometimes I feel like I still see her. Like she's still around, but she never is. I don't know. Sometimes I feel like I'm going crazy.
Will:
Mike: 
Hey, well, if we're both going crazy, then we'll go crazy together, right?
Will:
 [chuckles] yeah. Crazy together.
So we realize in a mutual confession that both Mike and Will feel caught in between worlds – the world of Hawkins as they knew it before all these "strange things" started happening, the world with El in it, and this post-world trying to regain a sense of normalcy (but our characters are changed by their past). They can't return to life as it used to be, but they feel stuck like they can't move forward either. And all the while, this dark shadow hangs over Hawkins (and everyone).
As Christians, we can sometimes feel like this, especially as we gain awareness of the world around us. We can never really return to our pre-knowing days, a concept we often refer to as "the loss of innocence." And yet, we are called to live out our lives purely and in a manner worthy of Christ. But it's easy to feel "stuck" sometimes between two worlds (kind of like that midpoint on the View-Master between two slides). In the book of Revelation, letters are written to several churches about how they are responding to the worlds around them. One of particular interest is a letter written to the Church in Laodicea where believers are urged to have eyes to see and ears to hear (Revelation 3: 14-22):

14 "And to the angel of the church in Laodicea write: 'The words of the Amen, the faithful and true witness, the beginning of God's creation.
15 "'I know your works: you are neither cold nor hot. Would that you were either cold or hot! 16 So, because you are lukewarm, and neither hot nor cold, I will spit you out of my mouth. 17 For you say, I am rich, I have prospered, and I need nothing, not realizing that you are wretched, pitiable, poor, blind, and naked. 18 I counsel you to buy from me gold refined by fire, so that you may be rich, and white garments so that you may clothe yourself and the shame of your nakedness may not be seen, and salve to anoint your eyes, so that you may see. 19 Those whom I love, I reprove and discipline, so be zealous and repent. 20 Behold, I stand at the door and knock. If anyone hears my voice and opens the door, I will come in to him and eat with him, and he with me. 21 The one who conquers, I will grant him to sit with me on my throne, as I also conquered and sat down with my Father on his throne. 22 He who has an ear, let him hear what the Spirit says to the churches.'"
While the book of Revelation contains imagery that is so often hard to define and interpret, it is clear in this passage that Jesus doesn't want us to be lukewarm or to straddle the fence. We can't be "halfway" about Jesus and our faith in Him. We must have eyes to see the worlds that we find ourselves in, yet to live out lives of integrity as we pursue Christ. Jesus wants us to be refined, pure and holy. And what a comfort to know that He is standing at the door of our hearts, knocking (and it's not a trick). We must simply hear His voice, open the door and let Him in. All in – there is no halfway. And the end is sure – victory in Jesus.
Questions:
Have you ever compromised? Was it a good thing or a bad thing? Why?
How can a compromise be good? How can a compromise be bad?
How does Eleven feel stuck? What would you do if you were in her situation?
How does Nancy feel stuck? What would you do if you were in her situation?
How does Joyce feel stuck? What would you do if you were in her situation?
What is it about Mike that makes Will and Eleven trust him so much? How does he show true friendship to both characters?
Do you think Bob is a naïve character? Why or why not? He dresses like Dracula, listens to Kenny Rogers and wants to lead a "normal" life, but keep in mind that when Jonathan tells Will he doesn't know what she [Joyce] sees in him [Bob], Will responds "At least he doesn't treat me different."
How did Jesus handle people from different worlds (consider the Pharisees and the Samaritans)? Did He compromise in His message or His actions? Should we?
Written By Amy McKee