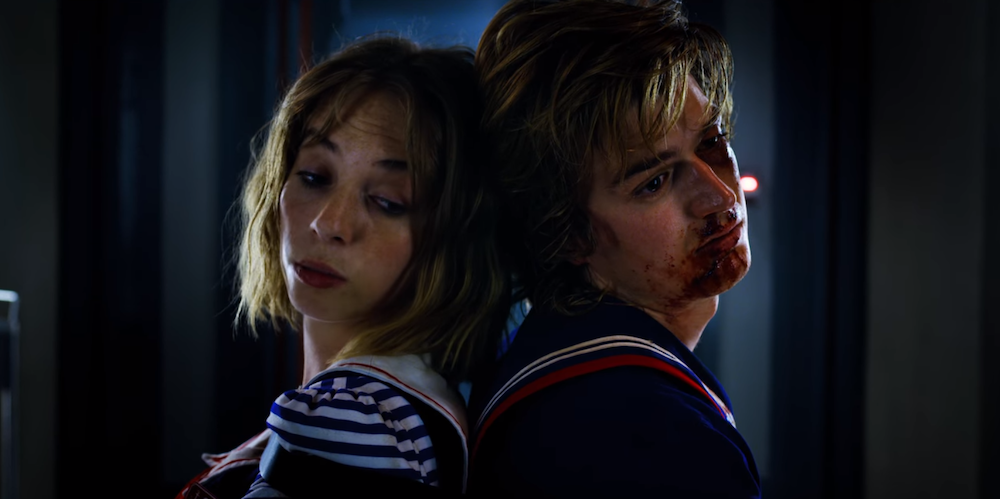 A Note to Parents: We at TheSource4Parents.com realize it's difficult to find fun family entertainment today. With that in mind, we realize that a few of you might object to some of the content in shows like Stranger Things and choose not to show it to your kids. After all, even secular media organization Common Sense Media rated Stranger Things "age 14+"… so maybe use that as a rough plumb line. Even though this show is mild by today's standards, it does include foul language and some sensual situations (which might be good to dialogue about). If you do decide to let your kids see it, hopefully the following discussion guide will give you some ideas of themes you can discuss and what scripture says about it.
Stranger Things just dropped their third season and critics & audiences alike are already loving it! Families are loving it too…it fills the need that E.T., Goonies, and Super 8 once provided… kids on bikes saving the world! (And probably is about the same "rating" for language, violence, etc. Truly PG-13)
But Stranger Things also provokes good discussion about everyday life and relationships, or even deeper discussions about its naturalistic world view. Regardless, we hope you use it to provoke meaningful conversation in your home!
Episode Six: E Pluribus Unum
In this episode, Steve and Robin are captured by the Russians while Dustin and Erica hope to save the day. Meanwhile, Hopper freaks out over Slurpee flavors, and Eleven learns all about Billy's past – while he is literally in her mind. The rapid pace from the previous episode continues as Steve and the Mind Flayer take serious beatings (from the Russians and Eleven, respectively) in what might be one of the more eventful episodes of Stranger Things.
Love in Action 
After a failed attempt to get scissors to set themselves free from their Russian captors, Steve and Robin find themselves flat on the ground with their heads on the floor. Despite their precarious situation, they end up sharing an extremely significant moment together.
Robin: Do you remember, um, Mrs. Click's sophomore history class?
Steve: What?
Robin: Mrs. Clickity-Clackity. That's what us band dweebs called her. It was first period, Tuesdays and Thursdays, so you were always late. And you always had the same breakfast. Bacon, egg, and cheese on a sesame bagel. I sat behind you two days a week for a year. Mister Funny. Mister Cool. The King of Hawkins High himself. Do you even remember me from that class? [ROBIN CHUCKLES] Of course you don't. You were a real [jerk], you know that?
Steve: Yeah, I know.
Robin: But it didn't even matter. It didn't matter that you were an [jerk]. I was still obsessed with you. Even though all of us losers pretend to be above it all, we still just wanna be popular accepted, normal.
Steve: If it makes you feel any better, having those things isn't all that great. Seriously. It just baffles me. Everything that people tell you is important, everything that people say you should care about, it's all just [garbage]. But I guess you gotta mess up to figure things out, right?
Robin: I hope so. I feel like my whole life has been one big error. 
It seems impossible to not be moved by this scene in some way. There has been some interesting chemistry with Robin and Steve, but beyond that – this is such a powerful illustration of how easy it is for us to miss opportunities to care for others. Steve was completely ignorant to Robin's existence, yet it seems that he could have made a profound difference in her life had he shown even the smallest amount of concern for her.
It's far too easy for you and I to walk through life being primarily concerned with meeting our own needs. We look out for ourselves so naturally, we often put no thought into it.
However, the truth is that we are being watched.
Now before you think about how creepy that sounds, let's look at the truth behind it.
People notice you, beyond what you might be aware of. Your actions and inactions can make a difference in the lives of others.
Perhaps it's the person you walk by every day, but never engage because it seems awkward. 
There might be a person who you've had classes with for years, but you've never taken the time to just break through the silence and have a conversation with.
Maybe there are people that you've been friends with, but it's been a while since you interacted. Perhaps there's someone you know who has something difficult going on, and you're not sure how to respond – so you've kept your distance. There could even be a person who you look up to, or someone you think has it all together – so you've been intimidated by them, never considering they might be looking for something beyond what they appear to have.
It's almost as if we walk around with blinders, ignorant to the world around us, and the ways we can care about others in our actions.
In the New Testament book of 1 John, the apostle John writes about love in 3:16-18. He writes:
16 This is how we know what love is: Jesus Christ laid down his life for us. And we ought to lay down our lives for our brothers and sisters. 17 If anyone has material possessions and sees a brother or sister in need but has no pity on them, how can the love of God be in that person? 18 Dear children, let us not love with words or speech but with actions and in truth. 
John is saying that love means we lay ourselves down for others, we lay our stuff down for others, and ultimately we show love in the things we do more than the things we say.
This means we lay down our preferences, our agendas, and our desires for the sake of others.
I can't help but to think of the power of meeting other's needs, and the incredible ways love can be communicated in those actions in ways that words never could.
Maybe you walk into school with the mission of looking for ways to meet the needs of others. This might look different depending on the person, but whether it's helping a person pick something up, chatting with a person who appears lonely, or inviting someone to sit with you, there are ways to lay down your own needs for the sake of others.
You might even have a neighbor who has kids that are playing outside, but you've got stuff to do. What might happen if you went out and played with them for a bit, just so they knew they mattered.
It's about looking around, taking off the blinders, and asking God to help you see ways you can love others in actions. We will never know what might have happened if Steve Harrington had taken the time to acknowledge Robin in class, but your story is still being written.
Let's take a little more time to discuss this: 
Discussion Questions
What is your favorite kind of Slurpee? What kind can you absolutely not stand?
Erica and Dustin talk about My Little Pony in this episode? Did you ever watch that show? If not, what is a kids show you watched that you secretly still love?
How do you feel about Billy now that you know more of his backstory?
Why do you think Robin wanted Steve to notice her so bad when they were in class together?
What do you think Steve meant when he said that everything people say you should care about – is not what you should actually care about? Why does he seem to feel that way? How do you relate to this?
Why is it so hard to walk through life with eyes that look for ways to care for others?
Looking at the above verses in 1 John, how as Jesus modeled this kind of love for others?
Who is someone in your life that you can think of right now, that you know you need to look for an opportunity to care for? What will that look like?
How can you become more aware of opportunities to demonstrate love in action?
What is something you can commit to do right now that would allow you to live out these verses in your life?
Rob Chagdes
Rob Chagdes is one of the pastors at Prairie Lakes Church in northern Iowa. In the years since he met Jesus as a sixteen year old, Rob has spent his life working to raise up the next generation to love God and invite others into His unending story. He spends most of his free time with his wife Leslie, their three amazing daughters, and their energetic dog Jedi. You can reach Rob at chagdeswrites@gmail.com