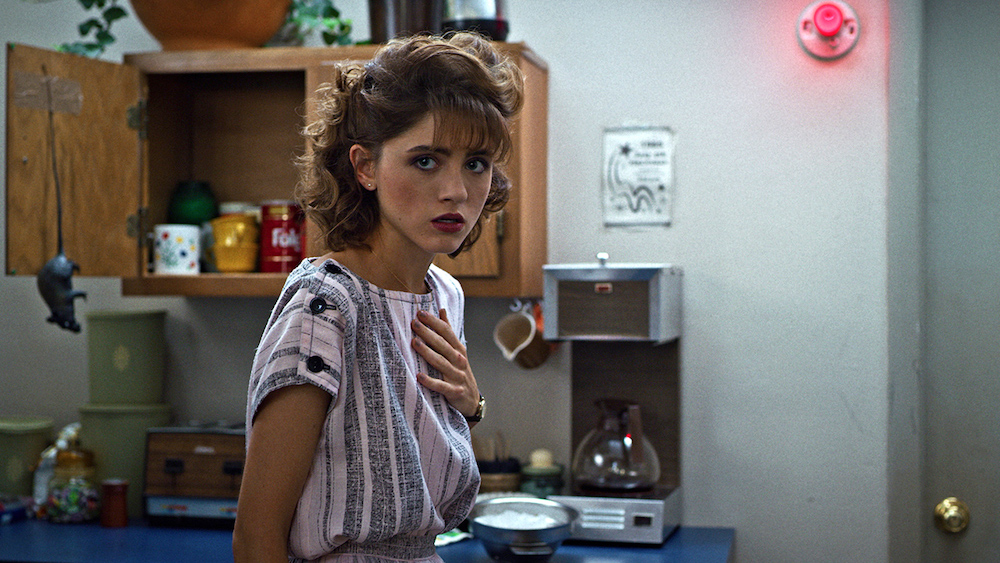 Episode Four: The Sauna Test
A Note to Parents: We at TheSource4Parents.com realize it's difficult to find fun family entertainment today. With that in mind, we realize that a few of you might object to some of the content in shows like Stranger Things and choose not to show it to your kids. After all, even secular media organization Common Sense Media rated Stranger Things "age 14+"… so maybe use that as a rough plumb line. Even though this show is mild by today's standards, it does include foul language and some sensual situations (which might be good to dialogue about). If you do decide to let your kids see it, hopefully the following discussion guide will give you some ideas of themes you can discuss and what scripture says about it.
Episode Four: The Sauna Test
Things are ramping up in Hawkins. The old woman (Doris) has an episode that results in her flipping out and being taken away in an ambulance, Heather's parents are possessed by the monster, Hopper recovers from the beating he took at the Hawkins Lab, and the teenage crew declares a "Code Red" as they realize the Mind Flayer has returned.
Keep Doing the Right Thing
As things get stranger (sorry, I couldn't resist), Jonathan and Nancy are at odds with Nancy's relentless pursuit of the rabid rat story, despite the clear objections of their boss. This resulted in both of them getting fired, which has caused some friction in their relationship. Jonathan points out that Nancy seemed to be ignorant of how her actions could impact him and is frustrated because he saw this job as an opportunity to have a career.
When she gets home, Nancy has a conversation with her mom that starts with Nancy being willing to admit she might have gone about things wrongly, but even Mrs. Wheeler believes Nancy is doing the right thing.
Mrs. Wheeler: It's not easy out there, Nance. 
Nancy: I know. 
Mrs. Wheeler: People are always saying you can't. That you shouldn't. That you're not smart enough, not good enough. This world, it it beats you up again and again until eventually, I, Most people, they just they just stop trying. But you're not like that. You're a fighter. You always have been. I honestly don't know where you get it from.
Nancy: Dad. [chuckles]
In Nancy's view, she is doing the right thing – chasing this story because she knows it's important. She's seen too much in Hawkins and recognizes the need to expose the latest bout of weirdness. Even though Jonathan is reluctant and now upset, even though it cost her the internship, even though few seem to believe her – her mom gives her advice to keep going.
Mrs. Wheeler tells her daughter that the world is going to beat her up and down and she's going to want to give up – but she is a fighter and should keep pressing forward. Ultimately she is telling Nancy to keep doing the right thing – even when it's costly.
While Nancy knows she probably should have gone about things differently, this encouragement is timely as she will undoubtedly continue trying to do the right thing no matter what.
In the New Testament book of Galatians, the apostle Paul urges believers to not give up, but to keep doing the right thing. Galatians 6:9 says
Let us not become weary in doing good, for at the proper time we will reap a harvest if we do not give up.
Sometimes doing the right thing, making the right choice – can be hard, it can wear us down. The Bible is saying to keep going because there will be a time of harvest, meaning a time where we will reap good things as a result of our persistence and obedience.
Maybe your friends are going to watch a movie that you know is something you shouldn't be seeing, and it's difficult and awkward to say no or step away, but you do it because you believe that in time, God is going to bless your choices.
You might choose to remain pure in a relationship, even though it's not easy and others you know who are crossing lines seem to be "fine"…because you trust that God is going to bless your relationships and one day your marriage because you kept doing good, and didn't give up.
God is good, and He can be trusted. His word tells us that we can find strength in doing good because He is working, and He will come through in the right time.
Let's continue to discuss this.
Discussion Questions
What did you think of the beatdown Hopper gave Mayor Kline? Was it justified?
Do you think Jonathan has a right to be as upset as he is about getting fired? Explain why you think the way you do.
Which character did you most identify with in this episode? Explain why.
What were you thinking during the scene where Billy was being held in the sauna?
What did you think of the advice Mrs. Wheeler gave Nancy?
Why do you think it can be so hard sometimes to keep doing the right thing?
What are some things that can make doing the right thing easier?
Read Galatians 6:7-10. How can these verses as a whole encourage you when you are growing weary of doing good?
How do you lean on Jesus when you are trying to persist in doing good?
When you look at your life right now, where is God calling you to do the right thing, even though you may have given up or wanted to quit?
Rob Chagdes
Rob Chagdes is one of the pastors at Prairie Lakes Church in northern Iowa. In the years since he met Jesus as a sixteen year old, Rob has spent his life working to raise up the next generation to love God and invite others into His unending story. He spends most of his free time with his wife Leslie, their three amazing daughters, and their energetic dog Jedi. You can reach Rob at chagdeswrites@gmail.com