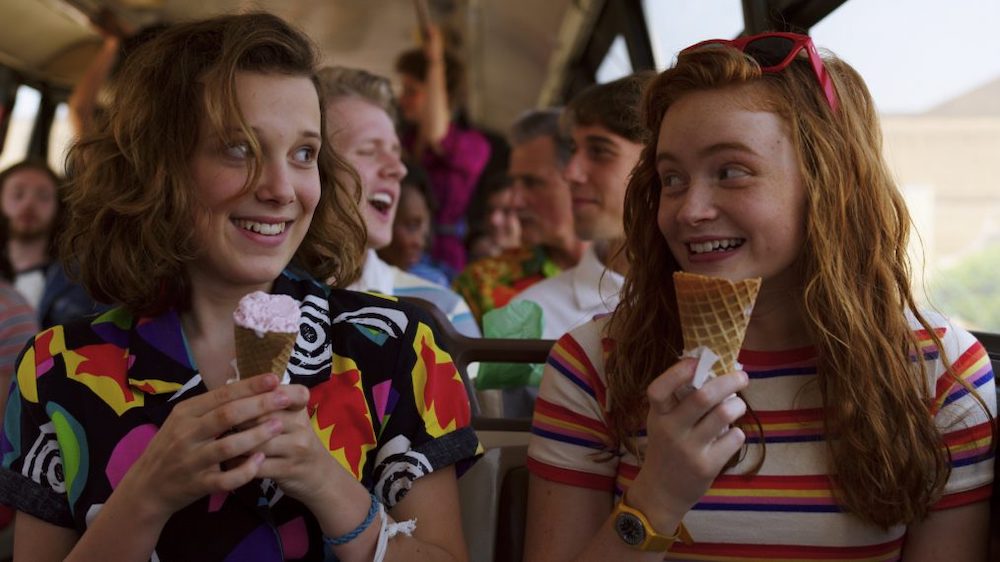 A Note to Parents: We at TheSource4Parents.com realize it's difficult to find fun family entertainment today. With that in mind, we realize that a few of you might object to some of the content in shows like Stranger Things and choose not to show it to your kids. After all, even secular media organization Common Sense Media rated Stranger Things "age 14+"… so maybe use that as a rough plumb line. Even though this show is mild by today's standards, it does include foul language and some sensual situations (which might be good to dialogue about). If you do decide to let your kids see it, hopefully the following discussion guide will give you some ideas of themes you can discuss and what scripture says about it.
Episode Two: The Mall Rats
As season three continues, our teenage heroes are neck deep into their attempted translation of the Russian Code Dustin intercepted in the previous episode. Between code translation and Joyce's determined attempts to figure out why things in Hawkins have become demagnetized, the plot appears to be ramping forward toward another bout of weirdness that only Stranger Things can provide.
Pants on Fire
The relationships mentioned in the episode one discussion continue to be a key part of season three. In The Mall Rats, things come to head as a result of Mike's aversion to the truth.
The young lover boy awkwardly lies to El about not being able to spend time with her, fearing what Hopper might do to him if he doesn't back off. El tries to discover why Mike would lie to her, turning to Max for advice.
Max: I guarantee you, him and Lucas are playing Atari right now.
Eleven: But friends don't lie.
Max: Yeah, well, boyfriends lie. All the time.
What follows is a girls only mall shopping spree appropriately set to the Madonna hit Material Girl, which of course solves absolutely nothing. Eleven finds lying to be completely foreign in her world which only proves she is not a normal teenager.
For Mike, he is uncertain how to explain to El that he wants to be with her, but simply cannot. Instead of telling her something based on truth, he resorts to the ol' sick grandma excuse. Has that excuse ever worked?
One thing that stands out is how lying has fed into Max's jaded view of others. While Mike is relentless in his deception, it still causes conflict within him, but in Max it stirs up anger. Between Mike's conflict, Eleven's difficulty in grasping the concept of lying, and Max clearly having been lied to many times, it's clear that lying creates a mess.
For Mike, it costs him his relationship as Eleven runs into him at the mall and once again confronts him on his lying.
Eleven: You lie. Why do you lie? I dump your ***.
The Bible gives many warnings about lying, but one of the clearest passages on the subject comes in Paul's letter to the Ephesians in chapter 4:
25 Therefore each of you must put off falsehood and speak truthfully to your neighbor, for we are all members of one body.
Speaking of the transformation that comes when a person is being made new by Jesus, the Bible tells us here to take the false things and get rid of them – urging us to instead speak truth to those around us. The rationale behind this at the end of verse 25 is astounding. It says we are all members of the same body. This means when we lie to others, we end up injuring ourselves. Yikes. Few would set out to cause harm to themselves but looking at the impact upon our characters in this episode proves just how true that really is.
It's really pretty simple.
Put off the falsehood (resist the lies, avoid the deception)
Speak truthfully to others (even when it's hard)
What might it look like if we didn't think through the lens of what appears easier for ourselves and instead decided to trust God with the consequences of the truth? How might things be different if people recognized we were going to be honest with them? Consider the hurt, pain, and hardship we might avoid if we chose to grab hold of this verse and truly let the power of Christ transform our hearts.
Let's chat about this a little more. 
Discussion Questions
What do you think is going on with Billy? Do you think he will find redemption in this season?
Why do you think Joyce is so eager to figure out what is going on with the magnets?
What do you think is going through Hopper's mind when Joyce never shows up for dinner?
How do you feel about Max's influence on El in this episode?
Why do you think it can be so easy to default to lying?
What does it look like for a person to put off falsehood?
What are some ways you have seen lying hurt others?
Would anyone be willing to share how their own lying has come back to hurt them?
How can we lean into Jesus to change our hearts and make honesty easier for us?
What is a practical way you can live this out this week? Be specific!
Rob Chagdes
Rob Chagdes is one of the pastors at Prairie Lakes Church in northern Iowa. In the years since he met Jesus as a sixteen year old, Rob has spent his life working to raise up the next generation to love God and invite others into His unending story. He spends most of his free time with his wife Leslie, their three amazing daughters, and their energetic dog Jedi. You can reach Rob at chagdeswrites@gmail.com