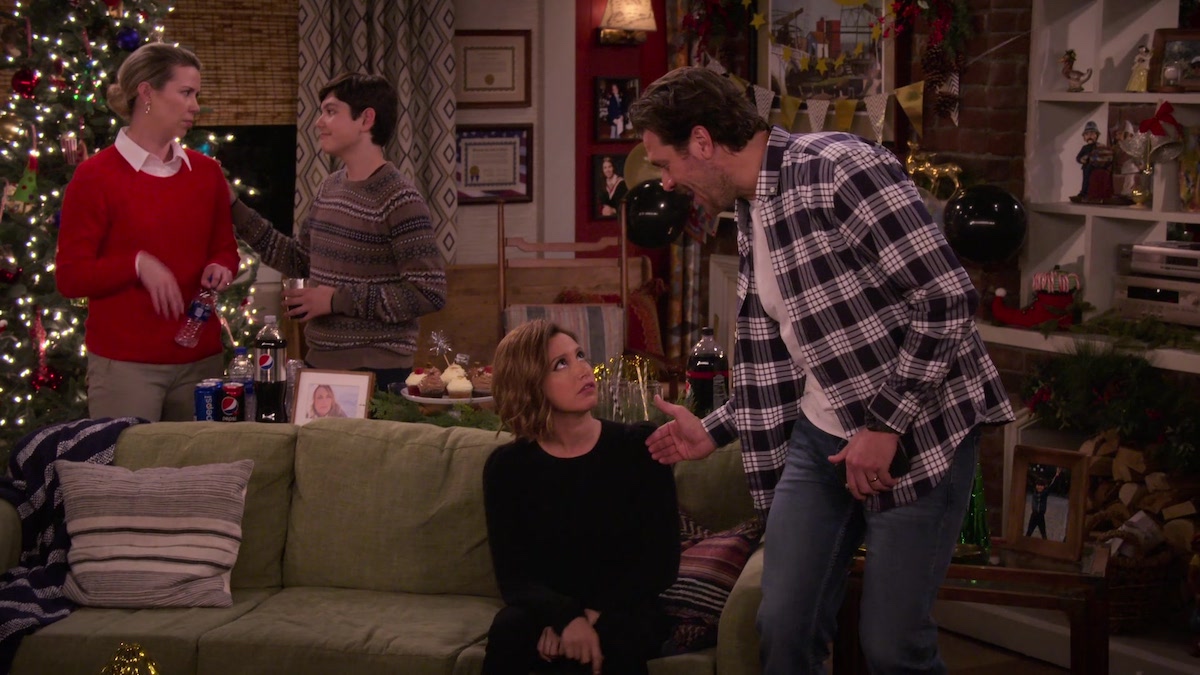 A Note to Parents: Merry Happy Whatever is designed to be a family show, yet things have changed since The Brady Bunch was popular. This show features a teenager deciding he's an atheist, a young woman embracing her homosexuality, and the implications of unmarried couples sleeping together. We at The Source For Parents never want to introduce something to kids that you wouldn't want them to watch, so we develop discussions that parents can use if they feel the show is appropriate for their child. This show avoids the language and violence we often see today, but each parent will need to decide on their own if it's appropriate for their family.
Season 1, Episode 8: Ring in the New Year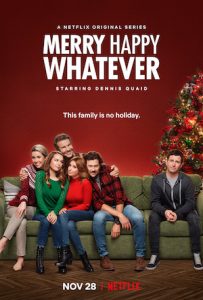 It's New Year's Eve and the Quinn family wraps up the holiday season with an emotionally charged finale. Everyone seems to be moving on from the events of this season with the surprising exception of Don. The patriarch of the Quinn family is unsettled by Emmy's anger toward him, which was a result of her learning how Don had secretly meddled in her life.
In a comical yet pointed exchange, Don and his middle daughter Kayla talk about where Don went wrong with Emmy.
Don: You know how Emmy's really mad at me?
Kayla: I have eyes and ears, yes.
Don: Well, she ended up getting a better job and she seems even madder. And then I was talking to Frick and Frack.
Kayla: …Todd and Joy…
Don: And they were yammering on about how I "intimidated" Matt, and I mean, okay, fine. I didn't give him my blessing.
Kayla: It was more than that. I mean, from the day they got here, you made it clear you didn't approve. How could that not affect them? Matt and Emmy had their problems, but you made it way worse.
Don: Well, why didn't anybody say anything?
Kayla: Dad, you don't know how hard it is to tell you something you don't want to hear. Trust me. Even if it's something you desperately need to say.
Don: Oh, come on. That's ridiculous! Oh. Now I hear it.
Don has been a person who did not want to listen to correction, and refused to entertain the opinions of others. The unfortunate result has seen his family tiptoe around him, and keep secrets to avoid conflict.
Don is so hit by this reality that he flies to Los Angeles to see Matt. After the shock of having Don at his front door, Matt and Don share a heart to heart moment.
Don: Uh, Matt. I just want to say that I was maybe a little harder on you than I should have been over the last week.
Matt: Are you apologizing?
Don: No. I'm just saying that, um, if I did anything that got in the way of you and Emmy uh and I guess I did. I feel, um bad about that. And Yeah, okay. Sorry.
Matt: Don Quinn apologized to me. Dear Diary..No, I appreciate it. It means a lot.
Don returns to Philadelphia believing that Matt is not going to be joining him as he refuses to let Don dictate the events as he has previously. However, Matt does in fact return to Philly and proposes to Emmy who happily accepts. Emmy had just taken a new job  – in London – perhaps setting up a future season of the show.
Don closes out his repentance by pulling Kayla aside for a quick heart to heart, making it clear that he loves her and never wants to control her or push her away. Don has significantly evolved from the start of the season and ends the finale as a different man. This episode saw Don not only talk a good game, but he actually took steps toward fixing the relationships with those he injured.
There is a great verse in the New Testament that talks about the difference between being sorry in words and sorry in actions.
2 Corinthians 7:10
Godly sorrow brings repentance that leads to salvation and leaves no regret, but worldly sorrow brings death.
 When we are sorry as God intends, there is repentance that follows, we head in a different direction. The result is salvation that leaves us without regret. When we are sorry only in words, we bring death and destruction to our souls and our relationships.
Let's take some time and discuss how Don demonstrated repentance in this episode and what that might look like in our own lives.   
Discussion Questions (for parents and their children to engage in together)
What is something you enjoy doing on New Year's Eve? Or perhaps share a good memory from celebrating on New Year's Eve.
What do you think prompted Don to ask Kayla why Emmy was so upset at him?
Why was it so important for Kayla to tell her dad the truth about how difficult it is to tell him things?
What do you think went through Matt's mind when he opened his door and Don was standing there?
What moment in this episode did you think was the most powerful? Explain why you think the way you do.
What do you understand repentance to mean? (It means change of mind, to go in a new direction in thought and actions)
When you look at 2 Corinthians 7:10, what is the difference between godly sorrow and worldly sorrow?
How did Don demonstrate repentance in this episode? What specific action steps did he take to make things right with others?
What part of repentance is most difficult for you? (Realizing what is wrong, admitting you're wrong, thinking differently, taking actual action steps)
How do you think Don's repentance will change his relationships with others?
Who is someone you need to take action with to repent of something that you've done?
What is something specific God might be putting on your heart to repent of?
Let's take time to pray together as we take steps toward repentance.
Rob Chagdes
Rob Chagdes is one of the pastors at Prairie Lakes Church in northern Iowa. In the years since he met Jesus as a sixteen year old, Rob has spent his life working to raise up the next generation to love God and invite others into His unending story. He spends most of his free time with his wife Leslie, their three amazing daughters, and their energetic dog Jedi. You can reach Rob at chagdeswrites@gmail.com