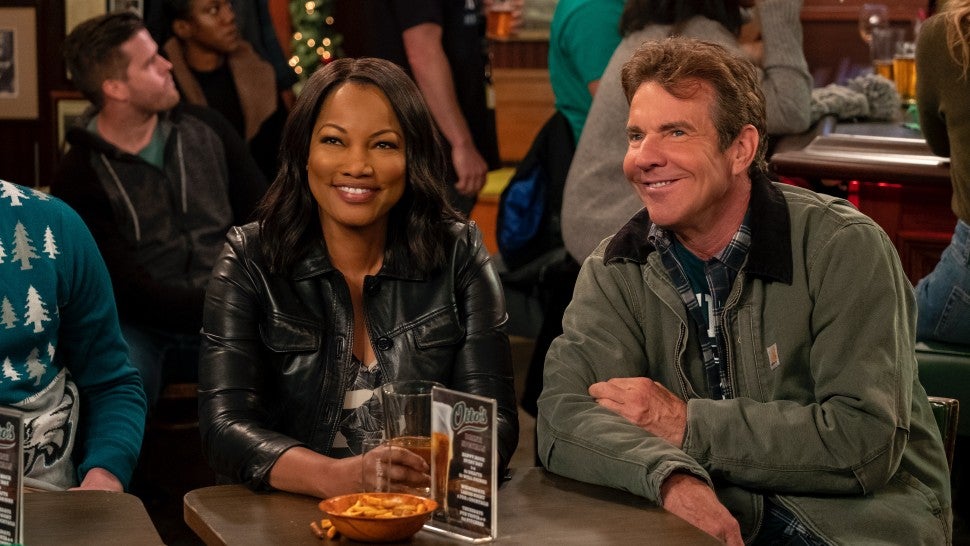 A Note to Parents: Merry Happy Whatever is designed to be a family show, yet things have changed since The Brady Bunch was popular. This show features a teenager deciding he's an atheist, a young woman embracing her homosexuality, and the implications of unmarried couples sleeping together. We at The Source For Parents never want to introduce something to kids that you wouldn't want them to watch, so we develop discussions that parents can use if they feel the show is appropriate for their child. This show avoids the language and violence we often see today, but each parent will need to decide on their own if it's appropriate for their family.
Season 1, Episode 3: Interference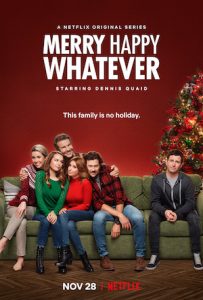 As the Quinn family and associates continue to navigate the holiday season, they plan to celebrate another of their tradition fueled festivities. Every year the family decorates the Christmas tree while watching the final Philadelphia Eagles football game that takes place the week prior to Christmas Day. Some members of the family are finding themselves distracted by things happening in their own lives, which brings the comedy into this episode.
Don has become infatuated with Nancy, a nurse at the local Urgent Care. Nancy has invited Don to join her for a drink at a local pub, which has caused Don to look for a way to leave his family during their football watching tradition. The game is a bit of a blowout early on, and when Matt points that out, Don seizes his opportunity to head out to meet with Nancy, whose identity he hides while declaring he is going to meet "work friends."
Sean: You can't leave in the middle of the game. What about our Big Eagles Slap 'n' Snack?
Don: Traditions, they evolve, Sean. Maybe it's time we changed things up.
Matt: I couldn't agree with you more.
Don: Yeah.
Matt: You know? New traditions. New ideas. New people. They're all just jewels in a crown we call family.
The Quinn family is evolving, and the person most reluctant to change – Don – is slowly embracing it. His oldest daughter Patsy has been spearheading the tree decorating and simply wants to be given the responsibility of putting the star on the tree. The distracted patriarch Don inconsiderately taps Sean for this task, again breaking from tradition.
Sean: Who's gonna put the star on top of the tree if you're gone?
Patsy: Yeah.
Don: Well, I think it's about time that I passed the honor of the tree topping on to a worthy successor. Someone who puts their whole heart and soul into this day. Sean. You've earned it. 
Embracing change is seldom an easy task, and sometimes changes within a family can be the most difficult to navigate. The change could take place because of a natural transition such as a child moving away to college or getting married. It could be a result of a hardship such a divorce, death, or illness. It could simply be circumstances such as moving and making new friends and connections as a family.
The Quinn's are dealing with this type of change as Don begins to desire different things. He fights his loneliness after the death of his wife just a few years ago. While Don has found comfort in the predictability and routine of his family, things have changed for him and for those around him. Emmy has brought home Matt, who is different from the others in the family. Kayla is struggling with her marriage and her identity. Sean has lost his job and is navigating a new season of life. Patsy has attempted to assume the role as the motherly figure in the household. You can see Don's struggle between wanting things to be how they once were and wanting something new and different.
When we are in the situation where family change has happened, is happening, or is on the horizon, we can turn to God's Word for help in working through these things.
First, we can remember that God is a God of newness.
Isaiah 43:19
See, I am doing a new thing! Now it springs up; do you not perceive it? I am making a way in the wilderness and streams in the wasteland.
Revelation 21:5
He who was seated on the throne said, "I am making everything new!"
God is continually bringing new things into our lives. Does this mean He is the source of the difficult things? No, we live in a broken world where sin causes things to happen that God never intended. What it does mean is that in the midst of challenges, God is willing and able to do something new in our lives. There is something we can learn, experience, or develop during these times. When we are unable to change our circumstances, we can embrace a God who is doing a new thing inside of us.
In addition, Revelation 21:5 tells us that one day Jesus will make all things new. This can remind us that our challenges are temporary. Because our God is a God of newness, not only will He do something new within us, but we have the hope of everything being new one day.
The other things we can remember when we deal with family change is that through the challenges we face, God stays the same. We can cling to Him as the constant in our lives.
Hebrews 13:8
Jesus Christ is the same yesterday and today and forever.
Malachi 3:6
I the Lord do not change.
The same Jesus that we knew before this change, is the same Jesus we can know during and after we walk through these days. God has promised that through the most difficult changes we face, He is going to stay the same. He will still be good, can still be trusted, and is still able to work all things for our good.
Life evolves, sometimes in ways that are just plain difficult. It is in those changing times that we can embrace a God who is making things new, gives us hope, and never changes.
Discussion Questions (for parents and their children to engage in together)
What is one of your favorite Christmas traditions? What are some traditions that you think you will take into your family as you grow and possibly start your own traditions?
Why do you think it's been hard for Don to focus on celebrating Christmas with his family?
What do you think goes through Patsy's mind when her dad says Sean can put the star on the tree? How do you think Sean felt when Don changed course at the end of the episode and gave that honor to Patsy?
What are some of the changes you've seen in your family over your life?
What are some difficult changes that you could see happening in the future?
What is your default response when change happens that is out of your control?
What are some "new things" that you've seen God do in your own life (focus on inward stuff, and not outward circumstances)?
What does it mean to you when you realize that one day Jesus will make everything new?
How does knowing God is unchanging impact your perspective on changes in your own life?
What are some things we can pray about together before we end our time?
Rob Chagdes
Rob Chagdes is one of the pastors at Prairie Lakes Church in northern Iowa. In the years since he met Jesus as a sixteen year old, Rob has spent his life working to raise up the next generation to love God and invite others into His unending story. He spends most of his free time with his wife Leslie, their three amazing daughters, and their energetic dog Jedi. You can reach Rob at chagdeswrites@gmail.com