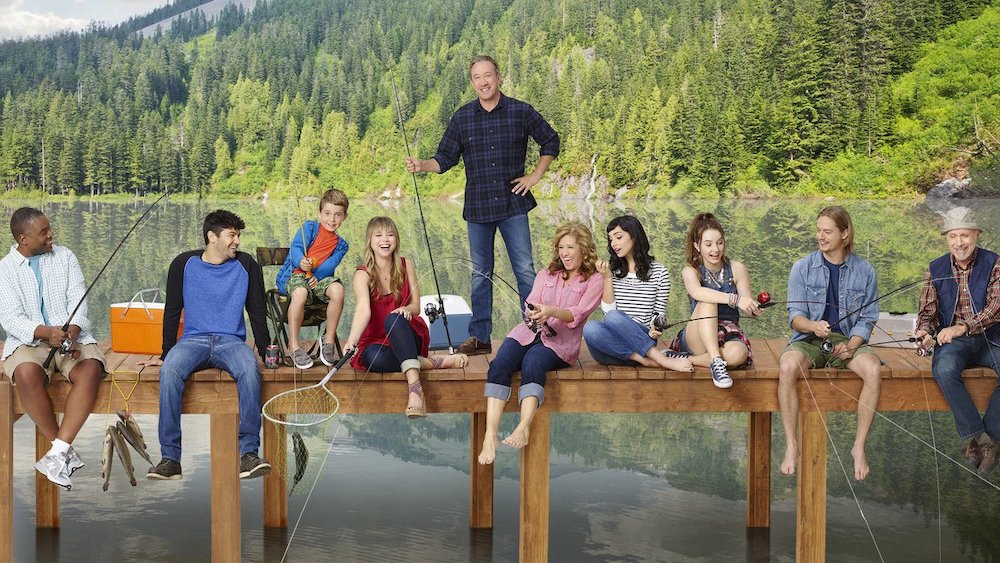 A Note to Parents: Is this show appropriate for kids? We at The Source For Parents never want to introduce something to kids that you wouldn't want them to watch, so we develop discussions that parents can use if they feel the show is appropriate for their child. We want parents to be equipped to make the best decisions they can for their child. Our friends at Common Sense Media have some thoughts on Last Man Standing that we think might be helpful to you as you discern whether or not to utilize this discussion.
Season 7, Episode 22: A Moving Finale
"I realize we attract more flies with honey than vinegar, but we want to get rid of the flies!" 
In the season finale to the comeback season of Last Man Standing, Mike Baxter realizes his adult daughter Mandy and her husband Kyle are not as close to moving out of Mike's house as he hoped. In his usual sarcastic and direct way, Mike explains to his wife Vanessa that they need to get moving and literally get moving – to their own apartment!
Mike: She even said it herself. She's not feeling any pressure to move out…I want to put some pressure on her!
Mike attempts to bluff Mandy into making the decision to move out, telling her he is going to offer the apartment they were intending to rent from him to someone else. Mandy surprises her dad by telling him if he needs them to decide, he can go ahead and rent it elsewhere. Mike moves to a more direct approach, and Mandy explains to him and Vanessa how she wants to leave but Kyle is the force behind them staying.
Mandy: Well, you guys know Kyle grew up with an alcoholic mom in a condemned trailer. And then he comes here to a caring and supportive family. I think maybe he wants more of that.
Vanessa: Well, it does explain why Kyle's been dragging his heels. It's kind of sweet.
Sometimes we find ourselves in a position where tough love is necessary to help someone we deeply care about move forward. It's common in today's world for us to define love in a way that always brings happiness to the one who is on the receiving end of that love, but that's missing the point of what love really is. Love is defined as YOU before ME. Love puts what's best for the other person above your own relationship with them. It's why 1 Corinthians 13, the famed love chapter of the Bible, says in verse 6: 
Love does not delight in evil but rejoices with the truth. 
Love doesn't get fired up about the wrong choices, but it geeks out at the right ones. In this episode, Mike tries tough love with Kyle because he wants him to move out. He wants Kyle to know he is valued and loved no matter where he lives – but that he should live somewhere other than Mike's home!
In the New Testament book of 2 Corinthians, the apostle Paul writes about his motivation for a letter he wrote to the people of Corinth. It was a harsh letter, and he apparently came down pretty hard on the people, so he writes in chapter 2, verse 4:
For I wrote you out of great distress and anguish of heart and with many tears, not to grieve you but to let you know the depth of my love for you. 
Paul is telling them that his motivation in writing was the deep love he has for the church at Corinth. He had a burden for them that he had to share, and even though it was difficult he is confident that it was the loving approach.
Maybe it's a friend who is making a poor choice and you've never really shared how you feel about it. Perhaps it's another person you care about who you have been enabling to head down the wrong path and you know you need to do something different. Whatever it might be, tough love is still love – and perhaps the most authentic love there is. It can be easy to love people when the result will make them happy, but loving someone when the result might cause them to be frustrated or downright ticked off – that's tough love – and when it's done right, it's a beautiful expression of the love God has shown for you and I.
Discussion Questions:
What is your favorite Tim Allen movie or TV show? (Home Improvement, Santa Clause movies, Toy Story, etc.)
Do your parents have any similarities to the Baxter parents? Explain what you see.
What do you think is going through Mike's mind when Kyle tells him to rent the apartment to someone else?
How do you think Mike and Vanessa feel when they realize that Kyle wants to stay because he has never before experienced a caring and supporting family?
Why do you think Mike had to start with tough love and then move to a more compassionate response to Kyle? Is that similar to what Paul did in 2 Corinthians?
How have you experienced tough love toward you in your own life?
Why do you think people tend to struggle with showing tough love?
How can tough love possibly go too far?
If someone asked you how they can show tough love to someone, what are a few important tips you'd give them to help them do things well?
If you'd be willing to share, who do you need to show tough love to in your own life right now?
Rob Chagdes
Rob Chagdes is one of the pastors at Prairie Lakes Church in northern Iowa. In the years since he met Jesus as a sixteen year old, Rob has spent his life working to raise up the next generation to love God and invite others into His unending story. He spends most of his free time with his wife Leslie, their three amazing daughters, and their energetic dog Jedi. You can reach Rob at chagdeswrites@gmail.com