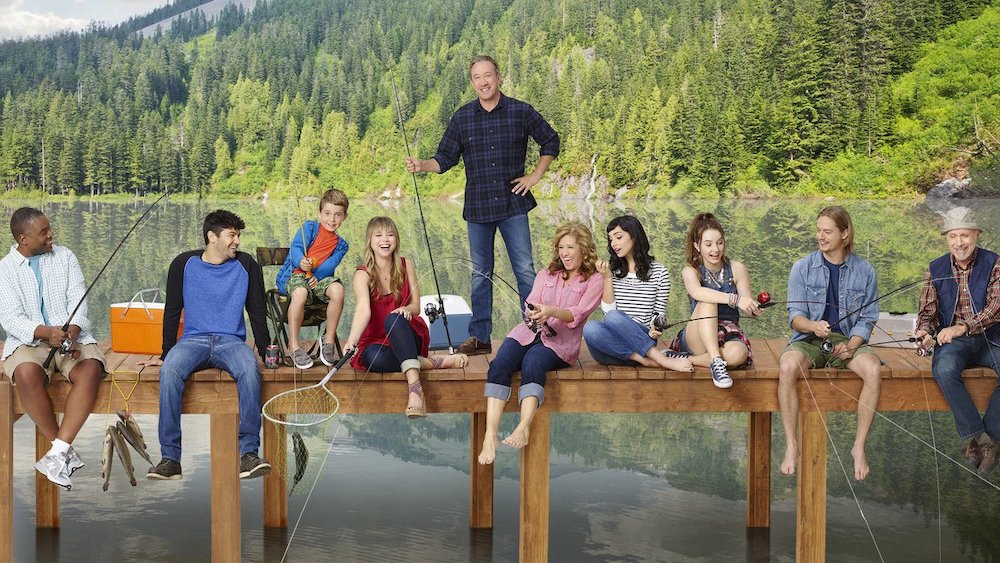 A Note to Parents: Is this show appropriate for kids? We at The Source For Parents never want to introduce something to kids that you wouldn't want them to watch, so we develop discussions that parents can use if they feel the show is appropriate for their child. We want parents to be equipped to make the best decisions they can for their child. Our friends at Common Sense Media have some thoughts on Last Man Standing that we think might be helpful to you as you discern whether or not to utilize this discussion.
Season 7, Episode 21: The Favourite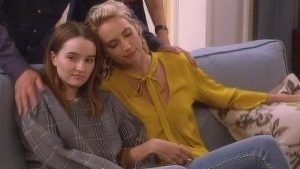 Jen: There's nothing more important than the time a girl gets to spend with her mom.
Mandy: Oh, we know. Don't think we don't.
Jen: It's important to build memories, because some day that's all you'll have. I know, because well, you know, my mom is dead. 
The Baxter girls are fighting for their mom's attention which is currently going to Jen, the exchange student who is living with their family. Jen's not too subtle statement about her lack of a mom is directed as a jab toward Mandy and Kristin, who have planned a "Baxter girls only" spa weekend with their mother. As they head out on their trip with their mother Vanessa, they talk about the reason for this trip.
Vanessa:  I know why you girls are doing this. 
Mandy:  You do? 
Vanessa:  I do, yeah. I do. It's because lately I haven't made the effort to be present in your lives. 
Kristin:  Actually, Mom – No. 
Mandy:  Don't interrupt her. Maybe that's why she abandoned us. 
Vanessa:  No, I don't I don't think I abandoned you, but I have been busy, and I haven't been connecting with you as much as I would like to.
Even though Kristin is carrying tremendous guilt for pushing exchange student Jen out of their girls weekend, the issue of Vanessa not connecting with her girls is very real and clearly hard for Mandy and Kristin.
While it's hard for the girls to not hear this in the context of Jen losing her mother, they also recognize that in light of their mom's humility, they feel terrible. They are realizing they assumed the worst of her, forgetting how much mom really wants to spend time with her girls.
Parents can often get too busy, and children of any age can convince themselves their parents don't want to spend time with them. In this episode, the Baxter family realizes the lack of communication of how they feel led them to some misunderstandings. As they wade through this, they all recognize the incredible value of being together. At one point, Vanessa makes the following statement, which not only shows her daughters how much she wants to be around them, but makes the point of how difficult things must be for Jen to live without her mom.
Vanessa: Look, the worst thing a mother can do is to disappear from her child's life.
In the Old Testament book of Deuteronomy, the Bible talks about the importance of passing on God's commandments to our children. One thing that stands out about this is how these commandments are to be taught in the everyday rhythms of life. The Bible assumes parents are going to be around their children and children will be around their parents. Let's look at the verse we will talk about: 
Deuteronomy 11:19 
You shall teach them to your children, talking of them when you are sitting in your house, and when you are walking by the way, and when you lie down, and when you rise. 
When you are sitting at your house, when you're walking together, at night, and in the morning, that's when parents should be passing on the things of God to their children. The thing is this just cannot happen without intentional time together. This takes both parents and their children communicating and making sure they find the best way to keep connected as life changes. While it may be easy to connect with toddlers and elementary aged children, once the teenage years hit, everything changes.
Consider the motivation for the verse above. God wants to make sure we learn the things He has said, and He knows parents are the best way to make this happen. As you work through these discussion questions, consider what God might do if we are able to communicate, spend time together, and enjoy the families He has given to us.
Discussion Questions (for parents and their children to engage in together)
Who is the character you enjoyed the most in this episode and why?
Do you relate to one of the characters more than others? Explain why you think the way you do.
Why do you think Mandy and Kristin didn't go to Vanessa right away when they realized they felt left out from the time she spends with Jen?
Why do you think they didn't want Jen to come with on the girls trip? What could they have done differently in this situation?
What are some things you enjoy about us spending time together?
What do you wish was different when it comes to us spending time together?
Who are some people you've learned about God from? What would it look like for us to have more spiritual conversations? How can we make that happen?
What are some things that keep us from spending time together?
How can we make sure we have regular time together, working within the differences in our schedules and the times when we are most ready to talk?
How can we make sure we improve our communication and make sure we are honest about our relationship?
How can we pray for each other right now?
Rob Chagdes
Rob Chagdes is one of the pastors at Prairie Lakes Church in northern Iowa. In the years since he met Jesus as a sixteen year old, Rob has spent his life working to raise up the next generation to love God and invite others into His unending story. He spends most of his free time with his wife Leslie, their three amazing daughters, and their energetic dog Jedi. You can reach Rob at chagdeswrites@gmail.com