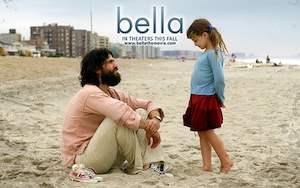 Bella is a beautiful and touching film that focuses on the value of human life and doing what's right in the face of adversity. It manages to project a strong pro-family message without ever saying it.
In an interview about the film, the actor Eduardo Verástegui, who plays one of the main characters, gives an interesting commentary on the sanctity of life.
He tells of a time he visited an abortion clinic, because of both his role in the film, and his faith in God.
He was the only person there who could speak Spanish, and this proved invaluable when a Hispanic couple, contemplating abortion, visited the clinic. After talking with them for over an hour, he prayed with them and they walked away from their decision.
Months later, he received a call from a stranger – it was the couple from the clinic! Their baby was born, and they told him they had named him Eduardo in honor of the day they decided to choose life.
Let's talk about this some more…
What causes do you believe God is most passionate about?
Do you believe the pro-life cause would be toward or at the top of God's concerns? Why or why not?
How did Eduardo's visit to the clinic impact his life?
Read the following passage:
"You made all the delicate, inner parts of my body
and knit me together in my mother's womb.
Thank you for making me so wonderfully complex!
Your workmanship is marvelous—how well I know it.
You watched me as I was being formed in utter seclusion,
as I was woven together in the dark of the womb.
You saw me before I was born.
Every day of my life was recorded in your book.
Every moment was laid out
before a single day had passed."
What does this passage tell us about the status of an unborn child?
If God grants life to a child in the womb, do the parents have the right to take it away? Why or why not?
How would you respond to the phrase "my body, my choice"?
What are some specific ways we can deal with this issue as Christ would have dealt with it?
What are some specific ways we can reach out to hurting people who've gone through abortion experiences?
Read the following story:
Joanie's choice changed her life. She will never be the same again. Joanie had an abortion.
For years afterward she felt unworthy of God's forgiveness. She cried herself to sleep at night, waking up to a day of depression. Her shame tainted everything she thought about herself, everything she said and did. She no longer participated in church activities, and soon she stopped going to church altogether. Her family and friends knew something was wrong, but they had no idea about the hidden nightmare she was living.
Then, through a series of circumstances, Joanie began to hear God's unrelenting knock on the door of her heart. She knew he wanted her to depend on him. Through the love and support of Christian friends, Joanie began the healing journey. She no longer lives with the shame that kept her from loving others. She's experienced the love, peace, and freedom that comes from knowing God and His forgiveness.
These words that Joanie wrote tell of her journey from unbearable shame and guilt to the joy of freedom found in God's forgiveness.
I think of all the times we never shared.
My heart is overwhelmed with sadness.
I think of how I put my life first before your life.
My heart is overwhelmed with guilt.
I think of how blind I was, how scared I felt.
My heart is overwhelmed with shame.
I think of how I've continued to put my needs first, hurting those around me.
My heart is overwhelmed with my sin.
I think of how Jesus died even for my sin of abortion.
My heart is overwhelmed with gratitude.
I think of how much God loves me and accepts me as I am.
My heart is overwhelmed with joy and peace.
I think of God's forgiveness and that He remembers my sin no more.
My heart is overwhelmed with His love … and I am free!

We've just discussed abortion and how followers of Christ should respond to this issue. Today I want to challenge you to not just talk about this issue, but to put your beliefs into action. Eduardo exemplifies a great way to help those thinking about abortion, which is to listen and show compassion.
Think and pray about specific ways Jesus is leading you to make this one of your "causes"—such as praying for women contemplating abortion or volunteering at a crisis pregnancy center.