Just a few weeks ago, Google released their new online social network called Google+. Since then, the site has quickly attracted more than 25 million users. Could this be the "Facebook killer" that keeps Mark Zuckerberg up at night…or is this just another one of Google's social networking flops?
The New Kid on the Block
Our world isn't short on social networks; some of the biggest include Twitter, MySpace, MyYearbook (which recently sold for $100 million), YouTube, and of course, the king, Facebook. Between them, roughly 1 billion people are electronically connected around the world!
So, it may be a bit confusing to learn that Google has just released a brand new online social network. The search engine company isn't new to the social network arena; they've been here before…just very unsuccessfully. You may recall Buzz and Orkut. But somewhat quietly this summer, Google unveiled their new network via a soft opening to various VIPs, and then to randomly selected people with Gmail accounts.
And now, some of the latest numbers available show G+'s membership to be 25 million worldwide. Roughly 7 million of those are from the US (and most are males between the ages of 18 and 25.) Interestingly, Google+ was the first social network to reach this number; both Facebook and Twitter took a couple of years to get that sort of following. (During the launch, I thought it funny – and a bit ironic – to see my college students' Facebook statuses read: "If you've got a Google+ account, add me.")
Google may have been quiet about it, but don't underestimate their seriousness. G+ looks different than anything else they've come out with so far, and it also looks "different enough" from Facebook, too. Now that there's a demo version available online for anybody to use, I've done a bit of clicking around myself. Here's what I've discovered.
The Features (and Failures) Google+
Perhaps the biggest feature that Google+ hopes to bring to the table is "how information is shared between people." Their new network uses "Circles" to connect people. Unlike Facebook, you don't have to get someone's permission to follow them, but they have to be added to a "Circle" denoting your affiliation with them, for instance, "Church," "Work," "Family," "Friends in Africa" or even "Stuff I Don't Want My Parents to See."
Google is hoping "Circles" is the game changer. They know that Facebook has been criticized by teens for several years, ever since mom and dad wanted to be "friends." Of course, Google's whole plan might go out the window when parents exercise their prerogative to be a part of a particular Circle…and some are complaining of "circle fatigue" already.
Moving on, "Hangouts" looks exceptionally cool. In Google's own words, "Until teleportation arrives, it's the next best thing." This is their version of video calling, made possible by a webcam that allows you to instantly chat "face-to-face" with (up to) 9 other people. It sounds perfect for the generation known for their media multi-tasking. (Facebook has recently added Sype-based video calling that allows users to video chat…one-to-one.)
"Huddle" is very similar to "Hangouts." It allows users to quickly text with multiple friends all at once – think IMing, but with everybody seeing everything at the same time. That way, if teens are trying to figure out which fast food joint to meet at after school, they can just dump names into a "huddle" and text/type away for instant feedback from everybody invited.
But this "show me" generation will also like "Instant Upload." Google describes the need for it in this way: "Taking photos is fun. Sharing photos is fun. Getting photos off your phone is pretty much the opposite of fun. With Instant Upload, your photos and videos upload themselves automatically, to a private album on Google+. All you have to do is decide who to share them with."
(Side Note: Students will like this, but I foresee Instant Upload being an even bigger hit with slightly older crowds. Kids know how to use every feature on their smart phones, but for those who may be a bit "smart phone-challenged," this is going to be a frustration-eraser. Plus, Google ROCKS at allowing users to back up their data – just ask any of us Android users. Now, users have zero fear of losing those pics from their freshmen year of college.)
"Sparks" is the feature that Google+ uses to ensure teenagers never have another free moment…. It's basically a search engine that suggests web pages, products, blogs, shows, and so on, based off of users' specified interests. Now users can get their favorite stuff delivered right to them via the best search engine on the net.
Speaking of eating up time, Google is bringing the big guns when it comes to games. Facebook has Farmville, but G+ has gone for the throat by offering several highly popular games on their social network. They've partnered with Zynga – the brains behind Farmville and others – and boast games like Angry Birds, Bejeweled, and Zynga Poker. Recognizing that many social network users like to play games, some critics speculate this epic showdown may hinge on games.
With these cool new features, Google+ is bringing a fight to Facebook unlike any other social network in the past. Now there's just one question remaining….
Google+ or Facebook?
First, let me go back and answer the question I asked earlier.
No, Google+ doesn't keep Mark Zuckerberg up at night. In fact, I don't think anything causes Time Magazine's 2010 Person of the Year to lose sleep. He's the founder of Facebook, and if his 750 million users were a nation, he'd be president of the 3rd biggest country in the world!
That said, this new release from Google couldn't come at a worse time for Facebook. It seems that Facebook may be losing friends (or at least the rate in which they gain them). During the month of May (2011), >(Facebook has recently added Skype-based video calling that allows users to video chat…one-to-one.) the social network only grew by 11.8 million new users.
(Yeah, I hate it when my youth ministry only grows by 11.8 million in one month, too!)
Seriously…looking at that number, you may wonder what the problem is. Well, as their own research indicates, Facebook is accustomed to growing by an average of 20 million new users each month; 11 million is barely half of their expected pace. April also indicated a significant decrease from the average, with a mere 13.9 million new users added.
But it gets worse.
The 2011 American Customer Satisfaction Index E-Business Report was just released in July, and respondents claimed that Facebook was the "least satisfying" of the large social sites on the web. 70,000 people took part in the survey, and only 66% said they were satisfied by Facebook.
In spite of this news, Facebook is still the undisputed king…and I predict it will be by the time this article is published, too.
And since I'm in prediction mode, here are two more. First, Facebook will win the slugfest with Google+…at least for a very long time to come. C'mon, Facebook's current population more than doubles that of the United States!
Second, I see Google+ being used selectively, but strongly, by various groups of people. For instance, I can already see employers using "Hangouts" to video chat with multiple employees that telecommute. I can also see sneaky teenagers using "Circles" to communicate info to their friends that they don't want their parents to see.
Knowing the potential for that latter use, here is what this tech news means for youth leaders and parents.
We need to be aware of something with this sort of media/tech importance. Kids crave cool. That's just the way it is. New almost always equals cool. And G+ brings enough cool elements to the table to command some serious attention. I strongly suggest that you invest a few minutes clicking around the demo version of Google+. If your teens join the newest social network, it will prove to be time well spent.
We'll have to lead here, as well…mainly because "new" and "cool" doesn't always equate with "good." If Google+ endures, it will be another arena in which teenagers need our guidance. Youth pastors will need to (re)address the fact that our identity in Christ also extends to our online lives. Parents will want to talk about the importance of face-to-face relationships and cover potential dangers, too. Just remember all those conversations you had about Facebook back in the day…or the conversations you should have had about Facebook back in the day.
The advent of Google+ probably means that youth leaders and parents have just had their workloads increased. But, this new "project" as it's called isn't necessarily bad. At the very least, it's a reminder for us to establish real world relationships with the teenagers we love, and it also provides us with a great way to help teens understand the importance of relationships, in general.
Whether we "Facebook friend" our teenagers, or add them to a "Google+ Circle," with us taking the lead, we'll ensure that our teens are the real winners in this upcoming showdown.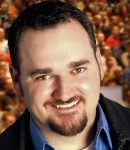 David R. Smith
David R. Smith is the author of several books including Christianity... It's Like This and speaks to parents and leaders across the U.S. David is a 15-year youth ministry veteran, now a senior pastor, who specializes in sharing the gospel, and equipping others do the same. David provides free resources to anyone who works with teenagers on his website, DavidRSmith.org David resides with his wife and son in Tampa, Florida.