Long gone are the days of Pac-Man and Tetris. These days, gamers are much more likely to control avatars who cuss like sailors, plant bombs, and viciously execute enemies.
Oh, and there's the occasional fitness game. 
Video Games are Big Business…Really Big Business
We've already addressed the popularity (and problems) of video games in previous Youth Culture Window articles, but with constant additions to the video game smorgasbord – and their multibillion dollar revenue each year – we thought an update was necessary.
Video games are no longer restricted to "consoles" such as the Wii or the Play Station 3; these days, gamers play on cell phones, social networking sites, the internet, and a multitude of handheld devices. In short, video games seem to be available everywhere.
And that accessibility translates into very good business for the video game industry. 
The 10 best-selling video games from 2010 have two things in common: sequels and sales…lots and lots of sales. Many of the Top 10 games are follow ups, for instance Call of Duty: Black Ops, the 7th game in the Call of Duty franchise. And all of the Top 10 games have sales in the millions!
In the completely undisputed #1 position is Call of Duty: Black Ops. When it was released on November 9, 2010, it hauled in $360 million in a mere 24 hours, setting video game sales history. At that time, the reigning champ was its predecessor, Call of Duty: Modern Warfare 2, which was released one year earlier; it took in $310 million in the first 24 hours.
On November 16, 2010, (one week AFTER Black Ops dropped) Ubisoft released the 3rd Assassin's Creed game, Assassin's Creed: Brotherhood and set a new sales record for their franchise. Gran Turismo 5, a racing game rated E (for "everyone"), was also released in November of 2010, and sold 400,000 copies.
Earlier in the year, Rockstar Games momentarily abandoned its world-renowned recipe of murder, sex, and fast cars known as the Grand Theft Auto series to release Red Dead Redemption in May of 2010. It was worth their effort; Red rounded up millions of copies sold and Game of the Year.
But it wasn't just games that sold big in 2010; new "systems" also yielded high profits. Microsoft's Kinect, a hands-free, motion sensor-based video game system was released in November of 2010, as well, and sold 1,000,000 units in 10 days. The huge sales for this unit were predicted by industry experts; retailers around the country, including Amazon and GameStop kept selling out of the console.
Just imagine what those numbers might have been if we weren't in the middle of the Great Recession….
Looking forward, it seems 2011 refuses to be trumped by 2010. "Plugged In" has listed their most anticipated video games for 2011. Among the ones to watch for include Batman: Arkham City, Mass Effect 3, the final game in this successful series, and The Legend of Zelda: Skyward Sword, yet another game in the decades-long video game dynasty.
Their list is just one of many, of course; serious gamers will no doubt be eager to snag Tiger Woods PGA TOUR 12 (which will finally feature the golf course that most resembles Heaven-on-Earth, August National). The latest Call of Duty game, Modern Warfare 3, will also be released, if it can shake the legal disputes surrounding it. It appears that games in 2011 will offer much of the same from those of 2010.
But what is it?
Just Entertainment…Or Something More?
November of 2010 wasn't just a big month for video game sales; it was also an important month for laws regarding video games. In California, Gov. Schwarzenegger involved himself in the ongoing dispute between video game manufacturers/retailers and parents.
In short, a California law dictating that selling or renting violent video games to minors was illegal and punishable by a $1,000 fine was deemed unconstitutional by critics. Opponents of the law argued that it infringed upon free speech guaranteed in the First Amendment. They also pointed out that the law was unnecessary because most video games carry ratings as to their age appropriateness.
But legal officials believed it was time they weigh in on the matter given the amount of research that connects violent video games to teenager's real world violence. (This tragedy in Ohio is just one example of the real world violence related to video games.)
Granted, there are plenty of folks who disavow any connection between video game violence and real world violence; but there are also plenty of concerned people who connect the two. After a huge effort by the Center for the Study of Violence at Iowa State University, which reviewed 130 reports and polled 130,000 gamers from the U.S., Europe, and Japan, they concluded "playing violent video games increases aggressive thoughts and behavior and decreases empathy…regardless of research design, gender, age or culture."
A related survey released by the Entertainment Software Rating Board (ESRB) found:
86% of parents with children who play video games are aware of the ESRB rating system
98% of parents feel the ESRB rating system is either "very helpful" or "somewhat helpful" in choosing games for their children
17% of parents say their children are old enough to decide and they trust their judgment
Another study by the Federal Trade Commission (listed on the same webpage above) found that 89% of parents are involved in the purchase or rental of a video game for their child.
So, what does that tell us about parents' role in video games?
Kids Hold the Controller…But Parents Have the Control
With most games averaging between $50 and $90, it's little surprise that parents do most of the paying, even if the kids do the picking. This reality should increase parents' awareness of games being bought for their kids.
With thousands of titles available on the market today, and the nondescript ratings assigned to them by the ERSB, many parents might find themselves scratching their heads in the gaming aisle at Wal Mart. If that's you, here are a few pointers to help you make solid decisions for your family.
Check the rating, age appropriateness, and content descriptor of each game. The "rating" and "age appropriateness" should be clearly marked on the front of the game's case. The most popular categories are E (everyone), T (teen), M (mature), and Ao (adults only). But don't stop there! Also do some research on the game's content descriptors. What does "M" really mean for your kids? Is "T" always safe?

Maybe parents would find the ratings even more helpful if the game makers used actual occurrences in the video game to rate it. Instead of "intense violence," how about just saying "you get to execute other players, splattering blood all over the walls and floor." Instead of "strong sexual content" how about "you can get a strip tease and/or lap dance (from multiple girls at the same time), or pick up a hooker for sex in your car, where she'll scream loads of vulgar sexual remarks." In the perfect combo of "intense violence" AND "strong sexual content," players of some violent games like Grand Theft Auto 4 can have sex with a hooker and then beat her to death with a bat.

You cannot do too much research when buying a questionable game. We do hours of homework before we purchase a new minivan; we should invest some time into the purchase of video games, too.

Consult the experts. In this case, the experts are 22-year-old college kids who work part time at Game Stop, EB Games, Best Buy, or some similar electronics store. Find one you can trust, tell him/her what you want…and what you want to avoid…and get their advice. They know the games inside and out. Just a tip: you'll need to ask very specific questions to these folks. Most of them aren't parents and don't have the same concerns we do. But once they understand what you're trying to achieve, they're a great line of defense to tap into.
Understand and use all the controls. All new systems have various parental control features that allow parents to decide what games can be played (by rating), with whom, for how long, etc. Familiarize yourself with these tools, and use them as you see fit. Think about it like this: even guns have safeties built into them and we would never hand our kids a loaded gun without controls. Don't do it with video games, either.
Talk with your teenagers about game choices. Perhaps this last tip is the best. Making healthy decisions about video game purchases is just one (relatively) small step toward maturity. Capitalize on these moments by talking with your kids about their choices. Try your best to influence them without having to make the decision for them. (But don't hesitate to play the veto card.) This will ensure your teens gain decision-making skills along with responsible video games.

Beginning in the 1970s, video games became a fixture in the American home, picking up more and more momentum with each passing decade. The world of video games is a big one, and mom and dad must parent in that world, as well. Otherwise, it might be our kids that get played instead of the game.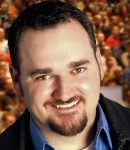 David R. Smith
David R. Smith is the author of several books including Christianity... It's Like This and speaks to parents and leaders across the U.S. David is a 15-year youth ministry veteran, now a senior pastor, who specializes in sharing the gospel, and equipping others do the same. David provides free resources to anyone who works with teenagers on his website, DavidRSmith.org David resides with his wife and son in Tampa, Florida.