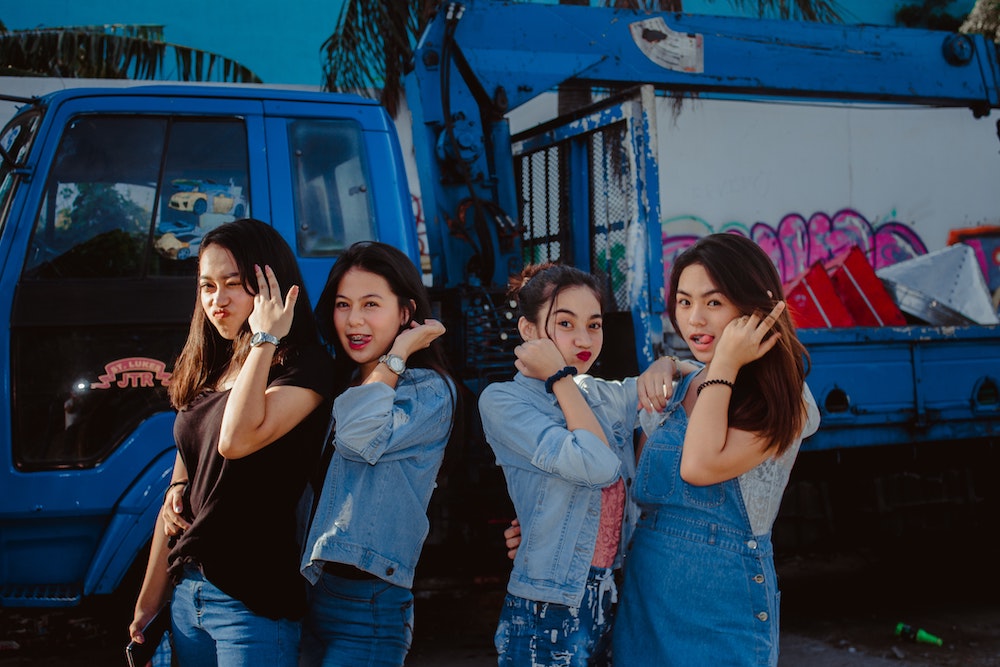 The Top 10 Influencers on Today's Kids
David R. Smith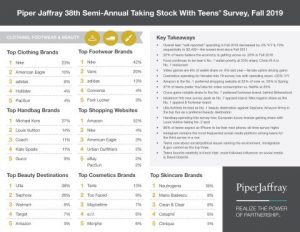 When I was growing up, every guy I knew wanted to be like Michael Jordan. That universal desire was even turned into one of the most famous TV commercials of all time. Today's kids are no different; they have their idols, too.
The difference is, you may never have heard of them.
Pied Pipers
A couple of times each year, the global investment firm and financial services provider known as Piper Jaffray releases the results of their "Taking Stock with Teens Survey." If you're wondering why a bank cares about what teens like…here's why. Jaffray's 38th Semi-Annual Taking Stock With Teens Survey (Fall 2019) was just released and offers some really intriguing insights on the preferences of our nation's youngest generation. Here are just a few:
They are a "just do it" generation; their favorite clothing brand AND favorite footwear brand is Nike.
Hands down, they do most of their shopping on Amazon (just like the rest of us).
And when they work up an appetite spending all that money, they head to Chick-Fil-A.
Their infographic provides a great snapshot of who Gen Z is, but by far, the most fascinating piece in their report focused on the "celebrities" and "influencers" that have Gen Z's attention. Let's walk through the Top 5 in each of those two categories together.
Top Celebrities
Kevin Hart– In the 80s, it was Eddie Murphy. In the 90s, it was Chris Rock. Today, it's Kevin Hart. This African-American comedian is hilarious because he is just as physical in his comedy as the late Chris Farley. He parlayed a successful career in standup to an even more successful career in TV and film. For the most part, and I stress "most" part, his movies can be clean. His standup, however, isn't so family friendly. Overall, Hart is willing to push the envelope, and at times, it has cost him.
Tom Holland– Better known by his alter egos Peter Parker and Spider-Man, this handsome actor from the UK has been in film since he was a wee lil lad. The 23-year-old kid has experienced a meteoric rise in fame since donning the Spidey suit a couple years back, but it's not just his acting chops that has made him so famous. Girls also find him quite cute. Oh, and his dad is famous, too. Then there's the part about him being cute. He also runs a non-profit that helps children fight hunger and disease in developing nations. Did I mention girls think he's cute? And his favorite part of being Spider-Man is getting to visit sick kids in hospitals. Holland might not be #1 on Gen Z's list, but as far as wholesome goes, he's unmatched.
LeBron James– The Twitter handle for this internationally renowned basketball player is @KingJames which tells you a lot about this larger-than-life athlete. Now a Laker, James has played for two other teams and has racked up a list of accomplishments as long as War and Peace that routinely puts him in the GOAT debate. James is currently 34…which just so happens to be the same age that most NBA players are upon their retirement from the game. He's a fairly polarizing individual; most people either love him or hate him with very few sitting on the fence. Although he's won NBA Championships, he's been criticized for actions on the court…and off the court.
The Rock– Interestingly, Piper Jaffray simply refers to him by his stage name instead of his given name, Dwayne Johnson. The former WWE wrestler leveraged his incredible athleticism into a wildly successful acting career with an emphasis in action roles. He's as funny as he is strong, as handsome as he is talented. Like Hart, with whom he's made several films, most of The Rock's material is clean (Tooth Fairy, Moana), but he's also starred in some "Mature Audience" releases with strong sexual content, including his HBO series Ballers. While Johnson isn't exactly young, he's been impacting today's youth for quite a while…and isn't showing any signs of stopping.
Ariana Grande– A former Nickelodeon star, this songstress may be the most controversial personality on Jaffray's list. Bursting on the scene as the talentless and witless Cat on Victorious, which spawned the short-lived spinoff Sam & Cat, the real life Grande is hyper talented…and only sometimes. Let's start here: the girl can flat out sing! Her albums go platinum and she's got a Grammy to prove it. But sometimes, her songs aren't exactly, umm, "holy." For example, her collaboration with Nicki Minaj on "Side to Side" is way more sexual than you thought and the lyrics to "Bed," another collaboration with Nicki Minaj, leaves little doubt as to the subject matter. (I think a theme is developing when Nicki Minaj is involved….) PopCrush even devoted an entire article to Grande's "dirtiest lyrics." The young singer has attracted plenty of attention off the stage, too. There was her "I hate Americans" donut-licking video that the Internet will likely never let her forget. Then she had that very public relationship – and break up– with comedian Pete Davidson. And it wasn't just Davidson she left; she also decided to leave the Church over the issue of homosexuality.
Top Influencers
David Dobrik– This Slovakian-born YouTube personality has definitely cashed in on the American Dream. After immigrating to the US, Dobrik drew more than 14 million subscribers to his YouTube channel that currently boasts a library of more than 600 videos, most of them contain very vulgar language and sexually explicit talk. His channel isn't limited to one topic (such as Nerf guns, or video games, or soccer drills). In one video, he might be talking about how to hack a vending machine while the next video might feature him (and his friends) blowing something up. Somehow, in almost every video the conversation will turn to oral sex or dialogue about sexual acts. Honestly, it's like walking into a college dorm room. Adults might not like his form of entertainment, but kids love it so much he's amassed a net worth of $15 million.
Kylie Jenner– Kylie is the really pretty girl on Keeping Up With the Kardashians…who isn't to be confused with the other pretty girl on the same show named Kim…or Kourtney…or Khloé…or Kendall. Beautiful and rich; it's in her family's DNA. Speaking of rich, Jenner was recently named the world's youngest self-made billionaire (which makes me and others question the "self-made" part of that title). She made the vast majority of her wealth on her image and her line of cosmetics. Currently, the 22-year-old has more than 141 million followers on Instagram and that number will only go up as she continues to appear on TV shows, magazine covers, in music videos, and more.
Donald Trump– I won't spend much time on #3 – or should I say #45? – because, as the most powerful person on the planet, POTUS needs no introduction. However, I will say that his inclusion on Gen Z's list of "top influencers" surprises me (and no, that's not a political snub). I just think it's encouraging anytime young people engage in government (and no, that's not a political endorsement). Regardless whether they're Blue or Red, political involvement on behalf of young people is a good thing.
PewDiePie– Like David Dobrik, this YouTube personality also hails from Europe (Sweden). If you're wondering how to pronounce his screen name, you won't have any better luck with his real name: Felix Arvid Ulf Kjellberg. Here's help with both. PewDiePie has over 100 million subscribers to his channel which is (mainly) focused on everything related to video games: playing them, reacting to them, commenting on them, and more. For his efforts, the world has rewarded him with a net worth of more than $30 million. Before you relegate this grown man who plays video games for cash to the kiddie table, just know he was named to The World's 100 Most Influential People by Time in 2016. Not bad for a guy who built an empire with a video game and camera.
Emma Chamberlain– We round out our list with one last YouTube personality. Emma Chamberlain is an 18-year-old American girl with a past that many other teens can identify with that includes academic struggles, bullying, and family woes. (Here's an in-depth bio about this young vlogger.) Like the YouTubers mentioned above, not only does she have millions of subscribers – 8.4 million to be exact – but each of her videos are watched millions and millions of times. And what are young viewers watching on her channel? Just about anything…. No, really. She might be talking about hygiene (or the lack thereof), traveling, cooking, or anything else under the sun, but she'll definitely be doing it in her zany/funny way which endears her to her viewers. She is loved by her fans and has been called "one of the best things to happen to YouTube."
Meeting the Movers and Shakers
More than likely, there was someone on this list you didn't know five minutes ago. Great! That's why we write these Youth Culture Window articles! But what about the hundreds of other celebrities and influencers vying for our kids' attention and dollars? How do we know who they are? How can we best understand their values? What kind of impact might they have on our kids? How do our kids feel about conventional celebrities versus online celebrities? All of those are good questions. Here are two simple tips that will help you with whatever – and whoever – comes next.
Make sure you're aware of anyone influencing your kids. When I was growing up, that meant my parents needed to know my flesh-and-blood friends. Today, it means we need to know our kids' friends and their favorite YouTubers, musicians, actors, and so on. I encourage you to employ the same standards for the online world as you do in the real world. If an actor, artist, or vlogger doesn't share your values, don't let your kid be exposed to them…face to face or online. If you're wondering how to figure that out….
Use the Internet to your advantage. It takes ninety seconds to do an online search for a movie's plot, or a song's lyrics, or a YouTube channel's content. There is no excuse for our ignorance. If you don't know who someone is or what they're peddling, take a few moments to do your research. Everything you need to know can be found in one of two places: Google and/or YouTube. I cannot stress how important these online tools are. The same Internet that created these celebrities usually does a good job exposing them, as well. Stay informed.
And finally, remember that just because these "influencers" influence the world, they don't need to be the top influencers in your home. No, I'm not saying you need to attempt to block out these influencers…or not block them out. I'm simply suggesting, don't become so focused on blocking lies that you forget to talk about the truth.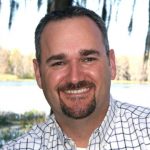 David R. Smith
David R. Smith is the author of several books including Christianity... It's Like This and speaks to parents and leaders across the U.S. David is a 15-year youth ministry veteran, now a senior pastor, who specializes in sharing the gospel, and equipping others do the same. David provides free resources to anyone who works with teenagers on his website, DavidRSmith.org David resides with his wife and son in Tampa, Florida.