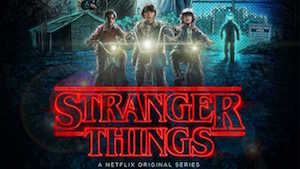 Engaging our kids in meaningful conversations about stuff that matters.
Sounds cool, huh?
It's more difficult than it sounds, especially in a world where today's young people are finding face-to-face conversation a little more difficult. Parents have to work harder to pry their kids' eyes from their devices and make a connection.
After a year of researching communication models and the numerous venues of connection that parents have found effective, I discovered many of these "connection venues" actually include technology. In fact, many parents have had good luck using what I call Netflix Binge Bonding, admitting the fact that kids and adults both love their screen time, and being proactive to spend some of this time together (especially with the growing amount of Netflix shows families can watch together).
That's what prompted our creation of a brand new FREE resource on our TheSource4Parents.compage, our Netflix Discussions page.
This page was launched just this week. But we launched it with discussion guides (with scripture and questions) for a show that families are already loving and enjoying together—the hit Netflix Original Series, Stranger Things. We'll be posting a discussion guide for each episode of this series (we've got two episodes posted so far).
We know that Netflix is rapidly becoming a staple source of entertainment in most American homes. And Netflix is expected to spend $5 billion on original programming this year alone. So we think a Netflix Discussion page is a prudent addition to our FREE parenting resources we provide.
Take a peek at this page in its infancy HERE.
(Note, we also have a MUSIC DISCUSSIONS page on TheSource4Parents.com, helping parents engage in meaningful conversation about current songs)