Parenting Help
Three Parenting Practices Preventing the Permeation of Porn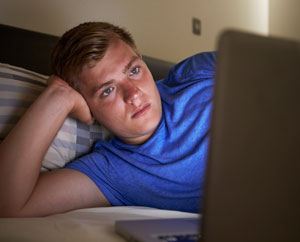 "Not my kid!"
That's the first thing I hear from parents who think somehow their kids won't encounter porn, even accidentally.
Really?
Do your kids ever leave the house? Do they have access to any screens? Do they ever hang out with friends?
I'm not suggesting your kids are porn addicts. I'm just advising you equip them for the temptation… because they will encounter it.
In my weekly interaction with parents, I find most moms and dads are looking for practical ways to battle the genuine threat of porn in their home. Of all the research and advice available on the subject today, here are the three common truths I see over and over again . . .
(The following is an excerpt from Jonathan's brand new book, More Than Just the Talk)
1. Don't Underestimate the Power of Porn
We need to understand the power and pervasiveness of porn. If you've got screens in your house, your kids will encounter it. Period.
Don't get me wrong. I'm not saying all our kids are going to become porn addicts. And more important, I'm not saying just give up. I'm trying to remind you that unless you literally lock your kids in the basement and never let them go outside or turn on any entertainment media . . . your kids are going to be exposed to some sexual content.
If your kids watch TV, then they will hear sexual references, jokes, and innuendos frequently.
As I write this, Family Guy is still one of the most popular shows watched by young people. Have you ever watched an episode of Family Guy? I know families who let their 10-year-olds watch the show. Are you ready to explain what fellatio is when your 10-year-old hears it mentioned on the show?
In 2014, The Voice was in the top ten on the Nielsen charts almost any given week of the season, often claiming the top spot (as it does today). Shakira's stardom increased tenfold during Season 6 as a judge on the show (Feb-May 2014), so it wasn't surprising when her hit song "Can't Remember to Forget You" was in the top 100 of the music and music-video charts for much of the year. In this video, Shakira sang nearly naked or in lingerie before ending up on a bed with Rihanna as they groped themselves and each other. Even Elle magazine referred to "all the ridiculously hot, nearly naked looks from Shakira and Rihanna's new video."
And this is just what kids are gleaning from the "clean" programming our world offers.
Entertainment media is only becoming more loaded with sexual content and images. Millennial experts Ypulse named Game of Thrones the most popular show watched by college kids. I already talked about the show in chapter 1, but let me just reiterate, this show is ridiculously pornographic. The only difference between Game of Thrones sex scenes and hardcore porn sex scenes are extreme close up shots.
It doesn't take an expert to realize that all these sexual messages and images make kids even more curious about something that is already enticing.
So where do they go for answers?
"Google is the new sex ed." I'm starting to hear that phrase more frequently.
Anne Marie Miller is the first person I heard use this phrase in her article "3 Things You Don't Know About Your Children and Sex." After spending a summer speaking to kids about sex and counseling them, she kept hearing the same thing over and over again. Whenever she inquired about a young person's first exposure to pornography, she heard the same answer—Google Image searching.
Kids are going to the web, rather than parents, for their answers.
Two reasons:
It's the place we go for answers about everything else today. How tall is the Golden Gate Bridge? Google it. How many sizes of poodles are there anyway? Google it. What is anal sex? Google it.
Sex is an embarrassing subject, so kids would rather ask questions anonymously.Experts are noticing a growing trend in the popularity of anonymous web sites. Young people have learned that the content they post on the most popular social media sites is scrutinized by parents, bosses, and enemies. Hence the rise in "anonymous" social media apps and web sites. It's easier to talk about embarrassing subjects when no one knows who you are. The Washington Post asserts, "anonymous and ephemeral, apps such as Whisper, Secret, Ask.fm and Snapchat fill a growing demand among teens for more fun, less accountability and more privacy online." Young people are getting used to anonymity. It's no surprise when they go online instead of face-to-face for their answers to embarrassing questions. They love the lack of accountability.
The presence of porn is only growing more pervasive.
Just because our boys are more commonly affected by the visuals of porn, it doesn't mean our daughters are immune from it. I constantly encounter youth workers who are counseling girls addicted to porn, but even more frequently, I hear about girls who are giving in to guys' expectations driven by porn.
Author Penny Marshall, wrote about this trend, interviewing girls in their young teens complaining about their boyfriends pressuring them to dress like porn stars, wear sexy underwear, have bodies like porn stars, and "behave like them too when we are alone."
In her research, she met a 16-year-old girl who had been dating a boy for four months, and liked him, but was scared by him whenever they got alone because, she claimed, "he changes."
Suddenly, when we are being intimate, he'll say something that he must have heard in a porn film. For example, he'll call me a "bitch" and use dirty language that he'd never use normally. It's awful. It's so obvious he's copying his actions from watching porn. No boy would call you beautiful. They use words like "hot" and "sexy". . . . It's all about performing sexual acts for them, and they assume we'll love it.
Parents need to stop deceiving themselves. We live in a sexually charged world, and chances are your kids are stumbling upon sexually charged messages and images frequently. If you want to battle the threat of porn in your home, start by opening your eyes to the reality of the situation. Porn is powerful, pervasive, and permeating.
That's why we need to open up the doors of communication about it in our homes.
2. Look for Opportunities to Dialogue About Porn
It's the one solution 
everybody
, and I mean 
everybody
 agrees on.
I've been researching youth culture, studying parenting practices, and teaching parent workshops for over a decade now. I've read countless studies speculating how to be a better parent, how to reduce the risk of pregnancy and STDs, how to steer kids away from drugs and alcohol . . . I've read it all. And the one deduction I can wholeheartedly conclude is . . . no one agrees! I've read reputable studies that say more boundaries are the answer, where other respectable studies concluded the exact opposite—more freedom is just what kids need. But in all the studies, from all the PhDs in every university and practice imaginable, one common theme emerges. Every single expert agrees on one thing: We need to talk with our kids about this all the time.
And sadly . . . it's the one thing parents don't do.
So how do we have this conversation?
First, remember, it's not one conversation—it's many. Look for opportunities to have these conversations. If a favorite TV character decides to sleep with his girlfriend, hit the pause button every once in a while and talk about it. Bring it up at dinner and ask their opinion. Do more listening than lecturing. More dialogue than monologue.
If the only time we dialogue with our kids is when we want to teach them something, we're missing the point. We should be talking with our kids about everything. If you notice your 5-year-old carrying around a particular teddy bear, ask him about it.
Why?
Because as parents we love our kids and want to get to know them better. Even the names of their teddy bears.
"Who's that?"
"It's Rufus."
"Tell me about Rufus."
The more we listen to our kids in daily life, the more they'll come to us when they really need someone to listen.
As they grow and become more curious about sex, it won't be a surprise when we discuss it with them. After all . . . we talk about everything.
Don't be afraid to use discussion tools. My last book, Get Your Teenager Talking, is full of discussion questions that open doors to meaningful conversations. Crack a book like that open at dinner and ask your kids what they think about real-life issues.
Dads, don't be afraid to meet with your sons once a week for breakfast and go through a devotional that speaks candidly about these issues. My devotional, The Guy's Guide to God, Girls, and the Phone in Your Pocket has been called "refreshingly brutal." It gives advice like, "If you have to look over your shoulder to check if anyone's in the room, you probably shouldn't be typing it into the search engine." Or, "God wants you to enjoy a naked woman . . . one naked woman." The book has countless entries about sex, temptation, and the way we should treat the opposite sex.
Books can be great resources, but don't hesitate to use your Bible as well. Share Scripture and ask questions about what you read. Start with 2 Timothy 2:22 and 1 Corinthians 6:18.
Use questions as often as possible. Constantly look for any opportunity to listen to your kids' hearts about the issues they are struggling with.
But let's not forget to create an environment where our kids can learn to make these decisions without being bombarded with sexual content at every turn.
3. Place Safeguards
No, we can't protect our kids from everything. And frankly, I don't think we should try to remove our kids from every danger. If we swoop down and save our kids from every tough decision they have to make, how can we expect them to learn how to make decisions?
But that doesn't mean we should raise our kids in the red-light district.
This is a tough balance at times.
I recommend setting some realistic and fair safeguards in the home, especially while the kids are younger. And I don't mean just porn blocks. Today's kids need boundaries in numerous areas of entertainment media and technology. I recommend frequent conversations about being wise with media, and boundaries that hold our kids accountable to that wisdom.
Doctor's orders.
Seriously. Doctors frequently release studies about the effects of entertainment media on young people. For example, the American Academy of Pediatrics (AAP) recently published a report titled Children, Adolescents and the Media unveiling the effects of media on children zero to 17-years-old. These doctors recommended the following to parents:
Limit the amount of total entertainment screen time to less than 1 to 2 hours per day.
Discourage screen media exposure for children less than 2 years of age.
Keep the TV set and Internet-connected electronic devices out of the child's bedroom.
Monitor what media their children are using and accessing, including any Web sites they are visiting and social media sites they may be using.
Coview TV, movies, and videos with children and teenagers, and use this as a way of discussing important family values.
Model active parenting by establishing a family home use plan for all media. As part of the plan, enforce a mealtime and bedtime "curfew" for media devices, including cell phones. Establish reasonable but firm rules about cell phones, texting, Internet, and social media use.
Note: This report wasn't from Focus on the Family or some Christian publication. This is what secular doctors are recommending.
Are you teaching your kids how to make responsible decisions about entertainment media and technology?
Do you know what apps your kids are using? Do you "coview" TV shows, movies, and YouTube videos with your kids? Have you had conversations about who they are communicating with in social media? Have you set some helpful guidelines and curfews for the entertainment media and technology in your house?
This is what these pediatricians recommend.
Don't feel pressured to buy your 10-year-old a phone or a tablet just because every one of her friends has one. You're not doing your kids a favor if you let YouTube, TV, and social media raise your kids.
When my kids were younger, we set some pretty strict guidelines to help them see the truth through the dense fog of entertainment lies. As they turned 15 and 16, we lightened up a little, allowing them to make more decisions, but we kept some helpful guidelines:
Phone off at night.
Tuesday night—no entertainment media. We read and played games as a family.
Mom and Dad have all passwords and can look at your phone whenever they want.
These rules didn't hinder them from learning to make good media decisions themselves. On the contrary, they taught them discipline and restraint. My older daughter, now off at college, says she wishes we could have had more nights of "no entertainment media."
Entertainment media is full of lies. Guidelines, passwords, and porn blocks keep all our kids from encountering distractions at every click of a button.
I realize that porn filters aren't foolproof. That's why I wrote about the importance of having frequent conversations before writing about safeguards. Some people subscribe to some sort of "Net Nanny" and think they're done raising their kids. Porn blocks aren't the answer; they just help our kids see through the sexually charged fog that permeates much of the world wide web today.
What porn blocks work best? The second I write about it, it will become out of date. So I recommend going to the place our kids go for answers, Google. Do a quick Google search for "porn blocks" or "porn filters." You'll see advertisements for hardware and software, and you'll also see articles with advice and reviews about which blocks work best. Do a little research. Ask fellow parents what they use. Jump on XXXchurch.com and see the articles and software they offer.
Just realize, porn filters aren't going to block out Shakira "nearly naked" on YouTube, and you'll find some porn can slip through—hence the need for continual conversations. But these kinds of safeguards can help your kids browse the web without being bombarded at every turn.
In addition to porn filters, investigate how to use parental controls on your kids' phones and other mobile devices. When they're young, use a high amount of control, blocking out anything questionable. You have the password and only you download new apps. As they get older, give them more control as they prove themselves trustworthy, but continue to hold them accountable. In other words, maybe give your kids the ability to download apps themselves, but ask them about the apps frequently and have them show you what they do. Ask them what their experience has been. Teach them to make good media decisions—after all, when they turn 18 and are on their own . . . they can download whatever they want.
Are you equipping them for that day?
DISCOVER MORE WAYS TO BECOME YOUR KIDS'"GO-TO PERSON" ABOUT SEX FROM JONATHAN'S BRAND NEW BOOK, MORE THAN JUST THE TALK.