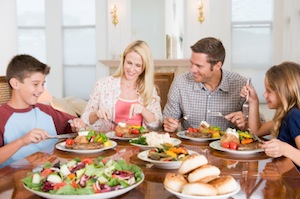 "That's the stupidest thing you've ever bought!" 
This is what our son Paul said when Kristen and I brought home our new dining room table a few years ago. When we moved from Michigan to California in 2008 we had to downsize, most of our furniture didn't make the trip west, including our dining room table.
Houses in SoCal are smaller. We repurposed our dining room as a family room. And for several years dinner just kind of happened.
The Ugly Truth About Dinner
A few years back we decided we wanted a table. Kristen, who is the primary cook in the family, was frustrated that meals had become a thankless chore. Each of us would do our own thing while she made dinner, we'd go to the kitchen and then take our meal back to what we were doing.
Essentially we each ate alone.
Jackson, our youngest, often ate dinner with Kristen in the kitchen.
Paul ate in front of the computer with his headphones on.
Megan in front of her tablet with her headphones on.
Dad in front of his computer with his headphones on.
Don't get me wrong– we were eating great, healthy meals. But dinner wasn't healthy for us. It was five individuals consuming food… it wasn't "dinner."
The Best Technology I've Ever Bought for Our Family
"That's the stupidest thing you've ever bought!"
We can joke about that a few years later because it just didn't work out that way. We set up our little table and very quickly dinner has become something we all look forward to.
Yes, the kids are far too cool to tell us how much they like sitting down to eat together each night.
But I know the dinner table has become important to our kids because even on nights when we (usually it's me) decide not to sit at the table, the kids almost always will end up at the table anyway. Even when the table is covered in magazines and tools and other household crap that lands there— the kids just kind of push it aside and sit down.
Remember the Dinner Table
I'm digesting a whole bunch of new research that's just come out from Common Sense Media about technology, the home, and internet addiction. But I was really pleased to see them offer some of the advice I've been giving to parents at my workshops for years:
Declare Tech-Free Zones and Times. Devices are a huge part of screen time, and kids need support in establishing balance and setting limits. Depending on your family, these rules can be as simple as "no phones at the dinner table" or "no texting after 9 p.m."
Walk the Walk. Lead by example by putting your own devices away while driving, at meal- times, and during family time. Parent role-modeling shows kids the behavior and values you want in your home. Kids will be more open and willing participants when the house rules apply to you, too.
While not in the report, I'll add a third bit of advice:
Just be yourself. I've talked to tons of parents who worry about what to do at the table to get the most out of it. Don't overthink it! Just be yourself. All we do is talk about the day and that leads to some jokes and silliness. Sometimes that leads to us playing some games together after dinner, sometimes it doesn't. So don't feel like you need to have a 15 minute family devotional or like you're sitting down for a deposition, just relax and talk to your kids about whatever they want to talk about… that's all you have to do.
In our house, this is exactly what we do. The dinner table is 20-30 minutes each day where we all sit down together and talk about our day while eating dinner. It's technology-free space. (Cough, I'm the worst offender!)
The dinner table isn't special; I mean everyone probably has one. But we think the dinner table is sacred. What was once the stupidest thing I've ever bought is now one of our family's most sacred rituals.
For us, we've learned, that sitting at the dinner table is the best parenting we can do all day.
Adam McLane
Adam McLane is a Partner at The Youth Cartel and Principal at McLane Creative. Kristen and Adam have been married 17 years and live in the San Diego neighborhood of Rolando with their rowdy children, Megan, Paul, and Jackson.