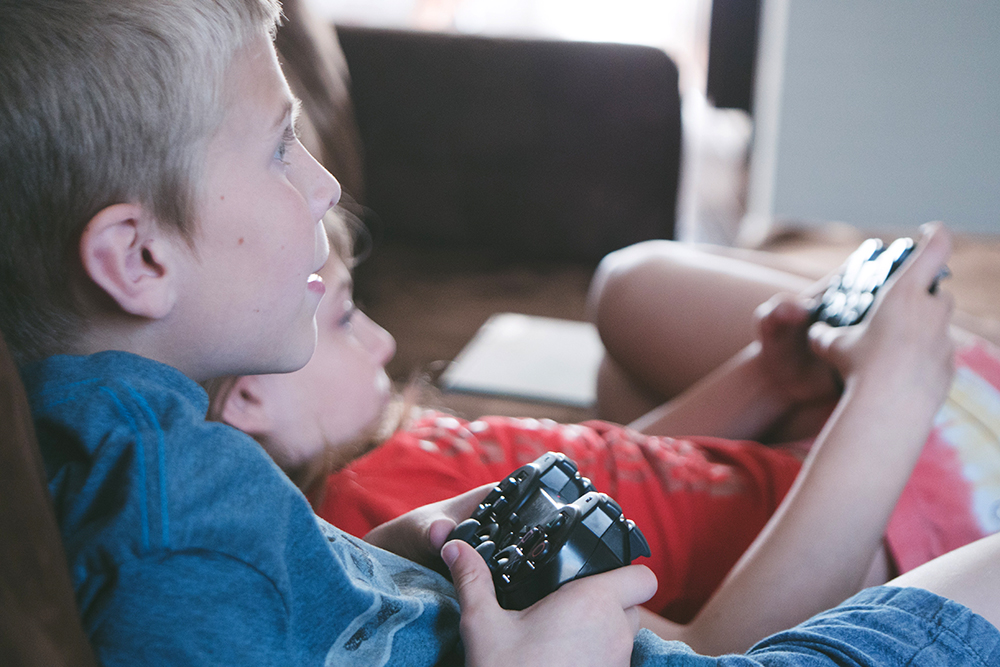 It's almost Black Friday, and if you have kids, chances are they have at least one video game on their Christmas list.
But how do you know what you're buying?
Not all parents understand video games the way their kids do, and maybe you're a little lost as to exactly what your kid is asking for or what kinds of gaming experiences they would enjoy seeing under the tree. So let's take a quick peek at some of the popular games and systems and what it could mean for the person you're giving them to.  
Systems
Nintendo Switch
If you have younger kids, this might be the system for your family. Since it's a Nintendo system, it's the only place you'll be able to play games like Mario, The Legend of Zelda, Pokemon, Metroid, and other beloved video game icons with family-friendly games.
The Switch is a console you connect to your TV, but you can also lift a tablet from the system and take it on the go! It's relatively new, and doesn't have any new versions aside from a couple special designs.
The Switch will set you back $300, and the controllers are relatively expensive compared to the PS4 or Xbox One if you decide you need more than one. To play online, you need the Nintendo Switch Online membership, which is $20 a year and includes access to a growing library of classic Nintendo games.
Playstation 4
The PS4 is the best-selling system of this batch of game consoles, in no small part due to its extensive library of exclusive games. If your teen or tween likes a great variety of games and enjoys trying new things, this is probably the console for them.
There are a few different types of PS4, but they all play the same games; the only major difference is that the PS4 Pro loads games faster and can output in 4K HD. The PS4 also has a virtual reality headset that, while expensive, is far more affordable than the more sophisticated PC options (and let me tell you, virtual reality is pretty dang cool).
The base PS4 tends to run $300. If you want to play online with friends, you'll need a Playstation Plus subscription, which costs $60 a year, enables online play, and nets you two free downloadable games each month.
Xbox One
The Xbox One is the main competitor to the PS4, with similar hardware specs and processing power. But while the PS4 has a great variety of exclusives, the Xbox One is more focused on racing games and shooters, so if your kid likes those, the Xbox One is a solid choice for them.
There is also a more powerful version of the Xbox One called the Xbox One X; it plays all the same games as the normal Xbox One, but it has more processing power and can output at 4K HD.
The base model Xbox One tends to cost $250. To play online, you'll need an Xbox Live Gold membership,which is $60, enables online play, and nets you two free downloadable games each month. 
Video Games
The first step, of course, is to know what systems you own and make sure you're getting the right games for them. Even the greatest PS4 game is no good in a Nintendo Switch! So let's take a look at what games are getting people really excited for this year.
Pokemon Let's Go, Eevee and Pikachu!
System: Nintendo Switch
This new Pokemon game is great for introducing children to the series, and focuses more on your bond with your pokemon than fighting in battles with them.
Spider-Man
System: PS4
Swinging around New York City, fighting crime, and climbing to the top of the Empire State Building, all with a teen-friendly story about our favorite web-slinging superhero.
Red Dead Redemption 2
System: PS4, Xbox One
Lots of people will want this one, and while it is an excellent game in some respects, you'll want to be sure they can handle the plodding pace and the mature content.
Assassin's Creed: Odyssey
System: PS4, Xbox One, PC
Mixing historical and mythological elements of ancient Greece, this game will provide a whole lot of playtime to players mature enough to handle the M rating it earned.
Call of Duty: Black Ops III
System: PS4, Xbox One, PC
The new Call of Duty is basically a package of various multiplayer game modes, and seeing as Call of Duty games are a big hit every year, this will likely be on plenty of Christmas lists.
Super Smash Bros. Ultimate
System: Nintendo Switch
The new entry in Nintendo's beloved fighting game series brings together all the characters from previous games and a number of new ones in a colossal conglomeration of classic characters in climactic clashes. Perfect for playing as a family!
Fortnite
System: PS4, Xbox One, Nintendo Switch, PC
Fortnite is free, so this isn't so much a thing you can buy for anyone, but the game is popular enough to be worth noting that it's available on all the modern consoles.
Final Thoughts
You don't need to know a ton about video games to understand how and why your kids enjoy them. Maybe you have a young child who likes colorful creatures, and would get a kick out of Pokemon Let's Go, Eevee! Maybe you have an older teen who would appreciate the somber tone of Red Dead Redemption 2's old west epic. Maybe your family enjoys playing together, and would get a lot of bonding time out of some matches of Super Smash Bros. Ultimate.
The best way to find out what your kids want is to engage them in conversation.
Ask them, "If you could have any game system which would you want?" Or "If you had no limits what one game would you choose to play… and how long would you probably play it?"
Better yet, when you get the game system ask them, "Show me how to play." It's amazing the discussion you can enjoy when you enter their world.
For more game insight from Samuel, be sure to check out his reviews on our VIDEO GAME REVIEWS page!
Samuel Gronseth II
Samuel Gronseth II is an avid video game enthusiast who manages Video Game Reviews at TheSource4Parents.com. He has experience teaching about video games, and is passionate about their storytelling potential. Sam's favorite movie is The Empire Strikes Back, and his favorite video game is Persona 4. Sam lives in Knoxville, TN with his wife, Jimi. To see more of Samuel, check out his Youtube series Games as Lit. 101, where he examines the stories of beloved video games to see what we can learn from them: https://www.youtube.com/gamesasliterature.