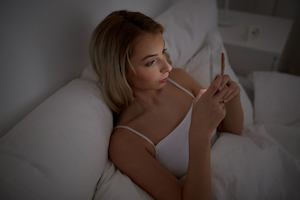 Message more, sleep less… do worse at school. It's a simple equation.
New studies are showing constant connectivity is affecting sleep more than we thought, especially with the enticement of social media.
A brand new study across the pond revealed that a fifth of kids wake up regularly at night to check social media. This isn't the first of these sleep studies, but it is unique to find so many young people actually waking up to see if they got more "likes" from the pic they just posted of their cat wearing mittens.
The National Sleep foundation has launched similar studies warning parents, "Children who leave electronic devices on at night get less sleep on school nights than other children do." In fact, "Teens who leave devices on are estimated to get, on average, half an hour less sleep on school nights."
The foundation takes surveys asking parents how much time their kids sleep each night. Parents' estimates of sleep time are…
8.9 hours for children ages 6 to 10 (they recommend 9-11)
8.2 hours for 11 and 12 year olds (they recommend 9-11)
7.7 hours for 13 and 14 year olds (they recommend 9-10)
7.1 hours for teens ages 15 through 17 (they recommend 8-10)
Again, admittedly these are "parents estimates." I hate to say it (and I know people won't even like me saying it), but I find that the majority of parents don't have a clear idea of what their kids are really up to… especially in their bedroom at night. So I predict these numbers of actual sleep are on the high side.
Another study out of Rutgers last year linked nighttime instant messaging not only to loss of sleep, but also to school performance the next day. This study found thirty minutes to be the magic number. "Students who turned off their devices or who messaged for less than 30 minutes after lights out performed significantly better in school than those who messaged for more than 30 minutes after lights out."
Other studies show the "mere presence of devices" in the room affected sleep… even if switched off. They blame the effect of social media on the brain—young people are used to being continually stimulated by devices.
I think of it like an alcoholic trying to take a nap in a liquor store. Even if they don't drink anything… they know it's there!
It's pretty simple. Young people love their phones, but parents know it takes time and energy to help our kids learn to be responsible with them. So many parents just "hope for the best"… and their kids are paying the price.
So what can parents do to help their kids make wise decisions with their phones…especially at night? Here are three tips that have helped me:
Have conversations about the effects of social media. Not lectures… conversations! Read them one of the articles linked above and ask, "Is this right?" Then ask, "What do you think is a wise way to prevent this?"
Don't think mere rules will solve the problem. The answer isn't as simple as just limiting screen time (which isn't a bad thing) or buying the newest parental tracking software for your kids' phones (which isn't fool proof by any means). Instead take the time and effort to teach your kids responsibility with their mobile devices. Here are 5 steps to actually doing that.
Look for ways to connect with your over-connected kids without have to say, "Put that stupid phone away." Give them opportunities to enjoy "tech free" zones. Here are the top 5 of these connections I return to again and again.

Walk with your kids through this process. If your kids want their phones in their bedrooms at night, say, "Let's see what the experts say." If they want Snapchat, then say, "Let's check it out together." (Here's a start.)
Don't make the decision for them, and don't leave them to figure it out on their own. Walk with them and help them learn to make these choices in real life situations. It's living out Deuteronomy, Chapter 6 in the modern day—talking with our kids about truth as we get up, as we walk along the road and ask we go to bed at night… (I devote an entire chapter to "walking with" our kids in my new book, If I Had a Parenting Do Over.)
Are you having these conversations?