Parenting Help
Creating a Comfortable Climate of Continual Conversations… About SEX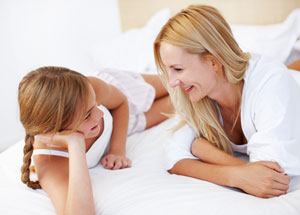 A single nude image found on a single high school student's phone at a single school… led to literally dozens of students who were involved. This was last week.
"It was overwhelming how many kids were involved."  (Oneida County Sheriff Lt., USA TODAY, Feb 22, 2015)
Parents are always surprised when someone unveils specifically what today's kids are looking at, listening to, or talking about.
But the fact is—sexually explicit conversations and sexually charged entertainment is difficult to avoid. Even if your kids aren't seeking out this kind of content… it's everywhere.
No, I'm not being over-dramatic. I'm just a parent in 2015 who is paying attention. I have a 17-year-old who goes to a Christian school and hangs out with a really wholesome group of friends… and she encounters sexual content and talk frequently.
Just turn on your TV during primetime, pop onto YouTube, take a gander at the top music charts. Peek what today's kids are watching and hearing (and parents are usually missing) during family programming like the Super Bowl.
So what do most parents do in a world full of these influences?
They stay quiet and hope their kids don't ask any questions.
The Need for Conversations:
Think about this quandary for a moment. We live in a world where sexual images and messages are ubiquitous, from the content flowing through every Wi-Fi signal, to the images and headlines on the magazine racks as we're checking out at the grocery store. And what is the message of most of this content?
Sex is recreational.
Sex is something anyone can do with anyone.
Do what feels right at the moment—don't worry about consequence.
These voices are loud and pervasive.
So where are the voices telling our kids the truth? Sadly… these are most often the quiet voices.
Shhhhhh… we don't talk about that stuff.
The result? Our kids constantly hear the lies, and almost never hear the truth.
This week I received a pile of boxes of my brand new book on this subject, More Than Just the Talk. When Dr. Kevin Leman read this book his comment was:
"In a world full of explicit lies, today's kids need parents who aren't afraid to tell them the explicit truth. The book provides parents with the tools they need to have these candid and continual conversations."
New York Times
Have a Happy Family by Friday
The world is screaming lies at our kids. Are we creating an atmosphere where our kids can open up to us and dialogue about the truth?
Your Conversations about Sex Make an Impact
Yes, the messages bombarding our kids every day seem overwhelming. But I've done the research, and all the experts agree: Your conversations with your kids about sex make a huge difference. In fact, parents make the biggest impact.
Does this mean parents should bring up the subject of sex frequently?
We don't have to. The world does that for us. When we're watching TV, it's hard to avoid sexual references, innuendo, and images. Songs laden with sexual lyrics play on the radio, in the stores, and at the gym. If you let your kids out of the house (which I recommend you do), then they are exposed to it.
All parents need to do is be ready for these conversations. Don't overreact when you hear these commonplace sexual references, use them as an opportunity to interact. Ask questions.
What do you think about Mary's decision to sleep with Lord Gillingham?
It's obvious Megan Trainer is "All about That Bass", but what did she mean when she sang:
Yeah it's pretty clear, I ain't no size two
But I can shake it, shake it like I'm supposed to do
'Cause I got that boom boom that all the boys chase
All the right junk in all the right places…
Or open up the word of God and begin reading. Before long you'll encounter a passage that discusses it.
What does Paul tell us we should do when we encounter youthful lust?
What do you think "fleeing" might look like today?
What if they ask detailed questions? I devoted an entire chapter to tough questions about sex in my new book for teenagers, Sex Matters, a supplement to More Than Just the Talk. Sex Matters is only five chapters long and has discussion questions at the end of each chapter so you can dialogue with your kids about what they read. Parenting author Doug Fields says this about it:
"Just don't do it' isn't enough. Today's young people are looking for real answers to tough questions and Sex Matters isn't afraid to tell them the unedited truth. Every teenager with an Internet connection or a phone in their pocket needs to read this book!"
 -Doug Fields, author of over 50 books
Which Parent Are You?
Kids whose parents are hush-hush about these struggles have to figure out the answers somewhere else. Usually, that somewhere-else is on a glowing screen or in the high school locker room.
Would you rather they hear the truth about sex from you . . . or Google?
Are you having these conversations, or are you one of the quiet voices?
JONATHAN HAS TWO BRAND NEW RESOURCES TO HELP YOU CREATE A CLIMATE OF CONTINUAL CONVERSATIONS: MORE THAN JUST THE TALK, AND SEX MATTERS