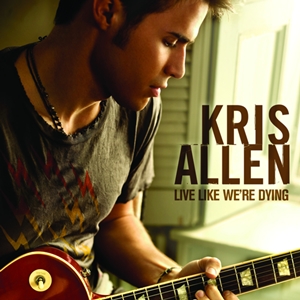 The Song: "Live Like We're Dying" by Kris Allen
Main Point of Discussion: With every passing day, each of us gets closer to death. With that truth in mind, we must make sure that our lives are being lived the way God wants.
Vital Info Before You Get Started: (The following should help you contextualize this very popular song so you can have a great discussion about it with your kids.)
Kris Allen is a former American Idol winner. He not only stole the hearts of millions of young girls, but he also secured their text-based votes, ending in a surprising victory over chief competitor, Adam Lambert.
Since his triumph on American Idol, Allen has released several songs, all of them attaining a spot on Billboard's Top 20. As of December 2010, "Live Like We're Dying" sold 1,582,000 digital downloads in the U.S. and has been certified platinum. It peaked at number 10 on the Billboard charts.
The half rock n roll – half folk song is typical of his preferred genre. "Live Like We're Dying" is basically Allen's way of stirring people to action. His message is simple: life is precious and important, so we must live it as intensely as we can.
The popular song also has a music video that can be purchased from iTunes for $1.99.
Above all, don't appear as if you have a "canned" discussion in your head and rattle off questions like a teacher giving a pop quiz—your kids get enough of that in school. This is a guide, primarily—not a verbatim script. Just familiarize yourself with the content here and start a conversation in the most natural, unforced way you know how.
Lyrics:
Sometimes we fall down, can't get back up
We're hiding behind skin that's too tough
How come we don't say I love you enough
Till it's too late, it's not too late
Our hearts are hungry for a food that won't come
And we could make a feast from these crumbs
And we're all staring down the barrel of a gun
So if your life flashed before you,
What would you wish you would've done
Looking at the hands of the time we've been given
If this is all we got and we gotta start thinking
If every second counts on a clock that's ticking
Gotta live like we're dying
We only got 86,400 seconds in a day to
Turn it all around or to throw it all away
We gotta tell them that we love them
While we got the chance to say
Gotta live like we're dying
And if your plane fell out of the skies
Who would you call with your last goodbye
Should be so careful who we leave out our lives
So when we long for absolution,
There'll no one on the line, yeah
Like we're dying, oh, like we're dying…
We only got 86,400 seconds in a day to
Turn it all around or to throw it all away
We gotta tell them that we love them
While we got the chance to say
Gotta live like we're dying
You never know a good thing till it's gone
You never see a crash till it's head on
Why do we think we're right when we're dead wrong
You never know a good thing till it's gone
Three Simple Questions (with Answers You May Be Looking for):
Q: What's the message of this song?
A: We should approach each day as if it's our last—and love and serve others accordingly.
Q: How do you suppose we—as serious Christ-followers—should react to this song?
A: The lyrics should remind us that God doesn't guarantee our next breath—and that we should use every breath given to us to glorify God and show others who God is through the way we live our lives.
Q: How can we move from healthy, Bible-based opinions about this song to actually living out those opinions?
A: Our mission is urgent. We should be praying for non-Christians and always looking for ways to demonstrate Christ's love to them. If that's not our reality, we must urge each other to adopt that reality in our lives and pray for God to change and soften our hearts.
Where to Take It from Here: 
Wherever it feels natural. If these questions lead to a longer discussion on the topic, wonderful! (There's a guide just after this paragraph that helps you do just that.) If your kids are barely uttering grunts, don't get discouraged—the next time it feels right, try out another song. Keep engaging them.
For Deeper Discussion: (If your kids seem into diving in deeper, the following discussion guide can help take you there.)
CLICK HERE if you want to look at a quick training article on small groups and drawing questions out of young people—you may find much of the information applicable as you go through this subject with your family members.
Transitional Statement:
Kris' song is a good reminder for each of us to live our lives as purposefully and as intensely as we can. He says that we are to "live like we're dying." But what's that really look like? Let's spend a few moments reflecting on the words of a godly man who was actually about to die to see what we can glean from his life concerning how we should live ours. 
More Discussion Questions:
HAVE ALL YOUR FAMILY MEMBERS ANSWER: According to the song, we are to "live like we're dying." What does Kris mean by that? Can you give some examples?
ASK A FEW FAMILY MEMBERS: Do you think most Christians live like they were dying? Why or why not? Do you live your life as though you were dying?
Read the following passage from the Bible:

1When Christ Jesus comes as king, he will be the judge of everyone, whether they are living or dead. So with God and Christ as witnesses, I command you 2to preach God's message. Do it willingly, even if it isn't the popular thing to do. You must correct people and point out their sins. But also cheer them up, and when you instruct them, always be patient. 3The time is coming when people won't listen to good teaching. Instead, they will look for teachers who will please them by telling them only what they are itching to hear. 4They will turn from the truth and eagerly listen to senseless stories. 5But you must stay calm and be willing to suffer. You must work hard to tell the good news and to do your job well.
6Now the time has come for me to die. My life is like a drink offering being poured out on the altar. 7I have fought well. I have finished the race, and I have been faithful. 8So a crown will be given to me for pleasing the Lord. He judges fairly, and on the day of judgment he will give a crown to me and to everyone else who wants him to appear with power.
ASK A FAMILY MEMBER: According to this passage, what does Paul say is about to happen to him? (Parent—answer you're looking for: In verse 6, he says it is time for him to die – that his life is being poured out as an offering to God. By that, he simply means that he strongly believes his time of execution is coming up quickly. Side note: we know that – historically speaking – this was the last letter that Paul wrote that became Scripture. He wrote this from a prison cell, knowing that the death penalty assigned to him was drawing close.)
ASK A FAMILY MEMBER: How does Paul seem to be handling his circumstances emotionally? How do you know?
ASK A FEW FAMILY MEMBERS: What are some of the things Paul commands us to do in this passage? (Parent—answer you're looking for: To preach God's message, correct people/point out their sins, patiently instruct people, cheer them up, work hard, etc.)
ASK A FEW FAMILY MEMBERS: How would the lives of those around us change if we lived like this?
HAVE ALL YOUR FAMILY MEMBERS ANSWER: What changes do you need to make regarding how you live your life so that you're living "like you're dying"?
Wrap Up:
Tonight we watched a music video that instructed us to "live like we're dying." Not only was it a catchy little tune, but it actually had some good advice for us. We need to live like we're dying…because we are!
We also got a chance to catch a glimpse of one man who was truly living like he was about to die. Writing from an ancient prison cell, the Apostle Paul gave us instructions on how we should live our lives knowing that the end is coming. He basically tells us to serve God wholeheartedly so that others will know of His love for them.
Hand out note cards and pens and then say:
You know, the temptation for so many of us is to put off living like we're dying until we actually get old. But that's wrong. We need to be living like we're dying right now! So, for the next few minutes, I want you to reflect on what you want your life to look like at its end. Get a picture of that in your head. Do you want people to say you were kind, giving, holy, and loving…or hateful, selfish, prideful, and reckless? Now take a moment and write down what you want your life to look like at its end. 
After your family members have written on their cards, encourage them to talk with you about any life changes they need to make so they can live the lives they want to live.
Close in Prayer