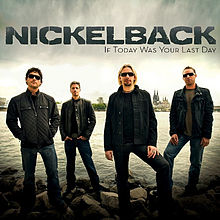 The Song: "If Today Was Your Last Day" by Nickelback
Main Point of Discussion: We must pour out our lives each day as though it were our last day on earth.
Vital Info Before You Get Started: (The following should help you contextualize this very popular song so you can have a great discussion about it with your kids.)
Although they had a small-time start in Canada, they are now huge in the U.S. Nickelback smashed onto the Billboard charts in 2001 with "How You Remind Me" and convinced us to buy more than 14 million albums since then. Included in Nickelback's trophy case are accolades from the MTV Video Music Awards, the World Music Awards, the Billboard Music Awards, the Juno Awards, and several nods from the guys at the Grammys. Nickelback's presence has been felt in the pop, hard rock, alternative, and metal crowds. In other words, your teenagers know Nickelback!
But just because Nickelback is big doesn't mean they play nice. From "Fight for All the Wrong Reasons" to "Animals" to "Side of a Bullet," the band issues its fair share of dangerous messages. Their lyrics are often laced with sex, jealousy, sex, violence, and sex. As much as you may want to turn Nickelback "off," remember that many kids choose to turn them "up."
It is possible to teach students about God and His love by using Nickelback's music withoutendorsing their music to your teenagers. (The practice of using secular material for sacred purposes goes all the way back to the Apostle Paul. See Acts 17.) You can easily download the video from iTunes for a measly $1.99. Or you can access the song at:http://new.music.yahoo.com/videos/Nickelback/If-Today-Was-Your-Last-Day–209463245
Above all, don't appear as if you have a "canned" discussion in your head and rattle off questions like a teacher giving a pop quiz—your kids get enough of that in school. This is a guide, primarily—not a verbatim script. Just familiarize yourself with the content here and start a conversation in the most natural, unforced way you know how.
The Video:
http://www.youtube.com/watch?v=lrXIQQ8PeRs
Lyrics: If Today Was Your Last Day
my best friend gave me the best advice
he said each day's a gift & not a given right
leave no stone unturned
leave your fears behind
& try to take the path less traveled by
that first step you take is the longest stride
[chorus]
if today was your last day
& tomorrow was too late
could you say goodbye to yesterday?
would you live each moment like your last?
leave old pictures in the past?
donate every dime you had?
if today was your last day
against the grain should be a way of life
what's worth the price is always worth the fight
every second counts 'cause
there's no second try
so live like you're never livin' twice
don't take the free ride in your own life
[chorus 2]
if today was your last day
& tomorrow was too late
could you say goodbye to yesterday?
would you live each moment like your last?
leave old pictures in the past?
donate every dime you had?
would you call those friends you've never seen?
reminisce old memories?
would you forgive your enemies?
would you find that one you're dreaming of?
swear up & down to God above
that you'll finally fall in love?
if today was your last day
if today was your last day
would you make it up by mending a broken heart?
you know it's never too late
to shoot for the stars
regardless of who you are
so do whatever it takes
'cause you can't rewind
a moment in this life
let nothing stand in your way
'cause the hands of time are never on your side
[chorus 2]
Three Simple Questions (with Answers You May Be Looking for):
Q: What's the message of this song?
A: Don't miss out on the opportunities of the present because your future isn't guaranteed; have no regrets; live as though today will be your last day—because it very well may be.
Q: How do you suppose we—as serious Christ-followers—should react to this song?
A: While the lyrics aren't 100% in line with biblical priorities, their overall thrust should remind us that God doesn't guarantee our next breath—and that we should use every breath given to us to glorify God and show others who God is through the way we live our lives.
Q: How can we move from healthy, Bible-based opinions about this song to actually living out those opinions?
A: Our mission is urgent. We should be praying for non-Christians and always looking for ways to demonstrate Christ's love to them. If that's not our reality, we must urge each other to adopt that reality in our lives and pray for God to change and soften our hearts.
Where to Take It from Here:
Wherever it feels natural. If these questions lead to a longer discussion on the topic, wonderful! (There's a guide just after this paragraph that helps you do just that.) If your kids are barely uttering grunts, don't get discouraged—the next time it feels right, try out another song. Keep engaging them.
For Deeper Discussion:
(If your kids seem into diving in deeper and looking at what the Bible has to say on the subject, the following discussion guide can help take you there.)
Want help getting your teenager engaged in conversation? CLICK HERE for a helpful article from our "Parenting Help" page providing you with 3 Essentials to Talking with Today's Teens.
Transitional Statement:
This video is an amazing reminder that even though we'd like to think we have a long time to live here on earth, the fact is no one really knows, and there are definitely no guarantees. So in light of that, Nickelback poses a great question:
What if today really was your last day?
More Discussion Questions:
HAVE ALL YOUR FAMILY MEMBERS ANSWER: What are some things you would do if it were your last day?
Read the following passage from the Bible:
(But first explain to your family members that the passage is one of the last things the Apostle Paul wrote before his death—probably a beheading, as a Roman citizen—for sharing the gospel. In his own way, he is telling Timothy how to live each day like it is his last, and most importantly, how to make every day count for eternal value.)

2 Timothy 4:1-8 (NLT)

I solemnly urge you in the presence of God and Christ Jesus, who will someday judge the living and the dead when he appears to set up his Kingdom: Preach the word of God. Be prepared, whether the time is favorable or not. Patiently correct, rebuke, and encourage your people with good teaching.
For a time is coming when people will no longer listen to sound and wholesome teaching. They will follow their own desires and will look for teachers who will tell them whatever their itching ears want to hear. They will reject the truth and chase after myths.
But you should keep a clear mind in every situation. Don't be afraid of suffering for the Lord. Work at telling others the Good News, and fully carry out the ministry God has given you.
As for me, my life has already been poured out as an offering to God. The time of my death is near. I have fought the good fight, I have finished the race, and I have remained faithful. And now the prize awaits me—the crown of righteousness, which the Lord, the righteous Judge, will give me on the day of his return. And the prize is not just for me but for all who eagerly look forward to his appearing.
ASK A FEW FAMILY MEMBERS: Why do you think Paul opens up with a reference to Judgment Day? (Parent—answer you might be looking for: because knowing that we will one day be judged is a great motivator to make life count)
ASK A FEW FAMILY MEMBERS: What parallels are there between the song's lyrics and Paul's instruction to Timothy?
ASK A FEW FAMILY MEMBERS: What is the connection between just listening to what you want to hear and chasing after myths?
ASK A FEW FAMILY MEMBERS: Is one of the myths we chase today the idea that we have all the time in the world to reconnect with friends, forgive enemies, fall in love, and make a difference in the world? Why or why not?
ASK A FEW FAMILY MEMBERS: What are some specific signs that you are living each day as if it was your last?
HAVE ALL YOUR FAMILY MEMBERS ANSWER: What can you do this week about what you learned from this passage?
Wrap Up:
(Pass out 3×5 cards and pens to your family members)
Tonight we discussed the concept of living each day as if it were our last, and really what a huge difference that can make in our lives. I want to give you a chance to think through how you could apply this truth to your life, so I want you to take a few minutes and fill in the blanks with this prompt:
"If I am going to live each day as if it was my last, I need to: ____________"
This might mean dropping a habit, forgiving a friend, or perhaps even trusting in or recommitting your life to Jesus Christ for salvation. 
After your family members are finished, share your answer, then ask if any of your family members are willing to share their answers.
Close in Prayer