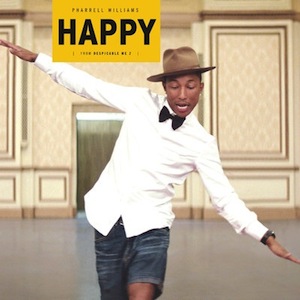 The Song: Happy by Pharrell Williams
Main Point: It feels great to be happy…until the feeling changes…and sadly, it always will. While there is nothing wrong with happiness, joy is a much better pursuit.
Vital Info Before You Get Started: The following info should help you contextualize this very popular song so you can have a great discussion about it with your kids.
IMPORTANT NOTE TO PARENTS: We at The Source for Youth Ministry believe that certain elements in our youth culture can serve as good discussion jump starters with students. At the same time, we would never hope to introduce teens to a negative influence that they haven't already encountered. This balance is a delicate one. In our experience most teens, churched and unchurched, keep pretty current with music and music videos like this one. Thanks to YouTube, MTV.com, and iTunes, the most popular music videos and songs are free to access only a click away. If you decide to use this, do so by catering it to fit your family's needs.
The song is written by Pharrell Williams, a singer who is in his 40's but looks like he's 17. (Maybe that's one of the reasons he's so happy!) He's been in the music business a long time, and has partnered with other icons across his career including: CeLo Green, Daft Punk, and of course, Robin Thicke (in last year's summer hit Blurred Lines).
In Happy, Williams shows the world he has what it takes to be a first rate music star. The song is simply an anthem about the musician's (seemingly) unconquerable happiness. This song and music video is free of any gratuitous nudity, and the lyrics are clean.
Don't appear as if you have a "canned" discussion in your head and rattle off questions like a teacher giving a pop quiz—your kids get enough of that in school. This is a guide, primarily—not a verbatim script. Just familiarize yourself with the content here and start a conversation in the most natural, unforced way you know how.
Introducing the Song:
I know we're all familiar with the head-bopping tune by Pharell Williams entitled Happy. It's the unofficial "song of the summer" and it's on loop everywhere we go, right? The song is about the singer's seemingly unending happiness in life. Over and over again, he claims he's happy and that there's nothing that can change that. He even defies life to try to knock the happiness out of him. Let's take a look at the music video and then talk about it for a moment.
The Music Video:
The song's video can be found at the following link: https://www.youtube.com/watch?v=y6Sxv-sUYtM
Song's Lyrics:

It might seem crazy what I'm about to say
Sunshine she's here, you can take a break
I'm a hot air balloon that could go to space
With the air, like I don't care baby by the way
[Chorus:]
Because I'm happy
Clap along if you feel like a room without a roof
Because I'm happy
Clap along if you feel like happiness is the truth
Because I'm happy
Clap along if you know what happiness is to you
Because I'm happy
Clap along if you feel like that's what you wanna do
[Verse 2:]
Here come bad news talking this and that, yeah,
Well, give me all you got, and don't hold it back, yeah,
Well, I should probably warn you I'll be just fine, yeah,
No offense to you, don't waste your time
Here's why
[Chorus]
Hey, come on
[Bridge:]
(happy)
Bring me down
Can't nothing bring me down
My level's too high
Bring me down
Can't nothing bring me down
I said (let me tell you now)
Bring me down
Can't nothing bring me down
My level's too high
Bring me down
Can't nothing bring me down
I said
[Chorus 2x]
Hey, come on
(happy)
Bring me down… can't nothing…
Bring me down… my level's too high…
Bring me down… can't nothing…
Bring me down, I said (let me tell you now)
[Chorus 2x]
Come on
Three Simple Questions (with Answers You May Be Looking for):
Q: What was the main message in Pharrell Williams' song?
A:
 Over and over again, Pharrell talked about his level of happiness. He claimed to be happy, and that nothing could change that.
Q: In the song, Pharrell makes his happiness out to be something fairly permanent. Do you think happiness is as permanent as Pharrell describes it?
A: No, in real life, happiness isn't as bulletproof as Pharrell tries to make it seem. Regardless of what he says, "bad news talking this and that" has a way of upsetting happiness. And, it doesn't matter how high his happiness goes, as we all know, what goes up must come down.
Q: Do you think God wants us to be happy? Why or why not?
A: The Bible doesn't say too much about God's desire for our "happiness," though He certainly doesn't want us sad, either. His real desire for our lives seems to be joy. That's the "biblical" word that we find over and over again.
Where to Take It from Here:
Wherever it feels natural. If these questions lead to a longer discussion on the topic, wonderful! (There's a guide just after this paragraph that helps you do just that.) If your kids are barely uttering grunts, don't get discouraged—the next time it feels right, try out another song. Keep engaging them.
For Deeper Discussion:
(If your kids seem into diving in deeper and looking at what the Bible has to say on the subject, the following discussion guide can help take you there.)
Want help getting your teenager engaged in conversation? CLICK HERE for a helpful article from our "Parenting Help" page providing you with 3 Essentials to Talking with Today's Teens.
Transitional Statement:

While I certainly love Pharrell's attitude about life, I'm not quite sure I buy it. Don't get me wrong; I'd love for him to be right; I just don't think he is. He seems to think that happiness is unconquerable, but that's not what we see or experience in life. Even though it feels great to be happy, it's just a feeling, and feelings tend to change. In fact, they always change! There is absolutely nothing wrong with happiness, but joy is a much better pursuit. Let's spend a few minutes talking about the difference between the two and how we can actually have real joy in life.
More Discussion Questions:
HAVE ALL YOUR FAMILY MEMBERS ANSWER: As we get started, let's all take a second to share what makes you happy.
ASK A FEW FAMILY MEMBERS: What images does Pharrell use to describe his happiness in the song's lyrics and video?
ASK A FEW FAMILY MEMBERS: Have you ever chased after happiness (like in a relationship, or from an experience, etc)? If so, what happened?
ASK A FEW FAMILY MEMBERS: What are some of the things in life that can upset happiness?
Read the following passage:
Psalm 100:1-5
Shout for joy to the LORD, all the earth. 2 Worship the LORD with gladness; come before him with joyful songs. 3 Know that the LORD is God. It is he who made us, and we are his; we are his people, the sheep of his pasture. 4 Enter his gates with thanksgiving and his courts with praise; give thanks to him and praise his name. 5 For the LORD is good and his love endures forever; his faithfulness continues through all generations.
ASK A FEW FAMILY MEMBERS: The writer of this psalm was clearly in a good mood. According to his psalm, what made him so happy?
ASK A FEW FAMILY MEMBERS: In the opening line, the writer tells us to "shout for joy." What is joy and is it different from happiness? If so, how?
ASK A FEW FAMILY MEMBERS: How is God described in this psalm?
ASK A FEW FAMILY MEMBERS: Correct me if I'm wrong, but our happiness usually results from something we did – make a good grade, go on a date with someone, get a promotion, make the team, etc. But in this passage, it seems like the writer's joy was attached to who God was and what He did. Do you agree or disagree, and why?
ASK A FEW FAMILY MEMBERS: How would our lives be different if we started pursing God's joy instead of man's happiness?
HAVE ALL YOUR FAMILY MEMBERS ANSWER: What are some ways you can start striving for joy right away?
Wrap Up:
Pharrell Williams' song Happy is a neat little song that can definitely put you in a good mood if you weren't already. In fact, I truly believe that Pharrell Williams was happy when he wrote it, when he sung it, and when he shot the video for it. But I'm just as certain that since that all happened, there have been moments when he's NOT been happy. After all, life has a way of sucking the happiness from you.
You don't have to take my word for it, though. Each of us can look at our own lives to see that. We've all had weekends ruined by bad weather, or made a bad grade at school, or had something go wrong at work. Those events leave us anything BUT happy.
Here's the deal about happiness: it can be fleeting. It's a feeling and feelings change. There is nothing wrong with being happy, BUT if we chase after happy, all we're doing is chasing after an emotion, a feeling that we know is going to change. On the other hand, God is eternal. He doesn't change, never has and never will. The joy that He gives us is much more lasting than the happiness we build for ourselves.
Joy doesn't mean we're happy. Ironically, we can have a lot of stuff go wrong in life and STILL be joyful. For instance, if we give sacrificially to someone in need, and have little for ourselves, we can be overjoyed by that reality. If we get sick, we can still have the joy that comes with trusting in God for healing. Joy brings with it hope.
For all these reasons, I strongly suggest we search for God and the joy He offers. It is much more lasting because it comes from God. Let's pray and ask God to help us pursue Him so we can have joy.
Close in Prayer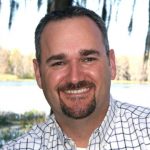 David R. Smith
David R. Smith is the author of several books including Christianity... It's Like This and speaks to parents and leaders across the U.S. David is a 15-year youth ministry veteran, now a senior pastor, who specializes in sharing the gospel, and equipping others do the same. David provides free resources to anyone who works with teenagers on his website, DavidRSmith.org David resides with his wife and son in Tampa, Florida.