To make money, most teenagers relegate themselves to flipping burgers, mowing lawns, and babysitting neighbors. It's a mundane – but proven – way to make some cash.
Meanwhile, other teenagers just turn to YouTube to bankroll themselves.
Big Breaks
Yeah, I know I just wrote about YouTube a few weeks ago, but the recent string of several young people's explosive rise to fame (and wealth) has prompted me to take another – and different – look at YouTube.
I've always viewed YouTube as little more than a stockpile of online videos. After all, there are millions of users worldwide, and many of them have posted numerous videos, ranging from helpful to ridiculous to nonsensical. In fact, YouTube calls itself "the largest worldwide video-sharing community." There is no doubt the boast is true; competitors like Flickr (ranked as the 22nd most popular site in America) and Vimeo (82nd) pale in comparison to YouTube, which has consistently sustained its 4th-ranked position in the U.S.
But lately, YouTube has truly begun to prove itself as an online social network, much like Facebook and MySpace and Twitter. However, unlike those sites that let teenagers "type" what they're doing, YouTube allows teens to "show" what they're doing!
Evidently, that's making a big difference.
For the lucky few that get their big break online, there's some money to be made. It's been said that a picture is worth a thousand words, but if those pictures are moving – and on YouTube – they could be worth thousands of dollars. Here are a couple examples….
Beyond Bieber
By now you know that YouTube launched the career of Justin Bieber, and made Fred Figglehorn, one of the most annoying personalities on the web, uber-famous. But they aren't the only ones that mighty YouTube has smiled upon, as of late.
For example, Rebecca Black, the young teenager behind the viral smash Friday, had her video viewed millions upon millions of times on YouTube…that is, until her lawyers yanked the music video from the website. But Katy Perry helped keep Rebecca on America's minds – and screens – by offering her a cameo appearance in her newest music video, Last Friday Night (which features cameos of many other celebs, as well). As of this writing, that video has already racked up a whopping 47.8 million views on YouTube.
And now, according to Rebecca Black's official website, the young singer is going to release a follow up music video entitled My Moment, which tells the story of her sudden rise to fame and "features footage from Black's real life including her last day at her junior high school, her attendance at movie premieres and her recent hosting gig at MTV's Online Music Awards."
Wanna guess where she's gonna release it?
Yep. YouTube. At 8pm on Monday, July 18th, Black's official YouTube channel will be premiering the new music video. This new offering will probably add more money to the tens of thousands of dollarsshe's already made off of Friday.
But Black's not alone. Other young users are employing YouTube to make money in very different ways.
Seth Leach, the stunt man behind several viral videos like this one, is also raking in money from the YouTube cash cow…sort of. As this article/video explains, if one of Leach's many recorded stunts registers enough clicks on YouTube, Break.com pays him $600 to post his video on their site.
The bottom line is, Leach and his crew are ultimately making money from what they post on YouTube. Arguably, even more than Rebecca Black is making.
But there are still others. Lemonade Mouth, the band comprised of Disney celebs, is also racking up millions and millions of views of their songs: Breakthrough, Somebody, and Determinate. Mix the popularity of those online videos with the powerhouse promotional abilities of Disney, and it's easy to understand the money they're making, too. Additionally, DigiWAVE has formulated a list of tech-savvy users, many of whom are young, who've made HUGE sums money on YouTube.
Maybe it's time to give up my day job and just go viral?
YouTube for You Too?
I don't really see this information about YouTube as good or bad, just the reality that is. I'm always in favor of promoting an entrepreneurial attitude in the lives of young people (so long as it's legal and ethical). YouTube is serving as another "America's Got Talent" of sorts. If people like what you've got to say or do, people will follow you. If a teenager can be creative enough to earn an income from YouTube under those guidelines, so be it.
But since that's not always going to be the case, what should conscientious parents and youth workers do with this information?
Embrace the giant…and use it when you can. YouTube's not going anywhere. Because of the millions of users it has, the website literally grows by trillions of bytes each and every single day. Some of the content actually provides great fodder for launching biblical discussions. You just have to have a selective eye. In fact, a number of our Spiritual Growth Agendas and Outreach Agendas are based off of YouTube videos (like this one). Further, many youth ministries effectively use YouTube to host videos of their ministry's events, activities, dramas, etc. Again, these leaders are simply illustrating that YouTube can be harnessed for godly purposes in spite of the reckless abuse by other users.
Don't be afraid to ask teenagers about the content they desire to watch on YouTube.For example, Dr. Phil has a big problem with some of the stunt videos mentioned above. He – along with lots of parents – worry about viewers copycatting what they see and getting hurt. If you experience similar reactions to some of the content your teens choose, consider asking them a few questions about their choices:

Why do you want to watch this person's videos?
What makes a person/group worth watching?
How does the YouTube video/personality line up with Christian beliefs?
Does YouTube popularity (number of views) necessarily make it good/right?
What possible effects could this have on me?
We need not be guilty of sacrificing the "sacred cow" of this generation known as YouTube; that could drive a needless wedge between us and them. Knowing that some teenagers have the ambition and work ethic to actually make YouTube grow their bank account, I think we'd be blessed to challenge like-minded teenagers in our ministries to use YouTube to grow God's Kingdom.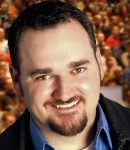 David R. Smith
David R. Smith is the author of several books including Christianity... It's Like This and speaks to parents and leaders across the U.S. David is a 15-year youth ministry veteran, now a senior pastor, who specializes in sharing the gospel, and equipping others do the same. David provides free resources to anyone who works with teenagers on his website, DavidRSmith.org David resides with his wife and son in Tampa, Florida.