We're in the middle of Gay Pride Month…or June, as I like to call it. By this month's end, there will have been hundreds of pro-homosexual rallies across the country, with millions participating in the fanfare.
And you might be surprised at how many young people will be involved.
The All Encompassing Question
Homosexuality is one of the biggest debates facing America. The questions surrounding this issue have bled into political, religious, social, scientific, and educational arenas…with very few concrete answers being found. Thus, it affects many people groups, young people being just one of them.
When I speak to teenagers around the country at conferences or camps or retreats, the same question surfaces in different ways. I might be standing in line at the dining hall with a youth group, or walking over to the pool with some guys after playing paintball, but the question always starts off the same: "So, Pastor David, I've got this friend who thinks he's gay…."
Think about it: homosexuality is just one of the many "new" realities facing maturing young people who are simultaneously wrestling with physical changes to their body, increased school demands, peer pressure, and a host of other changes that affect their personal identities. But the perplexities of homosexuality remain one of the most-defining questions of this generation.
What do we say in response? How do we say it? And what authority do we lean upon in stating our case?
Though homosexuality is just one of the "new realities" with which young people must contend en route to adulthood, I can't take any "new" stance on this issue. It's just not needed. I'm convinced that Jesus Christ's followers must formulate – and articulate! – a doctrine on this issue that's congruent with scripture, a doctrine of compassion and truth. (We've tried to outline one here.) Then, the Church must live in accordance with that biblical statement.
If the Church doesn't quickly formulate a response, it can expect to lose its voice with young people on this subject. After all, the other voice is growing much louder. When the Church loses its voice, it will be even easier for young people to engage themselves in the homosexual agenda…like some of these young people below. 
Passing the Torch to a Younger Generation
"Gay Pride," as it's called, is making somewhat of a surge in communities across America. For example, Pittsburgh's Market Square was recently the site of a flash mob in support of Pittsburgh Pride 2011, a pro-gay event in The Steel City. (Take a look at the photo on that site; I'd bet the average age of the dancers in that video is approximately 22.) And when this young dance crew finished their choreography, they melted into the crowd.
But while they faded away, other young people were "stepping out" about "coming out."
For example, teens in Tennessee rallied outside the state Capitol protesting what has been called the "Don't Say Gay" bill that would prevent schools from teaching about homosexuality.
Young people's involvement isn't exactly "new." For the last few years, teens and young people have been attending gay pride events. Last year, Constance McMillen, the girl from Mississippi whose school canceled her prom rather than allow her to bring her female date was invited to grand marshal the New York Gay Pride Parade in June of 2010.
Are these kids getting involved because they're bored? Does activism make their college applications look that much better?
Or is it deeper than that?
In May of 2011, Gallup released their findings of a survey on the acceptance of gay marriage's legality. For the first time ever, a majority of Americans, 53%, believe that same-sex marriages should be just as valid as traditional marriages.
Gallup's research offers a breakdown of results by political persuasion, gender, and age…but the latter is the most telling. Only 39% of those 55 and older believe same-sex marriage should be legitimized compared to a whopping 70% of those between the ages of 18 and 34. Even more interesting is to note that just 54% of this younger group approved of same-sex marriage a year earlier.
It sounds as though the homosexual agenda has found its newest torch-bearer. But how have they roped in such a diverse group for a single purpose?
A Culture that Cultivates
Many youth workers from the past decade will remember the TV show on NBC entitled Will & Grace; it was one of the first sitcoms to use a homosexual character in the lead role. The idea was relatively new at that time, but it has since taken root, and the aftermath of that trend can be easily seen today.
Perhaps one of the most easily recognized homosexual characters on TV is Kurt from FOX's Glee.Mitchell and Cameron from Modern Family keep ABC on good terms with the LGBT community. NBC's 30 Rock has Devon, and their The Office has Oscar. The antagonist from MTV's The Hard Times of RJ Berger, Max, was recently discovered to be gay by the show's lead character, and a number of participants on MTV's Real World have been homosexual or bisexual. Of course, homosexuality's presence isn't just felt in prime time television; day time shows also sport their fair share of homosexual personalities, including Ellen DeGeneres of The Ellen DeGeneres Show. 
However, the biggest cultural icon weighing in on the gay/homosexual issue is none other than Lady Gaga. Her song "Born This Way" (which went #1 on Billboard's Hot 100) has become an anthem of the LGBT community.
As early as 2007, USA Today speculated that today's gay teens were "coming out" earlier than gay teens of earlier generations. Perhaps so; a look back on that year reveals one of MTV's most-watched and most-celebrated personalities in the network's history: Tila Tequila, the raunchy, bisexual diva from A Shot at Love with Tila Tequila. And though it had a far milder direct influence on teens, 2007 was also the year that Suze Orman of CNBC's The Suze Orman Show came out of the closet.
In short, there has been no shortage of high-profile celebrities using their status to promote the pro-homosexual agenda. But the issue has also been reinforced by another group of influencers: politicians.
Back in 2000, President Clinton declared June to be Gay and Lesbian Pride Month. President Barak Obama recently expanded the observance by declaring June to be Lesbian, Gay, Bisexual, and Transgender Pride Month. Under Obama's leadership, the White House has launched its first-ever webpage dedicated solely to the administration's support of the LGBT community. Even Secretary of State Hillary Clinton endorsed the It Gets Better Project, an anti-bullying campaign that seeks to end the harassment of young people, many of whom are young homosexuals.
Communities are also doing their part to promote the homosexual cause. Most major metropolitan areas host an annual event (or two) that specifically promotes a gay agenda. These "Gay Pride Parades" can be as small as a few hundred or as large as a few hundred thousand. Various websites offer listings in cities across the country.
And in case young people want to attend these rallies, but don't know what to wear, they can relax: GAP and Old Navy have them covered. These national retailers have launched a line of tee shirts that feature a repeat of the phrase "love proudly" across the chest. In all fairness, these shirts are in support of the anti-bullying movement mentioned above, but their emblazoned message is printed in rainbow colors because of the unfortunate link between bullying and homosexuality.
Most parents and youth workers who pay attention to society aren't really surprised by homosexuality's influence on today's young people. We recognize that the gay community's reach extends to almost every corner of culture.
But that reality presses the question even more: How can godly parents and ministry leaders influence young people in the midst of a nation undergoing a homosexual surge?
Old Remedies for a New Problem?
In recent history, the Church has received a woeful reputation in regards to homosexuality. In most cases, it's made one of two errors.
First, it has tried to soften its stance on the issue to seem more appealing; in fact, there are whole churches that define themselves on this agenda. Sadly, The Baltimore-Washington Conference of the United Methodist Church recently – but barely – approved a same-sex marriage resolution that would allow pastors to conduct marriage ceremonies for homosexual men and women. (The deciding vote will take place in my city in 2012, when the global leaders of The United Methodist Church convene in Tampa for the denomination's General Conference.)
If there's one thing I've learned as a pastor, it's this: making concessions doesn't ever lead to making disciples. So, the first thing we must do is decide what we will stand for as the Church.
The second error is to just turn up the "judgment rhetoric" in response to the homosexual community. This mistake is just as egregious as the other extreme; and in almost every case, it only moves people further from the true message of the Church.
The answers need not be new or complex. Old answers – in fact, ancient answers – will work great!
We must place our focus where Jesus tells us to: on loving others. In almost two decades of ministry, I've pastored and counseled numerous teens that have wrestled with homosexuality. Over and over again, they tell me of the love they've found inside the gay community. As a pastor, that's frustratingly sad to hear. I mean, there's an Organization on Earth that is supposed to specialize in love, but it has often failed because of fear, confusion, and ignorance. We must be the champions of love – I didn't say tolerance – in a world that's desperately seeking it. Love could be our strongest selling point. But we've got much ground to regain in this department.
Recognize young people's desire to work for something they consider important…and put em to work making a difference! Granted this is less theological and philosophical, but practicality cannot be overstated. There are things parents and youth workers can do to help young people navigate the bombardment of homosexuality. We need not let the cause of homosexuality be the only cause on their radar. I've often found that teenagers rise to the occasion of a challenge. Passionately describe to them the importance of some project or event, equip them to be effective in their role, and then work alongside them in fulfilling the dream.
Today's young person is being used as the engine behind the homosexual cause. They can be the engine behind any cause. Why not use them for the greatest Cause of all?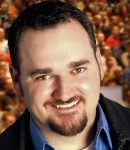 David R. Smith
David R. Smith is the author of several books including Christianity... It's Like This and speaks to parents and leaders across the U.S. David is a 15-year youth ministry veteran, now a senior pastor, who specializes in sharing the gospel, and equipping others do the same. David provides free resources to anyone who works with teenagers on his website, DavidRSmith.org David resides with his wife and son in Tampa, Florida.