53.4 billion minutes. That's how much time Americans spend on Facebook each month. Social media's influence in our lives simply cannot be overstated. Everybody from grandparents to grade schoolers are impacted by it. (Yes, even though you have to be 13 to use most social networking sites. Facebook actually kicks off 20,000 underage users per day.)
When Grandma Facebooked me the other day, I realized that social media has indeed become ubiquitous.
The Online Heavyweight
I recently wrote an article about Google +, the online search engine's (latest) attempt to break into the social networking business. On multiple occasions, Google has tried to woo the world to their version of Facebook; they've never been successful (as of yet), but their continual efforts ought to tell us something about the scope of social media.
It's huge!
If you want to know just how huge, take a look at Mashable Social Media's recently-generated infographic that compiles the results of multiple surveys, polls, statistics, and trends about the giant social network known as Facebook. According to Facebook by the Numbers:
membership on the social network has now reached 800 million (and more than half of those users log in at least once per day).
on any given day, users "like" or "comment" on more than 2 billion posts.
250 million pictures are uploaded daily.
the average American user spends 7 hours and 46 minutes on the site per month.
Earlier, Nielsen polled over 4,000 people and discovered that social networking and blogs consume nearly one quarter (23%) of Americans' total time spent on the Internet. In fact, 4 out of 5 active Internet users visit social networking sites and blogs, and it was found that Americans spend more time on Facebook than any other US website. Those who use social media are greatly impacted offline, as well; social networkers are more likely to date, be politically and socially opinionated, and interested in sports (just to name a few of the findings).
It was Nielsen who also calculated that Americans spend 53.4 billion minutes per month on Facebook. Those numbers were too enticing for me (and others, too, I guess), so I had to do the math for myself.
In May, Americans clocked 53.4 billion minutes on the world's # 1 social site. That works out to 356 minutes (per month) on Facebook per American user…or almost 12 minutes per day. (Granted, we all know that most teens spend more time on Facebook than 12 minutes per day, but this is a national average. That means that we have to factor in the use by Aunt Gertrude…who lives in Anchorage.)
But don't think that all those minutes are spent in front of a laptop or clunky desktop computer. Nope; many of these minutes were logged on-the-go via mobile devices. According to Nielsen's survey of America's market, 43% of all Americans now own a smartphone (which is an increase of five percentage points in the last six months).
Further, they found that young adults are the most likely group to carry a smartphone. Additionally, 40% of teens (12-17 years old) own a smartphone as do 54% of 18-24 year olds. Those numbers prove that Millennials are intent on being in-the-know, on-the-go. (Nielsen also discovered that social media apps are the third most-used app amongst Americans who own smartphones.)
The Dark Side of Social Media
But not all social media revolves around making plans for Friday night. Sometimes, social media is wielded as a weapon against others.
Unfortunately, all that use is also accompanied by some misuse. Issues like sexting, textual harassment, and of course, cyberbullying, have become mainstays in today's young generation. Knowing this, MTV has offered help via their A Thin Line campaign. On their "about" page, MTV specifies their intentions:
The campaign is built on the understanding that there's a "thin line" between what may begin as a harmless joke and something that could end up having a serious impact on you or someone else. We know no generation has ever had to deal with this, so we want to partner with you to help figure it out. On-air, online and on your cell, we hope to spark a conversation and deliver information that helps you draw your own digital line.
Sounds good, right? But due to their sex-saturated TV content that airs nonstop on their network, I think this sends "slightly" conflicting signals.
"Don't sext your boyfriend…but tune in tonight to see Snooky make out with 6 guys!"
But it's not just MTV that's trying to effect change, though. These issues – bullying in particular – have raised attention all the way to the top…and by top, I mean the President. At a political fundraiser in late September, hosted at the home of Facebook's COO, Sheryl Sandberg, Lady Gaga publically issued President Obama and others a "general plea" to do all they could to prevent bullying. This exchange was in the aftermath of a suicide by 14-year-old Jamey Rodemeyer which was caused in large part by the harassment he endured for being gay.
This young man – emphasis on "young" – chose to end his life because of the hatred he endured online. All too often, social media sites like Facebook, Twitter, YouTube, and others, turn into a war zone of bigotry and bitterness. Perhaps that's why federal laws mandate that most of these sites employ a minimum age requirement of 13-years-old.
Ironically though, millions of American Facebook users are "kids" (age 12-and-under). Technically speaking, this group shouldn't even be on the site because of the age restriction (that helps protect children's privacy). So…how do these kids gain access to something they aren't old enough for?
Parents.
Yep, in a study of over 1,000 parents by Harris Interactive, over half (55%) of parents with 12-year-olds admitted their underage kid used Facebook. 20% of parents with 10-year-olds admitted the same thing. Even more damning, 7 out of 10 parents admitted to helping their underage kids set up the online account (a direct violation of Facebook's terms of service).
Recapturing the Captive Audience
Facebook, Twitter, Tumblr, YouTube, and other similar sites, have all but ensured the existence of social media until the return of Christ. The reach social media has on our lives extends far beyond the screens on which our status updates glow. Knowing that, we must take into account social media as we guide teens through life.
Make sure your teens are ready for social media. Not every 16-year-old kid is ready for the car keys. Not every 21-year-old can be trusted with alcohol. Likewise, not every 13-year-old is responsible enough for social media. (If you want proof, just take a look at the kids who are being investigated in Jamey Rodemeyer's death.) Some might argue that certain 11-year-olds are more responsible than certain 16-year-olds. I won't disagree, but here are two thoughts. First, no 12-year-old should be using Facebook – regardless of maturity – because of the site's user agreement. Anything else is a lie. And second, if a 16-year-old can't refrain from stupidity, harassment, or sexual indiscretion, he/she is also not ready for social media. The same goes for 45-year-olds, too.
Study teens' social media habits. Students use social media to play games, do homework, get a totally clean laugh, catch up with friends, and a dozen other completely harmless things. However, the opportunity to misuse social media is just one click away from their fingertips. Do you know the answers to these questions concerning the teenagers in your life?
What is your favorite social media site?
What do you like about it most? Dislike most?
How do you typically use it?
How often do you use it?
Have you seen hurtful exchanges on that site?
Knowing the answers to these questions (and others) will help us keep a solid, healthy handle on what's coming into our teens' lives through social media.
Counsel them about online safety, online godliness, and online accountability. Set standards for teens' use of social media…and don't forget to outline consequences for misuse while you're at it. It's our responsibility – not Facebook's info page – to instruct our teens on the potential dangers of social media. Further, teens need to know that God cares about their online lives as much as He does their offline lives. And finally, at the very least, lead by example! If you don't want to find hurtful exchanges coming from your teens, guard your own postings closely. If you don't want to see inappropriate pics on their pages, carefully censor your own.
Social media is such a powerful factor in teens' lives that unless we help them manage it, we're ignoring a large part of their existence. Let's not be taken by surprise at what happens online. The best way to prevent misuse is to monitor their social media.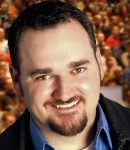 David R. Smith
David R. Smith is the author of several books including Christianity... It's Like This and speaks to parents and leaders across the U.S. David is a 15-year youth ministry veteran, now a senior pastor, who specializes in sharing the gospel, and equipping others do the same. David provides free resources to anyone who works with teenagers on his website, DavidRSmith.org David resides with his wife and son in Tampa, Florida.