Ultimate Quotes, Seafood Finder, Intelligent Jokes, and Bible Shaker are some of the fun and/or helpful apps teenagers can download onto their iPhones for about a buck. Of course, teenagers can also download "goodies" like Peekababe, Awesome Latinas, and Naughty Nurse for the same price.
Cell Phones…Don't Leave Home Without It
Every parent and youth worker knows the love affair teens have with their cell phones. CTIA and Harris Interactive interviewed kids about their use of cell phones and uncovered some strong feelings teens have for their mobile devices. Brenna, a 17 year old, said, "Leaving home without my phone almost feels like leaving the house naked."
And that's just "regular" cell phones…not the iPhone.
The iPhone is one of the most sought after gadgets in the world. According to information provided by Appleinsider, only 15% of the teenagers they surveyed owned an iPhone, but 22% of those who didn't own one, planned to purchase one in the next six months. iPhones are such a hit with kids that when they came out, a majority of teenagers said owning an iPhone was more impressive to their friends than owning a car.
The iPhone is so much more than just a cell phone or a smartphone; it's a pocket-sized Mecca of entertainment.
But not all of that entertainment is good for teens. Last year Time Magazine referred to the iPhone as"increasingly the source of forbidden fruit." Even if parents took steps to monitor web browsing on these portable toys… kids have found other means of sexy entertainment. That is probably why this year the amount of "sexy iPhone apps" are increasing.
What $0.99 Can Buy
The iTunes AppStore lists thousands of downloadable applications that range from silly (iPOOPEDmypants) to sexy (Bikini Blast). Apps are arranged by genre first, and then by name or popularity. It's amazing to see the hundreds and hundreds of apps that do everything from help you hail a taxi to help you score with the opposite sex.
As far as I have read, these 'sexy apps' don't show actual nudity. Apple spokesman Tom Neumayr chimed in on the matter, clarifying that "Apple will not distribute applications that contain inappropriate content, such as pornography." From the descriptions of the apps, it sounds like most of these sexy apps get as close to nudity as possible (for actual nudity, kids have to open their web browser where porn is just a click away).
Here are a few of the apps I noticed on the first 15 pages of the "Lifestyle" genre, including a portion of the app's description.
iTEAZERS – Sexy Videos: "iTeazers brings you sexy, hot models playing out your favorite fantasies in these awesome custom videos. Want to see more Go-Go Dancers? Or models dressed as schoolgirls, female cops, office hotties, nurses or maids? Whatever your fantasy – we'll make it happen!"
PeekababeLite – Sexy Babes: "Our apps are a testimony to the admiration we have for women. We do not denigrate them, we do it because women deserve to be admired. With the flick of your wrist and a twist of your iPhone, watch their clothes slide off." (So, "flicking" girls' clothes off is actually a means of admiration???)
Girls of THE CLUB – Rate Sexy Women!: "Girls of THE CLUB is American Idol meets 'Hot or Not.' Each month, women from around the world audition to compete – your votes determine the winner. New contestants each week, and a new contest every month." (I'm sure this app will help girls feel better about themselves and completely reverse the negative and dangerous trends associated with their tanking self-esteem.)
BEACHGIRLS…Talking to You!: "Probably the only app in the AppStore with hot girls talking to you! Really SEXY and EROTIC voices! We found the PERFECT voices for this app! Perfect dreamgirls illustrated by professional artists."
Bikini Inspector: "World's Sexiest App! Many of our featured models were also featured in big publications such as Playboy and Maxim Magazine. It's the hottest and sexiest spot the difference puzzle game on the AppStore." (Just in case guys staring at girls in bikinis wasn't bad enough, these designers have guys scrutinizing cup sizes and hairlines.)
Girls in Tight White T-Shirts – Ultimate Collection: Ummm…I think this one's self-explanatory.
Just so the girls don't feel left out, one designer offers Asian Guys. "Flip through the easy to navigate gallery and download as many of the sexy boy photos as you like (there is NO extra charge per image). This app was designed not only for a gay audience but also for all the girls that love pix of sexy men."
Pepsi has even come out with a handy little app called Before You Score to help market their energy drink, AMP. Their online ad claims "If you're anticipating a successful night, the Before You Score Appgives you up-to-the-minute info, feeds, lines, and much more to help you AMP UP and talk to 24 types of ladies. Download it for free today."
Fortune's list of The 10 Dumbest iPhone Apps includes Sexy Girl Talk Alphabet. In this ridiculous application, the 26 letters of the alphabet are spoken in a highly sensual manner by a woman. (I guess that's one unforgettable way to learn your ABC's.) This app, like most of those above, carries the following warning: "Infrequent/Mild Sexual Content or Nudity."
Defeating Dirty Downloads
To be fair, it's not just iPhones that can download apps; most SmartPhones have the same capability. All phones with internet access are just a click or two away from infinite sources of porn.
The question you might be wondering is, does the iPhone offer any parental controls or "porn blocks" to help parents regulate what their kids have access to?
The answer is, yes.
This article actually provides a step by step guide to parents, instructing them how to use the enhanced parental control features for the iPhone in the OS 3.0 version. Parents can set a passcode, and restrict their kids from downloading explicit songs, viewing explicit material and even purchasing apps. It's that simple—turn app purchases to OFF.
Remember, apps aren't the only "forbidden fruit" your kids can find with their iPhones. If the phone can browse the internet, then porn sites are only a click away. That's why you might want to consider web filtering as well. The web filtering piece of the puzzle in the "step by step" guide linked above is called Mobicip, a service you have to purchase for $4.99 or $14.99 (depending on how much control you want). Mobicip claims that they provide "real-time content filtering (not just URL-based)" as well as other features.
These types of parental controls are very helpful. A friend of mine just had to take his son's iTouch (a device similar to an iPhone without the ability to make phone calls) away because he didn't install any parental controls, and his son found himself a regular visitor to porn sites, sites that his "monitored" home computer didn't allow. This friend will be downloading parental controls next time around.
Using SmartPhones Intelligently
Parents who are familiar with today's youth culture probably aren't surprised to learn of all the sexy cell phone apps available for purchase; it only makes sense if we consider our culture and media that's so sex-driven.
In fact, this isn't even the first time we've been warned about sexy's invasion of our kids' cell phones. In an interview with The Source for Youth Ministry, Dr. Jim Burns said, "By the year 2011 cell phones will be the greatest provider of internet pornography. In fact, by 2011, the average kid will be 11 years old who sees pornography, even accidentally. Kids view pornography; it's the death of innocence."
How youth workers and parents help the teenagers in their lives manage their mobile devices can often be "make or break" because this "4th Screen" privately puts the entire world in their pocket. For most of us, that's just a little too close.
Parents who are intent on monitoring their children's cell phone usage have several options available to them. First, since parents pay the bill, they have the option of looking it over…closely. Also, most carriers offer even more detailed account records online. Further, if a cell phone or SmartPhone is synched with a computer, chances are good that a copy of everything on the phone exists on the computer's hard drive, as well.
Of course, the best way to monitor what's on the mobile device is to simply pick it up and scroll through it. Yes, there's a way to do this without breaking trust with your kids: just inform them that inspections are a part of your "wireless contract" with them because of your love for them. They may not like it, but with ongoing conversations between you and them, they will begin to see the benefit of it.
There are hundreds of sexy apps available for your teenagers to download…and just one of you. Make sure you capitalize on every teachable moment to help your kids steer clear of the filthy material available to them on their mobile devices.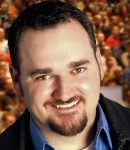 David R. Smith
David R. Smith is the author of several books including Christianity... It's Like This and speaks to parents and leaders across the U.S. David is a 15-year youth ministry veteran, now a senior pastor, who specializes in sharing the gospel, and equipping others do the same. David provides free resources to anyone who works with teenagers on his website, DavidRSmith.org David resides with his wife and son in Tampa, Florida.