This year's fall television lineup offers cable TV viewers dozens and dozens of choices. Unfortunately, several of them include subtle-but-dangerous messages…or outright sexuality, violence, and controlled substance use.
Hey, there's a reason these shows aren't on major broadcasting networks.
Bringing Up the Rear
Last week, we released Part One of this series that focused on major networks' new TV shows. This week, we turn our attention to the new shows that are coming to TV screens from cable networks.
In more ways than one, this list "brings up the rear." Not only is it the second half of a two-part article series we began last week, but in includes some of the weirdest, most violent, and overtly sexual shows on television. In other words, some of these are the butt of entertainment.
You'll quickly see that MTV and The CW dominate this list. Don't question why; they're the networks behind shows like A Shot at Love with Tila Tequila and Jackass (MTV) and Gossip Girl (The CW). So when you see some of these below, you'll recognize similar themes.
Just like last week, I'll provide a short description of each show, the network and date on which it premiers, and a link to a trailer/promo clip so you can screen it for yourself. Brace yourself; here we go.
NEW TV SHOWS ON CABLE NETWORKS

H8R
 (The CW, September 14th)
That's phonetics for "hater."
This show has already begun and is off with a bang. It's a reality TV show with a simple premise: put celebrities face-to-face with real world people who despise them…and see what happens next.
This show's series premier provides every reason in the world why fans shouldn't expect Emmy nominations from this program…. It's hosted by Mario Lopez (evidently, hosting is all "Slater" can do these days), and his only job is to put celebrities in touch with their "haters," the namesake of the TV show itself.
This program is basically "grocery store tabloids caught on camera;" expect lots of foul language and anger. For me, it comes down to this: I don't care about Snooki…why should I care what a guy I've never heard of thinks about Snooki?
Speaking of Snooki…
Jersey Shore (MTV, August 4th)
OK, technically, this isn't a "brand new" television show like the others, but this list would be wholly incomplete if we didn't at least mention the new season of one of TV's most popular shows amongst young viewers.
This season's trailer reveals the cast's upcoming trip to Italy. That's right; they're taking their debauchery overseas for Season 4. If you're not familiar with this show, the idea is simple: put seven Italian twenty-somethings – who are obsessed with themselves and partying – in a house and record what happens. For sure, it's the quintessential reality television show. Its characters – especially Snooki, Mike, The Sitation, and Pauly D – have become international icons of pop culture.
To give you an idea of the "quality programming" that is Jersey Shore, as I write this, MTV is boasting on their website that on Thursday's episode, Snooki and Deena, two female cast members, will be "playing tonsil hockey" with one another. Here's the description for this week's episode (taken straight from MTV.com):
has reached a new level of shock and awe. Like, prepare yourself for more exposed vaginas (the clinical term for koo-kahs in Italy), fun-bags (the totally nonclinical term for hoo-hahs in Seaside Heights) and other naughty bits of debauchery that will absolutely mortify Snooki's boyfriend, Jionni, upon watching Thursday night's new episode. (If he was mad last week because she mentioned licking his butt, then he definitely won't take too well to her upcoming antics.) You might have the same reaction, but chances are you'll just be laughing you're a** off.
Need I say more?
It's sad, but this article from CNN explains the (big) business behind the "guidos" and "guidettes" and highlights the fact that the show draws in millions of viewers for each episode.
It's basically The Real World restricted to Italian Americans.
Oh, and speaking of The Real World….
The Real World: San Diego (MTV, September 28th)
Again, this show isn't a brand new concept; in fact, it's the longest-running show in MTV's history…and it's launching Season 26 this September. But a new season of this show means millions and millions of (young) viewers.
In case you're not familiar with this show's concept, either, let me make it simple for you: MTV rents a mansion in some select city, puts a group of twenty-somethings in it, and records their every move and conversation. Viewers see everything from arguments, to make out sessions, to drinking and partying, and in one "historic" episode from 2009 (Cancun), even a "threesome." (Side note: apparently, threesomes were going around that week.)
The trailer for this upcoming season proves that MTV isn't about to depart from their proven recipe for ratings. Just in case you think I'm overreacting, this very short article also captures the essence of the show.
Sadly, there's very little that's real about The Real World. But that truth won't stop millions from tuning in to see what happens in the lives of these cast members.
This is a definite "pass" in my book.
Hart of Dixie (The CW, September 26th)
The CW is letting this brand new drama lead off their fall series. Based on the really long trailer for this show, it seems exactly like the TV-version of Michael J. Fox's movie, Doc Hollywood. But this time around, it's a cute female doctor named Zoe Hart (Rachel Bilson) who has been "exiled" from New York to the Alabama, where she bumps into one cute guy after another…and the occasional debutante that hates her guts.
This show definitely has a Dawson's Creek meets The Gilmore Girls element to it. I'm not trying to pick on this new show, but since it shares common creators with Gossip Girl, I'm a bit suspicious. In fact, knowing that, I wasn't surprised to see the lead character climb into the car for a make out session with a guy she just met.
I definitely think a pre-screening of this show is in order before turning teens loose to watch it. Youth workers and parents might have to be on guard for subtle messages that sneak their way into this program, too.
Ringer (The CW, September 13)
What am I running from? Who am I really chasing? What's my angle?
Those are some of the questions that The CW's other new show Ringer asks in its promotional trailer. This new show is affording Sarah Michelle Gellar the opportunity to make a massive comeback with the exact same kind of viewers she had back in her Buffy the Vampire Slayer days.
Gellar plays Bridget…and Siobhan. Lemme explain. The two sisters are twins; Bridget is a drug-addicted criminal who makes her money stripping, while Siobhan has everything she wants, is married to a wealthy man, and enjoys influence in Manhattan. But when Siobhan mysteriously goes missing, Bridget decides to step into her sister's shoes (literally). She soon discovers that her sister didn't have the perfect life she pretended to have.
While there are no vampires, there is plenty of action. I expect Gellar to reel in Buffy fans as well as a new crop of young people who connect with themes such as "second chances" and those who enjoy mystery thrillers. Keep your eye on this one, for sure.
Ridiculousness (MTV, August 29th)
Honestly, with one simple exception, I can't distinguish this show from America's Funniest Home Videos. The only difference I see is that one is hosted by Tom Bergeron, and the other by Rob Drydek.
Ridiculousness is (another) one of those shows that takes viral clips off the internet and then lampoons them for a few minutes on TV. But here's the question: If I've already seen a video on the internet, why do I want to watch it again between commercial interruptions?
It's Jackass meets AFV meets Tosh.O. Haven't we done this before?
Of course, there are various celebrities that drop by to try and help the host with his witty banter, most notably, Johnny Knoxville (who else?), and that can sometime lead to crudeness. Break out your really immature sense of humor if you want to watch this one. I don't see this one lasting long.
Death Valley (MTV, August 29th)
This is MTV's latest attempt at a scripted series. I quote from the show's official trailer: "One year ago, vampires, werewolves, and zombies appeared in the San Fernando Valley. These are the stories of the cops that capture the monsters and the camera crew that captures the cops." Suffice it to say that the "Undead Task Force" from this comedy-horror genre creates almost as much havoc as the creatures themselves.
It's difficult for me to even take this show seriously. The comedy and values and images are pure MTV; sexuality and violence are glorified in unapologetic nature. It's understandable why MTV is offering this genre of show; the infatuation of goth/horror/fantasy with young people is hard to miss. (Twilight, anyone?) Just take a look at the multitude of other shows on TV that are focused on this genre and you'll quickly see why MTV is in the same business now: it brings in money, lots of it!
Death Valley is nothing more than COPS meets Twilight meets Reno 911. 
In spite of its law-enforcing antagonists, it's not very arresting.
Wrap Up
I said at the outset that this list wasn't supposed to be exhaustive. But, as we wrap up this two part series, I should state that MTV is also re-launching one of their most-beloved shows, Punk'D, the hidden camera show that targets celebrities for the world's entertainment. With Ashton Kutcher (the show's former host) now on the cast of Two and a Half Men, plus the fact that MTV is having a hard time luring celebrities around him now, the job of master practical jokester has been passed to Justin Bieber.
Yes, you read that correctly.
And in what can only be called my "Dishonorable Mentions Department," I must address a new show on MTV called I Just Want My Pants Back. It won't technically launch until January of 2012, but viewers got a sneak peek of the pilot on Sunday, August 28th immediately following the Video Music Awards on MTV. It could possibly be the most sexual TV show I've ever seen. This article by Entertainment Weekly has an embedded video, but be warned, it's way over the top. Seriously, Skinshad nothing on it.
Can't wait till January. Uuggghhhh….
In short, this latter half of new TV programs clearly shows that parents, youth workers, and anyone else trying to shape the minds and hearts of young people, have lots of (unnecessary) landmines to avoid in the process. Here are a couple of ideas to help you navigate the dangers.
Watch first and ask questions later. I included the links (to trailers) above so you could get a firsthand account of a show's content before you allow the teenagers in your life to tune in. That's always going to be a starting point. But don't expect a simple, "I watched it and have decided you shouldn't," is going to work. Since many teens will want to give these shows a shot, be ready (and willing) to ask questions about your teenagers' desire to watch them. This opens lines of communication and proves to them that you're willing to talk…and listen. Ask…
Why do you want to watch this show?
What do you think the show is really about?
What messages are hidden in the characters' actions/words?
How will watching this particular show affect my relationship with Jesus?
Let me repeat my advice: Watch first and ask questions later. Watch first so you'll know the answer to these questions ahead of time, but then ask the questions anyway so you can teach your teens lasting values (and proper decision-making processes).
Don't be afraid to use the most important button on the TV remote: the power button.At the end of the conversation, you have the prerogative to make the final decision. Ultimately, parents are responsible for what their teens watch. So, if you disapprove of a show's content, but can't convince your teens of your position, you should still go with your heart. It won't be easy, but it will be worth it. Hey, its' far better to be unpopular than ungodly.
TV is a powerful force in our lives. It captivates and entertains, but it also influences. Hopefully, you're now equipped to filter out the negative influencers that seek to shape your teens. Use these tools found here – and as many elsewhere that you can find – to help your teens make solid choices about their television viewing. You'll be glad you did.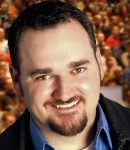 David R. Smith
David R. Smith is the author of several books including Christianity... It's Like This and speaks to parents and leaders across the U.S. David is a 15-year youth ministry veteran, now a senior pastor, who specializes in sharing the gospel, and equipping others do the same. David provides free resources to anyone who works with teenagers on his website, DavidRSmith.org David resides with his wife and son in Tampa, Florida.