Fall is here, and that always means two things: cooler weather and new television shows.
But after looking at some of the new shows airing this season, it's safe to say that television will be doing its best to heat things up.
New Territory
Anytime you chart territory that's new to you, it's best to have a map. That's what I'm going to try and provide you with over the next two weeks: a "map" to several of TV's brand new series and shows that are new to all of us.
All the research ever conducted says that TV content is huge in the lives of young people. In fact, TV remains the largest influencer (time-wise) on kids in America, consuming 4 hours and 29 minutes daily according to an ongoing study conducted by the Kaiser Family Foundation.
With those kinds of numbers, we definitely need to be paying attention to what's on TV.
My list isn't an exhaustive one by any means; I'm just throwing you a "heads up" on a few of the shows that will definitely be alluring to teenagers. For each new TV show, I'll give a synopsis of the program's plot, the date it premiers, and also provide a link to the series' trailer so you can watch it for yourself, first.
This will be a two-part article with Part One focusing on the major networks' television shows, and Part Two focusing on various cable networks' television shows.
A few of these new shows have already started; others have yet to launch, but will very soon. So, let's jump in.
MAJOR NETWORK'S NEW TV SHOWS

Charlie's Angels
 (ABC, September 22nd)
Unlike the wildly popular TV show from the '70s that was set in Los Angeles, this reboot, under executive producer Drew Barrymore, has been moved to Miami.
The show will offer viewers plenty of action…and plenty of sensuousness, too. The premise of the show remains (basically) the same: three hot women and a guy named Bosley work for a faceless guy named Charlie. But unlike the original, these three angels aren't former cops in good standing with the law; they're crooks. Abby (the uncommon thief), Kate (the dirty cop), and Eve (the car heist master) are the "three little girls who aren't saints." Like the TV show itself, these three "angels" have been given a second chance.
The trailer for the new show explains why they're called angels: "because they show up when you need them the most." ABC is just hoping viewers will show up.
Allen Gregory (FOX, October 30th)
This TV show is another one of FOX's animation sitcoms (like American Dad and Family Guy), and by the looks of this new show's trailer, it could prove to be just as crude, too.
Here's the gist: 7-year-old Gregory Allen (voiced by the wildly popular Jonah Hill) is a wealthy, world-famous kid who's basically "been there, done that" several times over. But now, his father's "man partner no longer wants to be a stay at home dad," so he's embarking on his greatest challenge ever: attending public elementary school. The bottom line is simple: it becomes very clear, very quickly, that Gregory is a different breed than the rest of America's children. Its comedic genre means that guest stars like Leslie Mann (Knocked Up, 40 Year Old Virgin) and Will Forte (Saturday Night Live) will routinely drop by.
To be honest, I'm a bit skeptical of this one. It could carry some undertones that aren't supportive of healthy family values. I definitely recommend screening this show before turning your family loose on it.
Pan Am (ABC, September 25th)
This show – like AMC's incredibly successful television drama Mad Men – is set in the booming 1960's. It centers on the adventurous and glamorous lives of a Pan Am flight crew (led by Christina Ricci), and viewers will get to see the experiences (and conundrums) of these airline professionals in places like New York, Paris, London, and Rome, just to name a few.
The trailer for the new TV show definitely harkens back to the decade known for its profound sexual expression and rearrangement of family values. If you want/need an additional look before taking off with Pan AM, check out the webpage ABC has dedicated to their newest TV show; it offers several clips from the upcoming series.
There have been tons of ads for this show, both on TV and online; ABC is hoping their new Pan Amshow doesn't suffer the fate of the doomed airline for which it was named.
The Playboy Club (NBC, September 25th)
NBC is getting in on the '60s action, as well. Their brand new – and hotly contested – show is set back in the good ol' days of relaxed sexual ethics and the heyday of organized crime. The show tells the story of "Heff's" original party stop, The Playboy Club – which were actual places back in the day – and the dubious characters who work there and visit there.
The show's full trailer gives you every reason to censor this erotic drama. The Parents Television Council condemned the show as a "blatant attempt to obliterate any remaining standards of broadcast decency" (even though they hadn't seen the show at the time). Though presumptuous, they may prove to be right.
The show claims, "It's more than a club. It's a lifestyle." Sadly, it's true. It's also everything that's wrong with the dehumanizing of girls, then, and today.
I Hate My Teenage Daughter (FOX, November 23rd)
I won't say much about this one. There's no need to; the title of the show says it all.
If you're looking for just about everything that's wrong with family systems today, this show hits the nail on the head. Even a brief glimpse of this show's lengthy promo will give you enough insight to know you'll probably want to take a pass on it. The show centers on two moms who continually fight with their teenage daughters…because the daughters are mean like they were…because the daughters were spoiled like they were.
Of course, many parents will watch this show, regardless, and many of them will see themselves in the mirror as they do so. Maybe the only redeeming quality of this show is that it will force some parents to confront their own choices/actions as parents.
We'll see.
Last Man Standing (ABC, October 11)
Tim Allen (of Home Improvement fame) is returning to ABC, but he's no longer scratching himself or running power tools. He's living in a woman's world this time around so there's no grunting…just a lot of moaning.
The show's trailer reveals how different his character will be this time around. ("Mike" is trapped in a home with three daughters and a wife – the exact opposite of Home Improvement's three boys – and is a stay-at-home-dad.) Of course, the trailer also shows how similar his character is to the famous Tim "The Tool Man" Taylor. (For instance, he routinely ignores his family members and has little-to-no-idea of what their worlds look like.)
(Last Man Standing will serve as a lead-in for another brand new, male-emasculating show called Man Up! that focuses on three guys who are "40 going on 14," starting October 18th.) Last Man Standingwill probably be a smash hit with folks who watched Allen the first time around. I gotta say, it's pretty genius of ABC to bring back one of their most famous personalities in the network's history.
Just one question: will "Al Borland" make a guest appearance somehow?
Terra Nova (FOX, September 26th)
This long-awaited, slightly sci-fi, and totally action-packed work from a guy named Steven Spielberg is finally landing on network television this fall.
In the year 2149, Earth is overpopulated, unlivable, and humanity finds itself on the brink of extinction. Advances in science finally allow for time travel, and humanity is given a second chance as people are sent back to a pre-historic era to re-colonize and avoid the mistakes we made the first time around. Unfortunately, their new world is also a dangerous one. Translation: dinosaurs!
Honestly, the first-look trailer makes this show seem pretty darn cool. Hey, it's one of the few shows that doesn't appear to focus on sexual humor or the emasculation of guys. I might have to watch!
The X Factor (FOX, September 21st)
Look out America, Simon's back! Oh, and he's bringing Paula with him.
That's right; Simon Cowell, the music industry's most famous (or infamous) producer in the world is returning to network television in search of a singing sensation who's so gifted it's clear they have "the X factor."
But don't think this is American Idol, Part Two. X allows vocal groups to compete, and it also welcomes contestants as young as 12 to audition. Plus, there's no upper age limit! Oh, and then there's that little $5 million purse…the largest amount in television history. The promo trailer for the show gives all the details, including the fact that the show will be hosted by Nicole Scherzinger, lead singer for The Pussycat Dolls.
This show will be huge. Count on it.
Further Guides
Sometimes you need more than a map; occasionally, you need a guide, too.
With all these new TV shows, it's understandable why many parents feel the pressure when it comes to helping their families make wise decisions regarding their entertainment choices. Here are a couple of helpful ideas that will assist you in that important process.
Find out what others have to say. Granted, we can talk to other parents and youth workers, but it helps to have even more assistance. The Parents Television Council, a fairly conservative-minded media watch dog group, offers a helpful page they've called the Family Guide to Prime Time Television. This page shows what's airing on the major networks during prime time hours (usually 8-10pm) in chart form. Their chart even employs a color-coded system that explains their ratings for the various shows. Now you don't have to go in blind.
Look for family-friendly entertainment options. My family doesn't watch a lot of TV. Actually, we only watch a very little bit. But, as of late, one show has become a constant around our house: ABC's Wipeout. This reality show allows 24 contestants to compete for $50,000 in an oversize play pen they call "the Wipeout Zone." The creator of this show clearly doesn't like other humans…but it makes for incredibly fun – and totally clean – entertainment. Here, take a look at this YouTube clip that features some of the biggest spills. (Count the number of times you say, "Oh!") But this isn't the only show on network television that's clean. NBC's Minute to Win It also provides families with wholesome fun; in fact, whole families compete on this game show. With the X Factor coming online soon, families will have several clean options thrown into the mix. You just have to look for them.
Hopefully, this helps you chart a course for your family's viewing entertainment. But buckle up; we're only half way there. Next week, we'll talk about the new shows hitting cable television.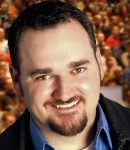 David R. Smith
David R. Smith is the author of several books including Christianity... It's Like This and speaks to parents and leaders across the U.S. David is a 15-year youth ministry veteran, now a senior pastor, who specializes in sharing the gospel, and equipping others do the same. David provides free resources to anyone who works with teenagers on his website, DavidRSmith.org David resides with his wife and son in Tampa, Florida.