When teens go through tough times, they often turn to their friends for help. Sometimes they get a hug, or a long talk, or maybe a shoulder to cry on. Now, a new website allows teens to send popular songs to young people in the midst of woe.
But the hug might have been better.
The Power of Music
I know, I know. I just wrote about music in last week's article. But since we all see kids walking around with their headphones hanging from their ears, I thought it would be OK to cover this topic in back-to-back articles. (The fact that kids spend an average of 2 hours and 19 minutes every single day absorbing the messages embedded in today's music played into my decision, as well.)
An interactive web service recently launched that allows users to employ music to help others. At Emotional Bag Check, users who are going through a tough time can "check" their bags (the online equivalent of airing their problems, struggles, worries, and fears). At the same time, other users who are in a better frame of mind can "carry" someone's bag; they do that by suggesting a song they think might help the other user.
Interesting.
Music's transformative and therapeutic nature cannot be denied; some music even talks about the power of…well…music. Miley Cyrus' Party in the USA is a prime example of how young people feel about their tunes.
This is all so crazy, everybody seems so famous
My tummy's turnin' and I'm feelin' kinda homesick
Too much pressure and I'm nervous
That's when the taxi man turned on the radio
And the Jay-Z song was on
And the Jay-Z song was on
And the Jay-Z song was on
So I put my hands up, they're playin' my song
The butterflies fly away
I'm noddin' my head like "Yeah!"
Movin' my hips like "Yeah!"
Got my hands up, they're playin' my song
And now I'm gonna be okay
Yeah! It's a party in the USA
Yeah! It's a party in the USA
Granted, you and I might wish that Miley had other "go to" artists besides Jay-Z – 
in the second verse, she turns to Britney
 – but the point is simple: to varying degrees, kids lean on music for help.
But given some of today's music, that plan could backfire.
The Language of the Day
Saying that music is everywhere is only a slight exaggeration. Teens listen to it through their portable media devices, in lunchroom cafeterias, in retail stores, at athletic events, in restaurants, and tons of other places they spend their time. Music even has a huge place inside the confines of other media platforms such as the internet and television. Just think about it: how many TV shows are there that focus on music? The X Factor, American Idol, The Voice, and even America's Got Talent, in large part, center their programming on music.
This explains why young people are exposed to artists in multiple venues. Past winners of American Idol like Kelly Clarkson, Ruben Studdard, and Jordin Sparks have all enjoyed "pied piper" status, wooing young listeners to their music through the television world as well as the music industry.
This "double-dipping" has most-recently helped Scotty McCreery, another former American Idolwinner, attract a following on TV and radio. His debut album Clear as Day sold 197,000 copies and landed him in the #1 spot on Billboard's 200 chart. On American Idol, the country singer collected votes; now, he's collecting dollars…and lots of them. 
But teenagers' great love of music doesn't start the day they hit puberty. Music is a constant companion to them from the earliest stages of life (easily evidenced by the bands that play on networks like Nick Jr., Disney, and Disney XD.) In fact, researchers from the NPD Group claim that for every dollar spent by kids, 21 cents of it is reserved for "digital format content." (In 2009, only 15 cents went to digital purchases.) And by the way, when they say "kids," they mean "kids"…those between the ages of 2 and 14. They further report that half of these kids have purchased some form of digital media by the ripe old age of 7.
Peer-to-Peer Therapy
Most users on Emotional Bag Check are young, and the site's Top 25 recommended artists further reveals that these young people suggest music that's produced by young artists. For example, Taylor Swift is the site's most frequently suggested artist. The tunes of Lady Gaga and Katy Perry are also recommended to teens who find themselves in a funk.
Personally though, I'm not sure how "helpful" the music of those last two ladies is….
Perhaps young people are listening to (and recommending) young people's music because there is so much of it being made by young people these days. Billboard just released their 21 Under 21compilation; it's the 21 biggest musical artists under the age of 21. These young people impact millions upon millions of listeners worldwide, but can't even (legally) buy alcohol in the States.
The brunt of Billboard's list is fairly innocuous – artists like Selena Gomez, Demi Lovato, and Justin Bieber are scattered here and there. But resting at the #2 spot is Tyler, The Creator…the young man behind some of the most blatant, vulgarity-filled hip hop available…who also went on an expletive-laden rant (directed at kids) at the 2011 VMAs on MTV. (We didn't even link this clip, it was just way too over the top.)
So, the risk associated with the game plan of "teens-helping-teens-with-today's-music" has me more than a little nervous.
I wonder if there's a better answer….
Tune In…Not Out
Listen, I can't deny the power of music; my morning runs simply would not happen if I didn't have hard rock pounding in my ears as my feet were pounding the pavement. Yet, many youth workers and parents tend to tune out music in spite of the influence it holds over teenagers.
At The Source for Youth Ministry, we do all we can to help youth workers, volunteers, and parents understand today's music. That way, they can help their teens make good choices about their media consumption, and occasionally, even use it to launch biblical discussions.
That's right. We have an entire page of our web site dedicated to the most popular music of the day. We call it our MUSIC DISCUSSION PAGE, and on it we provide lots of resources to help you take advantage of teaching moments made possible by the messages embedded in music. From Avril to Usher – and a lot in between – we give you ways to connect with teenagers via one of their favorite mediums…music.
We make sure to include the song's lyrics, a brief bio on the artist/group, a few questions and a passage of Scripture that help explain God's thoughts on the subject at hand, and even a wrap up that allows you to lead a group discussion. This webpage is always growing; one of our latest resources centers on The Band Perry's tune, If I Die Young.
Of course, Jonathan's Blog also has lots to say about music, too. He keeps close tabs on today's music and offers frequent updates on what kids are pumping into their heads and hearts through their earplugs.
With these kinds of resources, you never have to be in the dark again. More importantly, we don't have to let teenagers blindly turn to other (anonymous) teenagers for help. We can be the source of assistance they need.
But tuning out won't help teenagers make good decisions. The only way to affect their choices – and their lives – is to tune in.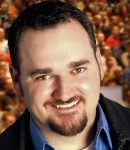 David R. Smith
David R. Smith is the author of several books including Christianity... It's Like This and speaks to parents and leaders across the U.S. David is a 15-year youth ministry veteran, now a senior pastor, who specializes in sharing the gospel, and equipping others do the same. David provides free resources to anyone who works with teenagers on his website, DavidRSmith.org David resides with his wife and son in Tampa, Florida.