Imagine using Facebook to 
tell
 your friends what you're doing via video, instead of 
typing
 what you're doing via keyboard. Imagine using the world's largest online social network to connect "face-to-face" with people around the world who share similar interests.
With Facebook's Airtime, there's no need to imagine. 
Connecting Friends (and Foreigners)
Airtime is one of the newest features on Facebook that allows users to "Create shared experiences with people you know, and people you want to know." In a nutshell, Airtime is an app that allows Facebook friends to connect with each other in a video-chatting format. Additionally, since there are roughly 900 million Facebook users, Airtime also makes suggestions about who users might like to connect with based on shared interests.
This article by TechCrunch does a great job highlighting how Airtime works, what distinguishes it from similar tech, and how it's supposed to "re-humanize the Internet." That would be a neat trick, especially since many experts, including The Source's Jonathan McKee in his book, Connect, have observed that the overindulgence of digital communication by young people is making true "face to face" interaction very difficult for them. Re-humanizing the Internet is a big task, but Airtime has some cool tricks up its sleeves for getting the job done. For instance, besides video-chatting with Facebook friends and future friends, the app also allows YouTube clips to be watched together. Very soon, the makers of the app hope to offer group chatting as well as synchronous music listening.
Airtime sounded cool enough that I decided to give it a spin. I signed up for the app on Facebook, which took about 4 seconds to do. The app automatically synced my laptop's webcam, and I was quickly given the option of talking to someone "nearby" or with "friends of friends." I selected those who were unknown to me ("friends of friends") and off I went.
There were two boxes on the screen; I was in the left hand box, and the person I was chatting with was in the right hand box. The interface was simple to use and I could select what interests I wanted to base my searches on. Further, I could opt to talk to someone "nearby" (a completely different set of users) at any time. All in all, it was very simple to use.
But that's what I expected from Sean Parker and Shawn Fanning, the brains behind Airtime and that other online "sharing" site Napster. These two guys seem like the most fitting tech gurus of this generation to invent something like this, after all, they met online.
But will other users like what these guys have to offer?
Brand New or Just New Branding?
Although Airtime's public launch was much-hyped and celebrity-filled, many still wonder, "Isn't this the same thing as Skype? Or Chatroulette?"
Not exactly.
Granted, there are similarities between these web-based tools, but there are noticeable differences, too. For instance, unlike Skype, Airtime gives users the ability to access the 900 million folks who are on Facebook. Plus, Airtime generates a suggested list of people for communicating with that's based on similar interests…instead of only being restricted to other known users on Skype.
Compared to Chatroulette, the differences are even more obvious. The (really big) problem with Chatroulette, that I touched on in this Youth Culture Window article, is that it quickly became a live-streaming porn show thanks to the freaks who inhabit the Internet. Airtime hopes to avoid that reality by incorporating several deterrents into its interface that will provide their users with a balance of privacy and protection.
Here are a few of those safeguards. First, Airtime puts the ramifications of use and misuse directly upon the person because it's attached to the user's Facebook account. Second, Airtime employs screenshot monitoring for all video chats that are "matched calls," (those that happen between users who are NOT already friends on Facebook). Those screenshots – which are ONLY pictures and not audio or video samplings – are then reviewed by an automated monitoring device for inappropriate use. Violators will be subject to a strict "one strike and you're out" policy; those who break the rules will have their accounts locked. Third, Airtime users, like Facebook users in general, have the ability to flag inappropriate online behavior.
Maybe these cautions will prevent Airtime from becoming Chatroulette. But even so, there are still many other hurdles this new piece of technology will have to overcome.
Going Big or Going Home?
Airtime is being launched at a peculiar time in the life of Facebook. Not only did the company just go public in May, and in a slightly disappointing manner, but some researchers are also wondering if Gen Y is sick of using tech" to connect with the world around them. This recent international study found that "a third of Millennials, versus a quarter of everyone polled, assert social networking is making them less satisfied with their own lives." But co-founder Sean Parker argues that the way in which the Internet connects people is the problem. He claims the Internet allows "no room for serendipity. Everything now is filtered through the lens of your social graph, but the social graph is somewhat stifling."
We'll see if he's correct, but there's still one more element making the timing of Airtime's launch fairly significant. According to The Washington Post, Facebook is supposedly exploring the possibility of removing the minimum age requirement, thus allowing children under the age of 13 to access the site with parental supervision. If that happens, not only will millions of 11-year-olds no longer need to lie to join the online network, but it will also translate into even more potential for Airtime (and all things Facebook).
As it stands now, just a couple weeks into their launch, Airtime has only garnered about 150,000 users according to AppData (though Facebook says the number is roughly 170,000 as of this writing). That may seem like a lot, but compared to the almost 1 billion Facebook members, it's quite tiny. Perhaps the items on this "wish list" of Airtime improvements need to be addressed.
Make Time to Address Airtime
Teens will probably see Airtime as a truer expression of social media, one which allows them to more easily interact with others, and that will translate into hours of use. Moreover, with the amount of conversations kids have about videos, music, movies, celebrities, and other pieces of culture, there may be a sharp increase in Airtime's use if it offers group chat and mobile connectivity.
Regardless of how big Airtime gets, it's probably wise for parents and youth leaders to address how to responsibly use this online device. Even though Airtime is supposed to monitor itself and keep its users safe, parents should assume full responsibility in this department and treat it with the respect it deserves. This is yet another tool that brings the far-reaching corners – and influences – of the world into a kid's home.
Talk with the teenagers in your life about Airtime. Ask them how they plan to use it and how they think it will affect their relationships, onscreen and off. Ask them if they understand the risks associated with using technology that opens the doors for so many differing influences. Of course, you'll probably want to help your teenager establish some boundaries when it comes to using Airtime, for instance, when it can be used, who they can use it to connect with, etc.
As adults, we know that nothing, absolutely nothing, is as valuable as actual face time with our kids. If we ensure that they have enough face time with us, they won't require as much Airtime online.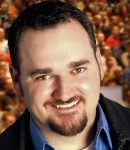 David R. Smith
David R. Smith is the author of several books including Christianity... It's Like This and speaks to parents and leaders across the U.S. David is a 15-year youth ministry veteran, now a senior pastor, who specializes in sharing the gospel, and equipping others do the same. David provides free resources to anyone who works with teenagers on his website, DavidRSmith.org David resides with his wife and son in Tampa, Florida.