What can producers and celebrities do when their sex-saturated content no longer sells albums, boosts ratings, or stands out? They have to up the ante, of course.
Maybe that's why we're seeing so many threesomes in youth media, lately.
Making Sexy Even Sexier
You may be surprised to learn this, but not even sex is immune to poor ratings. That's right. When culture runs uncensored and becomes saturated with sex and sensuality, somebody has to figure out a new recipe that will allow them to distance themselves from the rest of the racy pack. In other words, they have to make sexy even sexier.
We've seen this before, remember?
Think back to the day when sex between one guy and one girl caught our attention. It made headlines and infuriated media watchdogs. When this lost its spark, media turned to girl-on-girl kissing. Madonna kissed Britney and the image appeared on the front page of newspapers and on magazine covers across the globe. Media producers realized, "This is huge!"
Fast forward just a bit when Katy Perry hit the top of the charts with "I Kissed a Girl." Music videos began banking on girl-on-girl kissing, like the hit video from The Black Eyed Peas entitled "I Gotta Feeling," and the music video from Cobra Starship's "Good Girls Go Bad." When in doubt, get a girl to kiss another girl.
Recently, NBC's Heroes' ratings took a downhill turn. The solution? Let's have Claire's female roommate get "bi-curious" and kiss her. The network leaked photos of the kiss and tried to create a buzz, an obvious "slumpbusting publicity stunt."
The mindset is this: two girls will always be better than one. If the last few years have proven anything, it's that lesbianism and girl-on-girl action can capture enough attention to bolster ratings, fill theaters, and sell albums.
But what must you do when everybody's got two girls going at it?
Make it a threesome.
Yep, that's exactly what some of culture's biggest names have done recently. They've discovered that threesomes (sex between three people) are the ticket to higher ratings, albums sold, and enthralled fans. Take a look at the sexy math these cultural icons have been doing lately.
The Real World: Cancun (A Threesome South of the Border)
The August 26th episode of MTV's The Real World: Cancun was aptly named "Three's A Crowd." In this installment, the show that's already known for its hookups and sex scenes stepped it up a notch by airing a threesome between Jonna (who had a boyfriend back home), Ayiia (the self-confessed bi-curious girl), and Pat (who's just another horny guy).
Those who watched the episode saw the trio scrambling around the beachfront property looking for a place to get it on where their roommates couldn't see. They finally found a semi-private place beside Emilee who was asleep in the adjacent bed.
In an interview with Jonna and Pat after the ménage trios, the two of them blamed their night of passion on alcohol, and then argued that the show didn't represent the event as it actually transpired.
Given this sort of programming, it's easy to see why The Real World has been on top of the rating charts for nine weeks in a row with the 12-34 year old crowd, on a network that regularly draws 73% of boys and 78% of girls age 12 to 19.
"3" by Britney Spears (An Invitation to a Threesome)
The last time the music charts listed Britney Spears's name in the top 10 was when she was looking for somebody named Amy. It's been about a year since Britney was on top… of the charts. 
But all that changed when Brit Brit released a song on September 29th titled "3", and it went #1 in just one week. The song's simple title goes hand-in-hand with the song's simple lyrics. And what are those lyrics about? A quick glance makes it pretty clear; she's talking about having a threesome.
Three is a charm
Two is not the same
I don't see the harm
So are you game?

Lets' make a team
Make 'em say my name
Lovin' the extreme
Now are you game?

Are you in
Livin' in sin is the new thing
yeah are you in
I am countin'!

1, 2, 3
Not only you and me
Got one eighty degrees
And I'm caught in between
Countin'
1, 2, 3
Peter, Paul & Mary 3
Gettin' down with 3P
Everybody loves (oh)
Countin'
1, 2, 3
But Britney, ever careful to keep her options open, ends the song with this "tender" proposal:

What we do is innocent
Just for fun and nothin' meant
If you don't like the company
Let's just do it you and me
You and me
Or three
Or four
On the floor
"3"
 gained popularity so fast, that it 
debuted at #1
 on Billboard's Hot 100, and has remained in the top 10 on the chart since. The song captivated pop culture's attention even though it didn't have an accompanying music video. But on October 30th Britney 
finally released the entire video
 after teasing her fans with several short clips of the music video released online via her website. 
(I suspect the video will catapult the song in popularity, and we'll see it move up a few notches over the next couple of weeks.)
So, Britney turned a threesome into a #1. Looks like she knows how to do math after all. 
Gossip Girl (A Threesome "Worth Waiting For")
Gossip Girl is The CW's crowning achievement in television programming… unfortunately. The show follows the turbulent, scandalous, and sex-charged lives of several New York socialites who are from Manhattan's Upper East Side. Since the show began in 2007, it has become a culture-defining hour on TV, as it's known for product placement ads and fashion trends as much as it's known for its plot.
The show has won numerous awards, and routinely draws in several million viewers each Monday night at 9pm EST, most of them young people. But not everyone is a fan of the show. The Parents Television Council has condemned the show's ad campaigns as well as labeled some of the episodes "The Worst TV Show of the Week." 
Even though it's not short on sex, the show has been struggling with lower-than-usual ratings this year, and producers have hatched an idea to change that. Like those who have blazed the trail ahead of them, they too, are going to rely on lucky number three, as in threesome, to help lift the falling ratings.
On the show's November 9th episode, three characters from the teen soap will supposedly engage in a televised threesome. The Internet is buzzing with talk about this media stunt, which is exactly what the show wants, with some of the sites even allowing viewers to vote on who they want involved in the threesome.
According to this MTV interview with Michelle Trachtenberg (who plays Georgina Sparks), the threesome scene will be "worth waiting for."
I'm holding my breath.
Helping Our Kids Do the (New) Math
I remember how the "live television audience" would gasp when Mike Seaver (Kirk Cameron) eventually kissed one of his female love interests on Growing Pains in the 1980's. When their lips locked, the crowd went crazy. That represented cutting edge television programming 25 years ago. But times have changed since I was a kid.
Not only has youth culture accepted overtly sexual media that's graphic and sensual, it has come to expect it. Young people have embraced the idea that sex – no matter how prolific or perverted – is normal. Meanwhile, a generation of minds is being destroyed with sexual pollution in the name of entertainment.
Sex in the media is nothing new; we've all known for quite some time that it sells. From movies to TV shows, and from commercials to music videos, nothing commands the almighty dollar like sex. But, what price are our kids paying for it, and how do we get our money back?
Here are a couple of ideas to help you wade through the funk that seeks to mire our teenagers, today.
Have conversations that will proactively prepare your family for the future. I don't want to sound alarmist, but I'm afraid this latest trend isn't the last one, just the current one. I'm no fortune teller, but chances are, there will be something else that's no good that will come along next. Perhaps the best way we can deal with the media landmines in youth culture today is to help our teenagers truly recognize God's standard and reject what doesn't align with it. Rather than isolating each and every circumstance that comes along in culture, let's provide them with tools that will help them discern for themselves. That's the best way to prepare them for the future.

Don't be afraid to ban. I'm not talking about picketing or making any public statements. I'm talking about removing certain options from our kids' media choices. Maybe that means you block some channels from your home. (At the top of the list would be the no-brainers like MTV and BET. Their content almost always finds its way onto the lists of what's-wrong-with-TV.) It might also mean that you purge some songs from your kids' iPods. At the very least, it means you monitor and control web access for teenagers (after all, now it is "doctor's orders").
The Real World and Britney Spears have experimented with threesomes in their material, and it has produced exactly what they wanted: higher ratings and albums sold, respectively. I venture to say Gossip Girl will also get a boost in viewers this week.
My question is, do threesome's come in three's, or will there be more of these sexy trios to follow?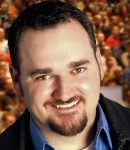 David R. Smith
David R. Smith is the author of several books including Christianity... It's Like This and speaks to parents and leaders across the U.S. David is a 15-year youth ministry veteran, now a senior pastor, who specializes in sharing the gospel, and equipping others do the same. David provides free resources to anyone who works with teenagers on his website, DavidRSmith.org David resides with his wife and son in Tampa, Florida.