Gone are the days of baseball gloves and Barbie dolls for Christmas gifts. Now, kids want the latest technology…with all its glowing buttons. And if projections about this year's holiday spending continue, there will be more flashing lights under the Christmas tree than on it.
Tech is the New Toy
Nielsen recently reported that, with so many coveted Apple products on the market, many kids (ages 6-12) are dreaming of an "iChristmas," instead of a White Christmas. Their info graphic shows that the Top 3 most-wanted items for this age bracket (iPad, iPod Touch, iPhone) come from the Steve Jobs' factory, not Santa's. The Top 3 for teenagers, ages 13 and up, is fairly similar: iPad, Computer, E-Reader (in that order).
By the way, did you see what the Top 4 gifts from 2010 had in common? Yep, screens.
But Apple isn't the only one taking advantage of the holiday season. On the brink of the holiday season, video game leader Activision released their highly-anticipated Call of Duty: Modern Warfare 3.Not only did this game out-sale the first two installments in its franchise, it also set a world-wide record for entertainment by generating $750 billion in revenue in just 5 days.
But tech's dominance continues in the aftermath of Black Friday. I'm literally writing this article on "Cyber Monday," and keep getting interrupted by all the alerts from tech companies in my inbox. Jeff Bezos and the rest of the gang from Amazon.com just reported a 400% increase in sales for their Kindle products over last year's numbers. This hike was directly related to their newly-released Kindle Fire.
What's really interesting about Christmas and technology is that 32% of young people in the UK are using tech to buy tech. Yep, a third of 18-34-year olds are planning to use their mobile phones to make purchases this Christmas season. (Various apps and credit card interfaces allow for this capability.) Of course, some stores are using the same tech to increase sales; companies like Home Depot and Lowes have equipped their floor personnel with smartphones to more instantly enhance customer support.
So, move over Tickle Me Elmo; technology is the new toy. But today's tech costs more than yesterday's little red doll.
A lot more.
Tech the Halls…Deck the Neighbors
It seems that Christmas simultaneously brings out the best in some…and the worst in others. By the numbers, Christmas paints a somewhat "ironic" picture this year. Let me show you what I mean.
$11.4 billion. That's the amount the Associated Press claims was spent at retail stores and malls on Black Friday. Keep in mind, this rather large amount only represents in store sales on Friday.
$52.4 billion. That's the whopping amount the National Retail Foundation claims was spent across the entire weekend, in stores and online.
226 million. According to TIME Business, that's the record-setting number of shoppers who clogged malls and outlet stores during the first hours of the official start to the Christmas season. (I was not one of them. When it's 71 degrees in Florida, and every golf course in the state is open, it's a no-brainer.)
The National Retail Foundation claims that, on average, $398.62 was spent by each shopper. That's the "ironic" part I referred to earlier. You see, these spending numbers happen to coincide with the largest amount of debt America has ever seen. Some say that the average credit card debt of card users is $15,799. Other experts say it's "nearly $15,000" but neither estimate includes other forms of debt such as home mortgage or car payments.
Ummm…that (should) make it hard to complain about a bad economy.
But there are "other numbers" that accent a different irony of this season. Some people aren't giving presents and fruit cakes this holiday; instead, they're dishing out random acts of violence. This article from the Washington Post reports that Black Friday shopping led to twenty pepper spray victims, one gunshot victim, and a stabbing victim.
Maybe it's called Black Friday because of all the bruises.
Making the Most of Christmas
Please don't label me a scrooge, but, there's a lot about Christmas that's void of anything identifiable with Christ. Through millions of purchases and billions of dollars, wishes and wants, materialism, open greed, and other forms of selfishness are shamelessly embraced. Christmas no longer celebrates Christ; it has become a celebration of gross excess.
For at least a couple decades, the Christmas season has presented parents and youth workers with difficult questions. What should our focus be during the holidays? How do we accomplish that? What is a healthy balance between giving and receiving? What really happens to the cookies that are left for Santa?
I don't have all the answers. Heck, I'm pretty sure I don't even have all the questions. But, here are a few timeless suggestions that will help us face the special season of Christmas.
Teach kids the proper use of their gifts. Since technology is going to be another big player this Christmas season, and many to come, we need to make sure our teenagers can appropriately handle these gifts. No parent would give 3-year-old Kyle a BB gun; he's simply not ready for it. The same principle should apply to tech. If a teenager already exhibits low levels of trustworthiness, or has previously made questionable judgment calls online, or in texts, or with other entertainment media, it's probably not a good idea to give him/her the tools to take that poor track record on the road through these highly mobile, ultra-connected devices. In other words, do everything you can to make sure a gift doesn't become a gaffe.
Teach (and model) responsible spending. In reality – and I know this is going to offend some people – a vast majority have already committed mistakes in this department. For many, "door busters" have led to "budget busters." Responsible spending nullifies this possibility. Granted, "responsible" spending is going to vary from household to household, but if the amount/kind of gift(s) requires spending money you don't have, that decision needs to be given more consideration than can be had standing in a checkout line. That's never a good place to have to make those kinds of calls.
Teach about the Savior. I don't care how you understand (or misunderstand) history, Christmas exists because of Jesus. Period. That Gift changes everything, thus He should be at the center of everything. Christmas offers a fantastic time to talk about God's lavish investment into humans…and that easily lends itself to making an investment into others (instead of ourselves). TheSource4YM.com has lots of great resources about Christmas available for free, but my favorite (that I use year after year) is this one about American Christmas versus African Christmas.
You'll probably enjoy food, family, friends, and, of course, football. Your Christmas will almost certainly involve tech gifts. But in the midst of those flickering screens, and the faces in the crowds, and the fast pace of Christmas, make sure you connect with Christ.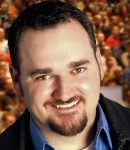 David R. Smith
David R. Smith is the author of several books including Christianity... It's Like This and speaks to parents and leaders across the U.S. David is a 15-year youth ministry veteran, now a senior pastor, who specializes in sharing the gospel, and equipping others do the same. David provides free resources to anyone who works with teenagers on his website, DavidRSmith.org David resides with his wife and son in Tampa, Florida.