Phoenix Wright Ace Attorney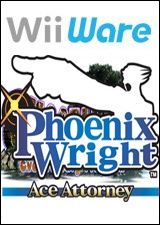 Back to reviews
Game Reviewed: 
Phoenix Wright Ace Attorney
Platform: 
Wii (also on DS)
Click Here to Learn More About our Reviews
Game Description:
(Warning Review contains spoilers!)
Phoenix Wright Ace Attorney begins with a murder. Cindy Stone, a model, has been killed in her apartment, struck on the head by a small replica statue of The Thinker. Her former boyfriend, Larry Butz was the last person seen leaving her apartment before her body was found thus he is arrested and accused of the crime. There are two main witnesses who testify to this effect.
Nick "Phoenix" Wright, a defense attorney recently employed by the Fey and Co. Law Offices, must take on Larry's case. Larry also happens to be Phoenix's first case. By presenting evidence and finding contradictions in the witness' testimonies, not to mention a little luck and help from his boss, Phoenix is successfully able to defend his friend and discover who the true killer is. The game is rounded out with three other cases, Phoenix defending his boss' sister, an actor, and a rival attorney.
Phoenix Wright Ace Attorney is, at its core, a point and click game where each case is divided into two parts. The first part is the investigation portion in which Phoenix travels to different locations interviewing witnesses and gathering evidence for the courtroom. The second part of each case is the courtroom battle, where Phoenix, sometimes incompetently and humorously, cross examines witnesses, presents evidence to contradict their testimonies and yells "Objection!" to great effect. The player must make the right decisions and help Phoenix find the truth in the witness's webs of lies in order to successfully defend his clients.
What Parents Should Know
Violence
This game is primarily presented in still images with limited animations and text. Some of the violence is shown on screen, some is described in text. Some examples of violence in this game are:
Blood drips from a murder weapon and pools under a victim's head.
The dead body of an actor is shown with pierced armor. (no blood)
A body is shown impaled on a fence. (no blood)
A gunshot is shown and a splash of the victim falling in a lake from a distance, repeatedly.
Two people are zapped with stun gun (off screen)
Suicide is mentioned on several occasions, including one character whose fiancée committed suicide.
Language
This game contains frequent use of mild language most notably the word "damn." Other words that were used at least once include hell, a**, pis**d, Oh my G_d and the abbreviation WTF and LMAO.
Sexual Content
Several of the female characters wear low cut blouses showing deep cleavage.
One character's breasts jiggle on occasion.
A woman is said to have had many "sugar daddies."
There are a number of innuendos such as "get to this woman's bottom," a statement made about a witnesses testimony being "firm," a comment about pressing and squeezing the truth out of a female witness, the phrase "I'd like to see her pull that off" is misconstrued.
One of the accusations Phoenix can make in one case is that two men are lovers.
A tough female security guard is said to have "balls."
Spiritual Content
One character named Maya is a spirit medium in training. Her family is said to be strong in ESP. She contacts the spirit of someone who is deceased to help them on several cases. The spirit medium theme runs through all but the first case.
A character asks if someone has made their peace with God.
A rival lawyer is called a "god of prosecution."
A woman says she is training to be a paranormal photographer.
A man is referred to as a demon attorney.
Reviewer's Thoughts
Phoenix Wright Ace Attorney is a well written, clever game with a lot of witty dialogue and funny one-liners. Fans of point and click adventure games and fans of court room television will probably get a kick out of playing Phoenix Wright. This game, however, contains some sexual innuendo and spiritual content regarding speaking to the dead of which parents may want to take into consideration when deciding if Phoenix Wright is right (no pun intended) for their family or not.