Batman: Arkham Asylum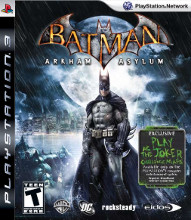 Back to reviews
Game Reviewed: 
Batman: Arkham Asylum
Publisher: 
Eidos Interactive
Developer: 
Rocksteady Studios
Platform: 
PS3 (also on Xbox 360)
Click Here to Learn More About our Reviews
Game Description:
I was never a huge fan of Batman, but when the movie Batman Begins came out I became a big fan. Just as Batman Begins changed my perception of Batman in the movies, Batman Arkham Asylum changed my perspective of Batman in video games. Bottom line, if you are a fan of Batman, then this is the Batman game you have been waiting for.
The game begins with Batman bringing in The Joker to Arkham Asylum. There are not a lot of details as to what led up these events, but Batman does reference that it seemed as though Joker wanted to be caught. Sure enough, Batman was right. Not 10 minutes into the game and events are set in motion that set Joker free to run through Arkham Asylum and now Batman must go deep into the asylum himself to stop Joker from his plans to overtake Gotham City using Arkham as a base of operation.
In his pursuit of Joker, Batman will have to encounter some of his most famous enemies including the likes of Killer Croc and Poison Ivy. Batman will even have to encounter some of his own fears thanks to some appearances by Scarecrow. Does Batman have what it takes to stop The Joker and the other Arkham inmates? That is up to the player. As cool a game as this Batman game is, is it good for children? That is up to you the parents.
What Parents Need to Know
Violence
Batman himself makes it a point not to kill anyone. He will just find ways to knock them out cold (which sometimes causes a little blood). The Joker and his henchmen, however, have different plans.
Some of the violence also comes in the reference of disturbing dialog. For example, one guard pleads for his life from some of Joker's thugs by saying "Please, I have kids" right before he is killed.
Language
There is frequent use of mild bad language. The most frequent words used were bitch, ass, hell, dammit and the use of God's name being used in vain.
Sexual Content
Two of the female villains, Harley Quinn and Poison Ivy, wear very revealing and seductive outfits.
Spiritual Content
There are a few times in the game where Batman hallucinates as a result of Scarecrow's toxins. In one hallucination the corpses of Batman's dead parents talk to him. In another hallucination Batman has to fight some skeletons.
There is also reference to the spirit of Amadeus Arkham, the founder of the asylum. Batman can find certain objects in the game which will allow him to hear portions of Amadeus Arkham's story.
Reviewer's Thoughts
If you are a fan of Batman, you will most likely love this game. In my opinion, however, this is not a Batman game for little kids. The atmosphere has a dark tone to it, there is quite a bit of mild language and a couple of the villains are very seductive in their appearance and mannerisms. It is also possible that younger children may find some of Batman's hallucinations to be a bit scary.