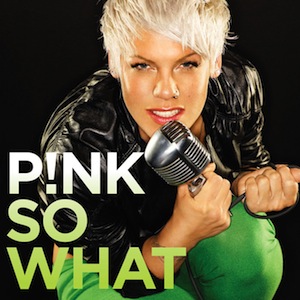 The Song: "So What" by Pink
Main Point of Discussion: Dealing with hurt… in a way that doesn't hurt more in the long run!
Vital Info Before You Get Started: (The following should help you contextualize this very popular song so you can have a great discussion about it with your kids.)
This music video is not in good taste. The attitude is horrible, there's mild language (although many sites bleep it out) and other objectionable content. But understand: this discussion is about that attitude and content. Since so many of our kids watch this, we think it's worth talking about. But we need you to watch the video first and make that decision for yourselves.
We suggest you talk with a tech-y friend who is computer savvy and have him/her help you prepare to project this video on a big screen for the whole family to see. You can purchase the video for $1.99 or watch it free on many locations like this one
Above all, don't appear as if you have a "canned" discussion in your head and rattle off questions like a teacher giving a pop quiz—your kids get enough of that in school. This is a guide, primarily—not a verbatim script. Just familiarize yourself with the content here and start a conversation in the most natural, unforced way you know how.
Partial Lyrics:
I guess i just lost my husband
I don't know where he went
So i'm gonna drink my money
I'm not gonna pay his rent (Nope)
I got a brand new attitude
And i'm gonna wear it tonight
I'm gonna show you tonight
I'm alright, I'm just fine
        And i don't want you tonight
Three Simple Questions (with Answers You May Be Looking for):
Q: What's the message of this song?
A: It's okay (if you're a rock star, celebrity, or otherwise rich person with a lot of lawyers) to take out your anger and hurt on innocent people.
Q: How do you suppose we—as serious Christ-followers—should react to this song?
A: There are many verses in the Bible that speak directly against the message of this song—in fact, the Bible even addresses when it's okay to be angry (as long as our reasons are just and we don't sin in the process of expressing our anger—Pink does neither in this song).
Q: How can we move from healthy, Bible-based opinions about this song to actually living out those opinions?
A: We have to check our attitudes constantly—and invite trusted Christian friends to call us on our bad attitudes and inappropriate anger. We should also ask for God's help to heal our hearts of angry tendencies. We should also recognize that anger is a "secondary" emotion—meaning that there's always a primary emotion underneath anger that drives it. So we need to get in touch with our emotions and uncover the primary emotions underneath our anger—and deal with them.
Where to Take It from Here:
Wherever it feels natural. If these questions lead to a longer discussion on the topic, wonderful! (There's a guide just after this paragraph that helps you do just that.) If your kids are barely uttering grunts, don't get discouraged—the next time it feels right, try out another song. Keep engaging them.
For Deeper Discussion: (If your kids seem into diving in deeper, the following discussion guide can help take you there.)
CLICK HERE if you want to look at a quick training article on small groups and drawing questions out of young people—you may find much of the information applicable as you go through this subject with your family members.
Transitional Statement:
Pink obviously is reacting to some kind of hurt in this video. Many think this song and video is about her divorce from X-Games competitor, Carey Hart (who makes cameos in the video!). Regardless, she is in pain, and she demonstrates several ways we can react to pain…
More Discussion Questions:


Read the following passage from the Bible:

13 You, my brothers, were called to be free. But do not use your freedom to indulge the sinful nature; rather, serve one another in love. 14 The entire law is summed up in a single command: "Love your neighbor as yourself." 15 If you keep on biting and devouring each other, watch out or you will be destroyed by each other.
ASK SOMEONE: What phrase sums up "the entire law"? (love your neighbor as yourself)
ASK A FEW: What does it mean to love your neighbor as yourself?
ASK SOMEONE: What does the last verse say will happen if we keep biting and devouring each other?
ASK SOMEONE: How does this apply to the video we just saw?
Read the following passage from the Bible:

Do not make friends with a hot-tempered man, do not associate with one easily angered, or you may learn his ways and get yourself ensnared.
ASK A FEW: Music videos didn't exist when this psalm was written. Do you think that we could be ensnared by music videos?
ASK ALL YOUR FAMILY MEMBERS: What's one thing you can do this week to help you strive toward self-control and reconciliation?
Wrap Up:
Pink's song is catchy and it's obviously fun to listen to, judging by its popularity. The question is: is it true?
Maybe Pink knows the answer herself. Maybe the truth isn't the most popular message to put in a song like this. After all, no one wants to hear about the consequences of our behavior, right?
The fact is, when we develop a bad attitude and act out in anger like this, there are consequences.
The key is plugging into sources that remind of this truth, and avoiding the sources that ensnare us into acting out contrary to what we know to be right and best for us in the long run.
Let's pray as we close our time together. And as I pray I want you to ask yourself three questions:
How can I react to hurt so I don't hurt myself more in the long run?
What venue can I plug into that helps me react appropriately?
What arena ensnares me to act out contrary to what I know is right and best for me in the long run—and how can I avoid it?
Close in Prayer